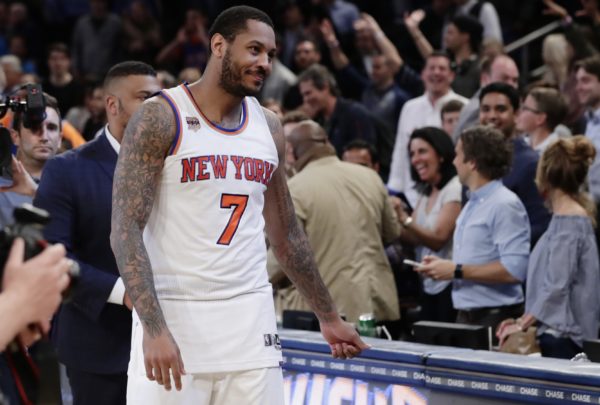 When the news came that Carmelo Anthony wants to be traded, eyebrows were raised around the NBA. Does the player really want to make his move?
Does Carmelo Anthony Actually Want to be Traded?
Knicks Offseason
Perhaps the biggest Knicks news this offseason, was the unsurprising trade demand from Carmelo Anthony. Melo has been the face of the Knicks for seven years, but that has changed. The emergence of future NBA star Kristaps Porzingis has overtaken Anthony as the face of the franchise. With the Knicks surprising nobody and being generally disappointing, Anthony has requested a trade. Melo asked for a trade in June, and to this point nothing has happened. It is hard, as Melo has a no trade clause, but if he wants to be traded, why has this not happened? This article will look at why this drama might all be America's favorite words of 2017, fake news.
Fake News!
There were reports swirling saying that a Carmelo Anthony trade "is at the two-yard line." Unless there was an interception from Malcolm Butler, (sorry for the flashbacks, to all Seahawks fans, Patriots haters, or Rodger Goodell) there is no way this trade should not have happened. There are two options here; one will be mentioned later, and the other is that these rumors were fake. The trade talks were real and the Knicks just denied the trade. New York has a good reason to be stubborn, as Melo is still indeed their star. The only thing fake here is the idea that a trade was actually this close.
Now, obviously this could very well have been true. It was reported the Knicks declined the trade because they were not getting enough in return. Anthony is still in the top 5 percent of NBA players. The Knicks would prefer one last year with Melo, as opposed to just dumping him in a bad trade. It appears very clear that the Knicks finally don't want to take on any bad contracts. Clearly, it is hard to trade Melo, but it has taken so long, and something seems fishy.
Competent Management
When Phil Jackson was fired on June 28th, 2017, it was a special day for Knicks fans. Everything Jackson did other than draft Porzingis, Willy Hernangomez, and maybe Frank Ntilikina has backfired. To make matters worse, after drafting Porzingis, he tried to trade him to Boston for the first pick in the draft so he could draft Lonzo Ball. Every Knick fan would be furious at this. Along with Knicks fans, Tina Ball (Lonzo's Mom) would be angry that her insane husband Lavar Ball dropped everything, sold their house in Chino Hills, Los Angeles, and bought an apartment on 33rd St and 8th Ave in Manhattan. This never happened, stay in LA, Lavar, please.
On a more serious note, Jackson, the man who desperately pulled all strings to get Melo back, tried to bully Melo off the team. Jackson also tried to buy Anthony out so James Dolan fired Phil. Melo was definitely thrilled to hear of the firing, and maybe this changed his mind about a trade.
The Knicks then hired Scott Perry, one of the most respected executives in the NBA, as their general manager. Last week, Melo said he had an excellent meeting with Perry. This could mean that maybe Perry was able to sway the star about his trade request. With a front office of people who know how to do their jobs, along with Ntilikina, KP, Tim Hardaway Jr, Willy Hernangomez, Melo, Michael Beasley, Courtney Lee, and Ramon Sessions, this team could make some noise in the feeble Eastern Conference.
All a Smokescreen to get Jackson Fired and Inspire the Team
This idea is absolutely ridiculous. The chances of Melo being an evil manipulative genius is unlikely. Carmelo is a very loyal person, saying how he is thankful for all the good and bad, and in the end, he is a Knick. Melo grew up climbing out of his window on his first floor apartment in the projects in Red Hook, Brooklyn. Why was he climbing out his windows you might ask? To go to the basketball courts so he could emulate his favorite player on his favorite team growing up, Bernard King of the New York Knicks.
Melo was born in New York to Mary Anthony and Carmelo Iriarte. Eventually the family moved to Baltimore, but Melo never lost his roots. As a member of the Denver Nuggets during the 2010-2011 season, Anthony demanded a trade, to his hometown New York Knicks.
Would Melo, a humble and loyal player, actually give up on his city to go compete for a ring?  He denied doing so back in 2014, so now, is he going to actually go to Houston to team up with Chris Paul and James Harden. If Melo recognizes he can make his legacy better with a weak East, he will be an all-star and maybe the best player on a playoff team.  Maybe Carmelo just wanted a better team, so his "camp", "requests" a trade. Reports did in fact always say this was Melo's camp, and not the veteran forward. This could mean the Knicks were threatened to form a better team if they wanted to keep their star's services.  If Melo is happy with the moves, he will stick in the orange and blue for the foreseeable future.