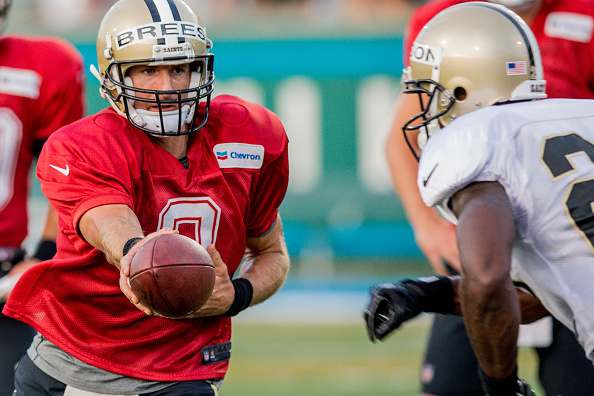 With NFL training camps underway and pre-season games starting as well, the public is getting their first look into the team's first real look of how their season will transpire. For the New Orleans Saints, additions and much-needed cuts were made to a team that has talent and potential. However, they ultimately only finished with a 7-9 record. This past Sunday, the New Orleans Saints have released an unofficial depth chart. They make this release before their first preseason game against the Cleveland Browns on Thursday.
Analyzing the First New Orleans Saints Depth Chart
Defense
Linebackers
Adjustments have been made all-throughout the Saints depth chart from the defensive line to the secondary. This was necessary after the Saints were ranked 31st (second to last) in scoring defense (28.4 points allowed per game). A balance of leadership and talent at middle linebacker position was on the Saints checklist going into 2017. The Saints believe they found that player in former San Diego Charger Manti Te'o. Although Te'o has had a list of injuries, he has been a consistent play maker and a run stopper in the backfield. This is something the Saints desperately need. He is ahead of former starter Stephone Anthony. Anthony only accounted for 16 total tackles in the 10 games he played last season.
The Saints leading tackler was outside linebacker Craig Robertson. He should have no problem locking up the starting will linebacker spot. He accounted for 115 total tackles, 71 solo tackles, and five tackles for loss last season. New Saint A.J. Klein (from the Carolina Panthers) will add talent and experience to the sam linebacker position. Expect rookie outside linebacker Alex Anzalone (Florida) to make a big impact on defense this season.
Defensive line
Defensive end Cameron Jordan is continuing to be the impact player he was last season. He accounted for a team-high 12 tackles for loss and 7.5 sacks. New defensive end Alex Okafor (from Arizona) is expected to start on the other side of the line. He can be legitimate run stoppers for New Orleans. Hau'oli Kikaha is back in the depth chart as a solid backup. He missed the entire 2016 season due to a torn ACL suffered last June.
Former 2016 1st round pick of the Saints in defensive tackle Sheldon Rankins is looking for his explosive season. He missed seven games due to injury last season. Former 2015 3rd round pick Tyeler Davison is expected to be a starter at the other defensive tackle spot. Nick Fairley is out for the season with lingering heart problems. 2016 4th round pick David Oynemata is battling Davison for the starting spot.
Secondary
The Secondary for the Saints has some limited potential due to their successful safeties but very inconsistent cornerbacks. Kenny Vaccaro (68 total tackles and five pass deflections); and Vonn Bell (87 total tackles, second amongst Saints last season) have the safety positions locked down. New Orleans also have former Saint and Detroit Lion Rafael Bush join the team for a solid third safety.
Cornerback Ken Crawley (43 total tackles and eight pass deflections) was a good surprise for the Saints this past season. There is a huge position battle still going on at the other cornerback spot. P.J. Williams, Delvin Breaux, and Damian Swann have all struggled to either stay healthy or play efficiently. Right now, Marshon Lattimore (the 11th pick from this past NFL Draft) is listed as the third string corner. This may be only temporary if Lattimore develops properly. Whoever starts will need to be a big upgrade than last year. The Saints were ranked last in the NFL in passing yards allowed per game (274).
Offense
Additions
Offensively, the Saints have done very well by adding some major talent to the team at multiple positions. One of the biggest moves in the free agency, only not for the Saints but overall in the NFL was the addition of seven-time Pro-Bowl Running Back and 2012 NFL MVP Adrian Peterson to a crowded but talented backfield. The Saints were also busy stealing WR/PR/KR Ted Ginn Jr. from their divisional rivals, the Carolina Panthers.
Quarterback
The Saints are wondering how long they can keep future Hall of Fame quarterback Drew Brees. Regardless, New Orleans returns a quarterback who threw for an astounding 5,208 yards and 37 touchdowns last season. Losing backup Luke McCown was big for New Orleans. They found a new backup in an old, reliable face in Chase Daniel.
Receivers
Obviously losing their top wide receiver in Brandin Cook, by trading him to the New England Patriots will have negative consequences in the top ranked passing offense in the league (317.1). The Saints feel that they will be just as efficient with second year receiver Michael Thomas (1,137 receiving yards) along with Willie Snead. Adding Ted Ginn Jr. will make the passing game more diverse in plays and routes. Ginn will also be a big-time contributor in the return game.
The Saints are hoping for more output from tight end Colby Fleener. He is expecting tough competition from Josh Hill, who also started eight games last year. They are also looking for some production from Michael Hoomanawanui.
Running Backs
Not only does New Orleans return their 1,000+ rusher in Mark Ingram, but the acquisition of Adrian Peterson should make the Saints backfield very dangerous to face against. Ingram and Peterson are two speedy backs, who are also hard to bring down. Ingram thrives off yards after contact through tough physical endurance. Peterson is great along the edge. He is an aggressive runner and this makes him hard to tackle. The two backs will be sharing the reps as a one-two punch each drive depending on the situation.
Travaris Cadet thrived in training camp and has a slight edge ahead of Daniel Lasco. Rookie 3rd round running back Alvin Kamara (Tennessee) will be looking to establish his role early in the Saints offense this season. Fullback John Kuhn will be the starter once again for New Orleans. He is still the bold prestige blocker he has been for years with the Green Bay Packers and New Orleans.
Offensive Line
The Saints offensive line, so far this year, has been plagued with injuries in multiple positions. This is an otherwise talented and rebuilt line. Terron Armstead was solid for the short time that he played for New Orleans last year. He was placed on injured reserve in mid-December. He was likely to start at left tackle. Armstead suffered a torn labrum and will miss two-to-five months. This leaves rookie Ryan Ramcyzk (1st round – 32nd pick from Wisconsin) likely to get an early start. The depth chart has Zach Strief starting at right tackle. However Sean Payton has said he would like Ramcyzk at left tackle and Khalif Barnes starting at right tackle.
Both of the first string Guards on the depth chart have potential and are very likely to keep their job, provided they stay consistent. Former 2015 1st round pick Andrus Peat will continue to start at left guard. He will be watched as the Saints want more consistency and impact. New Orleans let former six-time Pro Bowl guard Jahri Evans go in free agency. The Saints think they have found a valuable and potent replacement of Evans with former Detroit Lions Larry Warford at Right Guard.
Center Max Unger has been great for New Orleans but will miss two or three more months. He will start the season on the PUP list due to a foot injury. On May 15th, a week after Unger's injury, New Orleans signed Josh LeRibeus. He is currently behind Unger for the starting spot. Expect heavy competition from Jack Allen for that temporarily starting position.
Looking Forward
This depth chart is not a full indication of how the team will look when Week 1 of the 2017-2018 regular season begins. Injuries and competition will force the Saints to make changes. Expect a heavy competition at the cornerback, right tackle, and defensive tackle. Although running backs Mark Ingram and Adrian Peterson have stated they are not competing against each other, expect some consistent ball-sharing and competition in the backfield.
Main Photo:
Embed from Getty Images