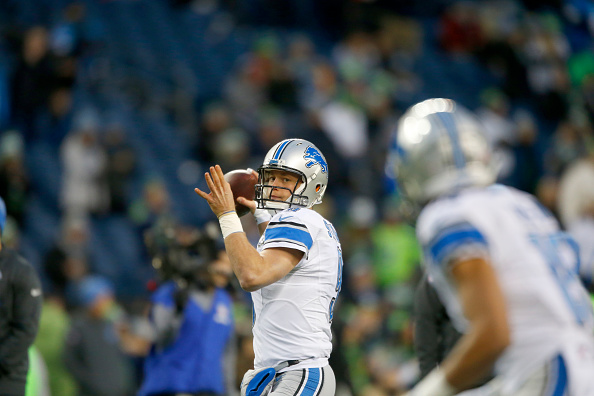 The Detroit Lions finished their season with a 9-7 record last year. The Lions were 9-4 before star quarterback Matthew Stafford injured his index finger on his throwing hand. Stafford and the Lions took a huge step back, and finished 0-4 in their last four games (three regular season games, one playoff game).
Detroit Lions Offense Preview: Poised for NFC Playoffs
This year some changes occurred on the Lions roster. Here are projections for the starting lineup:
QB: Matthew Stafford / Jake Ruddock
Stafford is a veteran for the Lions. His leadership took a huge step forward this year in leading them to the playoffs. Stafford should continue his success as well as be a dark horse candidate for MVP.
His backup will be the Michigan product Ruddock or recently drafted Brad Kaaya.
Ameer Abdullah was taken by the Lions in the second round. He was expected to make an immediate impact. Abdullah has struggled to stay on the field due to injury. However, he has proven that he is an electrifying back when healthy.
His backup, Theo Riddick, will most likely only come in on passing situations. He has had a lot of success receiving out of the backfield.
Golden Tate was a 1000-yard receiver last year for the Lions. He is a Super Bowl champion, and his infectious swagger and leadership has always given him plenty of fans.
Marvin Jones put up 930 yards receiving last year as the Lions number two option. Jones exploded against the Packers last season. He put up 205 yards and two touchdowns in Week 3.
Kenny Golladay was the Lions third round draft pick out of Northern Illinois. Golladay has prototype size at 6'4″ and should be looked as a red zone target.
Eric Ebron put 711 yards receiving last season. A top 10 pick, Ebron has not lived up to expectations so far. He has been injury prone and drops the ball too much. Another concern for Ebron is that he hurt his hamstring on the first day of training camp.
Darren Fells will back him up. Fells was an Arizona Cardinal, as well as one of the best run blocking tight ends in the league. He should see time in goal line situations.
Taylor Decker was the Lions first round pick two years ago. At the time many Lions fans were disappointed with the pick, but not now. Decker played very well for the Lions last year, but unfortunately tore his labrum in his right shoulder, and should miss time at the start of the season.
Greg Robinson is the projected starter week one. Robinson was a Los Angeles Ram, and is considered a bust. Many people think Robinson only struggled because of the Rams system. Hopefully for Detroit, Robinson can turn it around.
Wagner was an exciting signing for the Lions this off-season. Wagner is a former Baltimore Raven who is known as a fantastic run blocker. He should help the Lions improve in that area, as they have not been a good rushing team recently.
Kouandjio was a 2nd round pick for the Buffalo Bills, and recently came to Detroit this off-season to help bring size and strength to the offensive line.
Lang is a highly talented left guard, who recently left his former division rival team, the Green Bay Packers to join Detroit. He is originally from Detroit. Lang should feel right at home in the Honolulu blue uniform.
Glasgow was the starting left guard last year. He provides depth and has the versatilty to move around the line.
The Lions have a big void at right guard, and young Laken Tomlinson is going to have to step up in a big way if the Lions are going to improve their rushing game.
Swanson was quietly one of the best offensive linemen Detroit had last year. He is a great leader and if he can stay healthy for the entire season, the Lions should have a cohesive unit that does not make many mistakes.