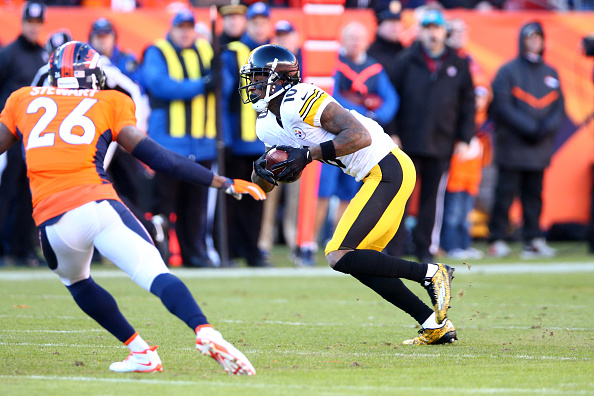 A lot can be said as to whom should be considered "elite" in the NFL. The conversation when it comes to elite players is always up for debate, and measuring cups of eliteness are different for every NFL fan. LWOS will try and make things a little easier, as we point out our brightest NFL players bound for the "elite" category for the 2017 season.
Elite Talent Set to Break Through in 2017 NFL Season
1. Martavis Bryant (PIT)
After coming off a year-long suspension, Bryant looks to rebound this season. He is a major threat anytime he steps onto the turf (grass if he's in Pittsburgh), and he knows how to get the ball across the goal line. In the 2015 season, Martavis Bryant had 50 receptions for 765 yards, adding six touchdowns. Six touchdowns doesn't sound like much, but in his career, he has scored a touchdown in 14 out of his 21 games. This 6'4″, 220 pound receiver knows how to score.
Not only can he score, but he and Antonio Brown make a perfect duo. Having the arguably best receiver in the league playing aside him, creates more opportunities for Bryant. Why? Antonio Brown is the focal point when a defense studies the Steelers. He is the best receiver in the league, and possibly the best player on the Pittsburgh squad. With the balance of receivers and the muscle he has gained, expect Bryant to come off of his suspension with a chip on his shoulder.
2. Jadeveon Clowney (HOU)
This highly rated college player has had a rough start to the NFL, missing 17 out of 48 games. We have really yet to see how well the duo of J.J. Watt and Clowney can be for a full season, as there have been injuries on both fronts. Clowney last season proved that he can be an elite defensive end. In 2016, Clowney had a combined total of 52 tackles and six sacks.
An interesting stat for a defensive eye is the term "stuff". A "stuff" is a tackle that denies the runner at the line of scrimmage. Clowney had 12 of those last season. It was his first time selected to the Pro Bowl, and we should expect the same this upcoming season. Playing alongside a healthy Watt should lessen the pressure on Clowney, and allow him to find the seams and holes within the O-line that Watt can provide. More opportunities means more tackles, more sacks, and more reasons why Jadeveon Clowney is an elite player.
3. Jordan Howard (CHI)
Rookies usually don't make a big splash their first year, with some exceptions. Dak Prescott, Ezekiel Elliott, Joey Bosa, and Jordan Howard. Who? Overlooked, possibly because he plays for a below average team in Chicago, and also because a running game in Chicago is usually unheard of. Thankfully for the Bears, the 2016 rookie season of Jordan Howard turned the tables in that category.
Howard had a remarkable rookie campaign, hoisting 1313 yards rushing and six touchdowns, averaging 5.2 yards per carry. Jordan Howard is the centerpiece of this Chicago offense. They have Mike Glennon as their starting quarterback (at least for Week 1), and no real threats at the receiving position. They lost Alshon Jeffery to Philadelphia, so they will be heavily reliant on Jordan Howard to carry their offense. Their offensive line is a potential top-10 line, which means more running room and more carries for Jordan Howard. He is young, he is extremely talented, and he will open many eyes throughout the 2017 season.
4. Derek Carr (OAK)
Some may already call him elite, especially by the looks of his new contract. Derek Carr has done incredible things in Oakland. He will continue to do the same going forward. The question of how far the Raiders could have gone last season with Carr will haunt Raiders fans for a long time. As a result of an unfortunate injury that ended a historic year for Oakland, one should never know.
As an MVP candidate in 2016, Carr put up 3937 passing yards, 28 touchdowns, only six interceptions, and had a passing rating of 96.7. There aren't many arguments to say that this fourth year quarterback doesn't deserve to be in the discussion of the elite. To top it off, he has a new ingredient behind him: Beastmode. Having Marshawn Lynch in the backfield not only takes pressure off of Carr's arm, but it will only give Carr another weapon to dominate more defenses he faces. The Raiders could be the team to beat in the AFC, and it is all thanks to Derek Carr.
5. Vic Beasley Jr. (ATL)
He is still an underrated linebacker in this league, mainly because of big names like Von Miller and Khalil Mack. Unfortunately, the league is so blinded by those big names that they are unaware of the league leader in sacks in 2016. His name is Vic Beasley Jr. Beasley Jr. had 15.5 sacks last season, two sacks more than Von Miller, and four and a half more than Khalil Mack. He is now walking into his third season looking to join the elite category.
Beasley is on this list for a reason. Not only did he have 15.5 sacks, he also had six forced fumbles, both leading the Falcons defense. Not the best title, knowing that the same Falcons defense blew a 28-3 lead. But it is now the 2017 season, and with Vic Beasley Jr. at linebacker and the addition of Takkarist McKinley, there will be no slump in Beasley's third season. Actually, it will be no surprise if he once again leads the league in sacks. Stay tuned.
Wildcard Pick: Tyreek Hill (KC)
Explosive: relating to a sudden and dramatic increase in amount or extent.
One word to describe Tyreek Hill: explosive. He burst onto the NFL scene in 2016, with an incredible and versatile rookie campaign. Hill's stats are so spread out that not one defensive coordinator can properly prepare for his attack. In his rookie season, Tyreek Hill gained 593 yards receiving from 61 receptions, totaling six touchdowns. Scary to think about, but he has some more stats. Hill also rushed for 267 yards, averaging 11 yards per carry, and scored three touchdowns. There is still more. He ran two punt returns for touchdowns, his longest being 95 yards and a high five (for those who remember). Since we are on the topic of returns, Tyreek Hill took one kickoff back for six. And if the total yards and touchdowns from receiving, rushing, and returning were added up, he would have 1836 yards and 12 touchdowns. So, as a rookie, it sounds like he is destined for that elite category. With the separation of Jeremy Maclin, there will be a huge role to fill, and Tyreek Hill is fit for that spot. Get ready for another electric year from him.
Main Photo: