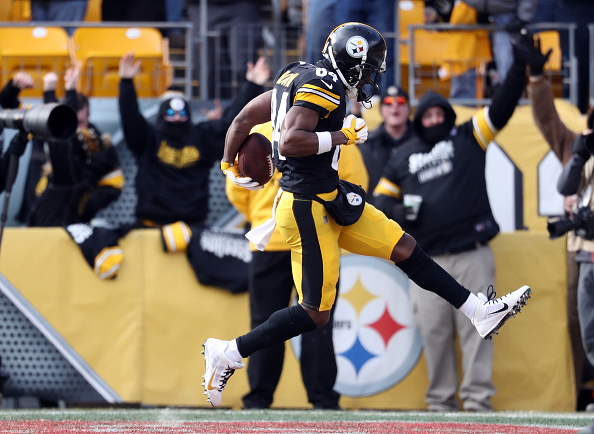 There is constant discussion when the topic of top players in the NFL is brought up. Everyone has a biased opinion, and there are no right answers, they are all just opinions. Luckily, LWOS is here to straighten out all the debates and deep conversations that many so truly care about. So on that note, here are the Top 5 Wide Receivers in 2017.
The Top Wide Receivers in 2017
5. A.J. Green
When you hear the name "A.J. Green," you automatically think of his acrobatic catches and his unreal deep ball skills. He is elite, and has played at an elite level since he was drafted in 2011. Unfortunately for Green, he has missed ten games heading into his seventh season, which isn't bad, but he has also yet to record a 100-catch season. For a player at the caliber Green is at, one would assume that he has had at least a couple of seasons with over 100 catches. Going into 2017, expect a healthy Green to start the season. However he cannot be expected to be on the field all 16 games this season.
Green has had over 1000 yards in each year but one, which was last season (2016). Six out of his 10 missed games came in that season. One cannot be too sure where he is at with his health. Also, with a quarterback like Andy Dalton throwing to him, there are some issues as to what Dalton will be under center.
4. Mike Evans
Most would probably put Green ahead of Mike Evans, but hear this out. Mike Evans has been sensational all three years he has been playing in the NFL. His "elite-level" showcase came out in 2016. He played all 16 games, contributed 96 catches with 12 of those being in the endzone, and had over 1300 yards.
In his three-year career, Mike Evans has missed two games, made 238 receptions, and 27 touchdowns. Green, in that same time frame, missed nine games, had 221 receptions, and scored 20 touchdowns. One could predict what Green could have gotten had he played those games, but the reality is that he did not. Mike Evans is not only a better receiver, he is also in a better position. Evans is surrounded by talent: Jameis Winston, Desean Jackson, and rookie tight end O.J. Howard. The pressure is off of Evans, meaning less double teams and more targets. Expect a big year from Mike Evans, he will be a freak and may fall into the top three by the middle of the season.
3. Odell Beckham Jr.
This guy hypes the crowd up. His energy, his play making abilities, and his attraction to kicking nets. Other than his trips on boats before a playoff game, this kid has been a freak of nature in his three years. Most fans remember the arguably best catch in history, but one should not forget the unbelievable stats he put up next to the one-handed catches. Averaging 96 catches, 1374 yards, and nearly 12 touchdowns per year, Beckham Jr. has been arguably the best receiver in a three-year span in league history.
It's scary to think about, but he could have his best year in 2017. The Giants have added some new weapons on that offense including Brandon Marshall and rookie tight end Evan Engram. Adding these offensive weapons will only strengthen Odell's capabilities. Now, he will be able to create more space knowing that defenses can no longer double team. Having this balance on offense will create chaos for defensive coordinators, and fans can look forward to seeing more five-yard slants turn into 75-yard touchdowns.
 2. Julio Jones
There is not much to be said when this name is brought up. Beast? Yes. Human? Not sure. In 2016, Julio Jones surprisingly racked up only 83 catches, but still managed to pick up over 1400 yards receiving and six touchdowns. Compare that to his 2015 season and it is not even fair. Jones broke records in 2015. He has not slowed down when it comes to yardage. He knows how to turn a quick slant into an 80-yard bolt of lightning down the sideline.
Jones was not at his best this season, especially since 300 of his yards came in one game. He has had a nagging turf toe throughout the playoffs, and is currently recovering from surgery he had on his foot to remove a bunion. Jones is second mainly because of his injuries. Not bad, but compared to the next player, Julio Jones is a perfect fit at this spot on the list.
1. Antonio Brown
This lego-looking, DJ Khaled loving, 'Business is Boomin' enthusiast, is the definition of grit. Brown has done things unheard of in NFL history, one of which is having the most receptions in a four-year span (470). Entering his 8th NFL season, he has only had two of those seasons see less than 1000 receiving yards. In 2015, he had his lowest numbers since 2013. In 2015, he put up 106 catches, 1284 yards, and 12 touchdowns. And that's his low year.
This season, Brown will be re-united with his opposite receiver, Martavis Bryant. With Bryant on the field, Brown put up record-breaking numbers: 136 receptions, over 1800 yards, and 10 touchdowns. Last season, Bryant was not with the team at all. Putting him back in the lineup with newly drafted JuJu Smith-Schuster, and playmakers Eli Rogers and Sammie Coates, will allow Brown to create some air between him and his defender.
Unlike Jones, Brown has missed one game in the last four seasons. When fans worry about Steelers injuries, it is Ben Roethlisberger who is the concern. With no Roethlisberger, Brown is basically nonexistent. Expect an explosive year from not only Antonio Brown, but this entire offense. The offense as a whole will help create the separation that is necessary to get Brown open more often.
Main Photo: