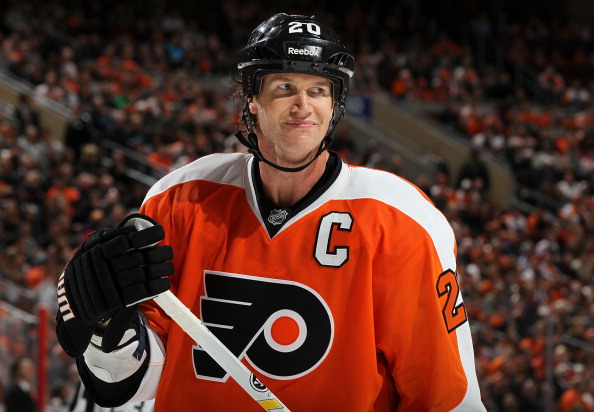 The NHL is a fast pace, hard hitting game which means that you won't find a lot of very tall or very short players. Taller players are not usually very fast and the short players don't have the ability to battle through checks. With that being said, there are some tall players who not only make it to the NHL but can make a large impact on the game. Even if they aren't as fast, they use other skills such as their long reach or strength to get control of the puck. Two of these players were cornerstone pieces to championship teams. Chris Pronger and Zdeno Chara, who's the better giant?
The Battle of the Giants: Chris Pronger vs Zdeno Chara
Chris Pronger
Chris Pronger was drafted 2nd overall in the 1993 NHL Entry Draft by the Hartford Whalers. Standing at 6'6″, Pronger was the tallest player in the NHL at the time. This caused some to doubt if he could keep up with the speed of the faster players in the league.
In 1993-94, Pronger made his debut posting five goals and 25 assists for 30 points in 81 games. It was a strong season for the defensive prospect. The next season his totals dropped to 14 points (five goals and nine assists) in 43 games. The doubters were back.
The Beginning
On July 27th, 1995, Pronger was traded to the St. Louis Blues for Brendan Shanahan. The next three seasons, Pronger failed to reach 40 points. He did have 10 points in 10 games during the 1997-98 Stanley Cup Playoffs. This marks the beginning of a superstar career.
The following season, Pronger registered 13 goals and 33 assists for 46 points in 67 games. This breakout season showed that he was ready to be a premier defenseman in the league.
In 1999-00, Pronger reached his career high in points (62), goals (14) and assists (48) in 79 games played. Not only was he very difficult to get past in the defensive zone, but he was also an offensive threat. He won the Hart Trophy.
On August 2nd, 2005, he was traded to the Edmonton Oilers for Eric Brewer, Doug Lynch and Jeff Woywitka. That season he scored 12 goals and 44 assists for 56 points. The Oilers also made the finals that season. They lost to the Carolina Hurricanes in 7 games.
Pronger was traded following the loss. On July 3rd, 2006, he went to the Anaheim Ducks for Joffrey Lupul, Ladislav Smid, a 2007 1st (Nick Ross), a 2008 1st (Jordan Eberle), and a 2008 2nd (Travis Hamonic). This time Pronger not only made it to the finals but won, beating the Ottawa Senators 4-1.
Pronger would spend two more season with Anaheim before being traded on June 26th, 2009 to the Philadelphia Flyers with Ryan Dingle for Joffrey Lupul, Luca Sbisa, a 2009 1st (John Moore) and a 2010 1st (Emerson Etem). In his first season with the Flyers, Pronger would make it back to the Stanley Cup Finals. They lost to Chicago Blackhawks in six games.
The End
In 2011-12, Pronger was off to a hot start. However, in a game against the Toronto Maple Leafs, Pronger would take a stick to the eye causing him to lose most of his vision. Known for his awareness, the injury really affected his career. He came back a few days later but a hit from behind by Martin Hanzal would give him a concussion. He would never recover, ending his career at the age of 37.
Despite never officially retiring, due to not wanting to lose his contract, Pronger was inducted into the Hockey Hall of Fame in 2015.
Overall, Pronger had 157 goals and 541 assists for 698 points in 1167 games. He also won the Stanley Cup, Hart Memorial Trophy and James Norris Trophy.
Zdeno Chara
Zdeno Chara was drafted 56th overall in the 1996 NHL Entry Draft by the New York Islanders. Listed at a height of 6'9″, Chara is the tallest person ever to play in the NHL.
During the 1997-98 season, Chara made his debut with the Islanders. He would only register one assist in 25 games with the team that season. The following season he played 59 games with the franchise. He only scored eight points, two goals and six assists.
The next two seasons he would register four goals and 16 assists for 20 points in 147 games. On June 23rd, 2001, the New York Islanders traded Zdeno Chara, Bill Muckalt, and a 2001 1st (Jason Spezza) for Alexei Yashin.
Chara would go on to score 10 goals and 13 assists for 23 points in 75 games in his first season with Ottawa. He would have his breakout season the following year when he produced nine goals and 30 assists for 39 points in 74 games.
Over the next two seasons, he would score 32 goals and 52 assists for 84 points in 150 games. Chara would leave Ottawa as an unrestricted free agent after the 2005-06 season.
Boston
On July 1st, 2006, Chara would sign a five-year contract with the Boston Bruins. Over the next 4 seasons, Chara would produce between 43-51 points and was the cornerstone of a strong defensive core. In 2010-11, Chara finally made it to the Stanley Cup Finals and won, beating the Vancouver Canucks in seven games.
The following season, 2011-12, Chara would produce a career high 52 points in 79 games. He showed that at the age of 34 he was still getting better. During the 2012-13 season, Chara's Bruins made it back to the Stanley Cup Finals. They would lose in six games to the Chicago Blackhawks.
Following the loss, Chara came out with another strong season producing 40 points in 77 games. However, he was starting show that his age was catching up to him. Over the next three seasons, Chara would produce 86 points, 27 goals and 59 assists in 218 games.
Chara has one year left on his contract with the Bruins and could potentially become a free agent or retire after this season. So far Chara has produced 188 goals and 416 assists for 604 points in 1350 games. He has won one Stanley Cup and one James Norris Trophy.
Who's Better?
Both Pronger and Chara exceeded expectations. Most tall players do not dominate in the NHL but both of them led their respective teams to a Stanley Cup.
While Chara is an amazing player, the edge has to be given to Pronger. He had a better defensive and offensive game than Chara and had more points in less games played.
Also, Pronger was a franchise changing defenseman and he proved that when the Oilers traded him. They went from making it to the Stanley Cup Finals to not making the playoffs again until the 2016-17 season.
Main Photo: