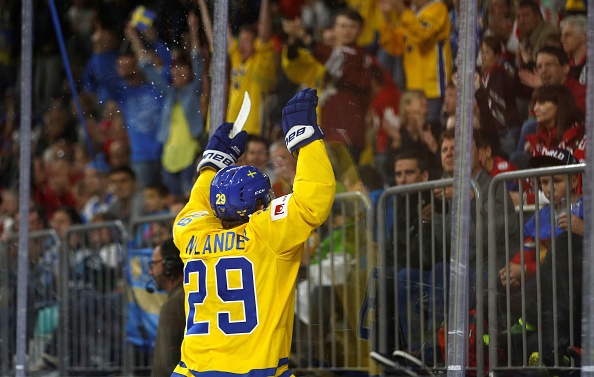 The NHL has been around for 100 years. Some of your favourite players growing up will get married, have kids, and eventually retire from the sport. Fast forward 10 years and you may recognize a familiar name like Howe or Hull; but instead of it being Gordie or Bobby it's Mark and Brett. Some retired players have sons in the league now that can surpass their legacy. Michael Nylander vs William Nylander, who's better?
The Battle of the Family: Michael Nylander vs William Nylander
Michael Nylander was drafted 59th overall in the 1991 NHL Entry Draft by the Hartford Whalers. After playing the 1991-92 season in the Swedish Elite League (SEL), Nylander made the jump to North America. He joined the Hartford Whalers for the 1992-93 season.
In his first season with the Hartford Whalers, Michael would score 33 points (11 goals and 22 assists) in 59 games. Out of all players that would put him 219th overall for points, 232nd overall in goals, and 208th overall for assists.  With a 0.56 PPG in 82 games he would have accumulated 46 points, 15 goals, and 31 assists. Those total would be good enough to be tied for 151st in points, tied for 166th in goals, and tied for 132nd in assists.
Michael played for 15 years in the NHL accumulating 679 points, 209 goals, and 470 assists in 920 games. That is a PPG average of 0.74 which overall is not bad. However, it wouldn't be considered legendary.
He is considered to be one of the greatest Swedish players of all-time. Nylander was known for his strong skating and elite passing.
William Nylander was drafted 8th overall in the 2014 NHL Entry Draft by the Toronto Maple Leafs. He made his debut with the team during the 2015-16 NHL season for 22 games. In those games William produced 6 goals and 7 assists for 13 points. He also showed Leafs fans what the team had to look forward to.
The following season (2016-17) William played for 81 games and produced 22 goals, 39 assists for a total of 61 points. This was tied for 3rd on the team behind fellow rookie Auston Matthews and veteran James Van Riemsdyk.
William also led Sweden to a gold medal in the 2017 IIHF World Championship. He was also the MVP of the tournament. His play at the 2017 IIHF WC showed his fellow countryman and hockey fans across the world what he was capable of doing.
Like his father, he is very strong at skating and is one of the faster players in the league. He also has elite passing and an elite shot making him a very difficult player to defend.
Overall William has 28 goals and 46 assists coming to a total of 74 points in 103 games. This is equal to 0.72 PPG. That number is close to his father's career PPG total and William just concluded his rookie season. His point totals should only increase.
Who's Better?
Both Nylander's will go down as great hockey players and will make Sweden proud but only one can come out on top. They both have similar game styles and have dedication to the game. When it comes down to the skill William has the edge over his father. While they both are elite passers and are strong skaters, William's elite shot and high hockey IQ help to push the vote in his favour.
William also had more points in his rookie season in a tougher era showing everybody the strong skill set that he has. He will be a tougher player to compete with in the near future.
Main Photo: