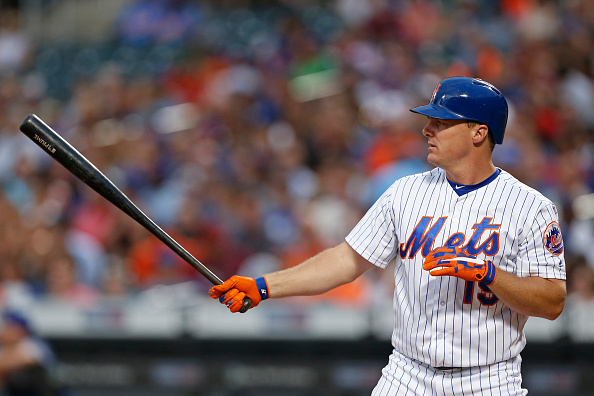 Barring an incredible stretch of baseball over the next couple of weeks, the New York Mets will likely be trade deadline sellers. With a ton of veteran impending free agents look for the Mets to dump some of those contracts over the next couple of weeks. Here are the top trade candidates from the current New York Mets roster.
Blevins is an attractive option for a number of reasons. First of all, there aren't too many dominant left relievers on the market. With his recent struggles it is a bit of a stretch to call Blevins dominant, however he was very strong at the beginning of the season. Blevins is also an attractive option because he has a team friendly club option for next season. Jerry Blevins has a wicked curveball, and would be a great addition for a contender looking to add a lefty specialist.
Jay Bruce has been the Mets best player to this point in the season. After struggling with New York last season, Bruce is hitting .270 with 24 home runs and 62 RBI's. Bruce has also played a pretty solid right field this season in New York. The veteran lefty is an impending free-agent and is a great presence. Bruce would be a great rental addition for contenders looking for a veteran left handed power bat. The Cleveland Indians have recently be rumored to be interested in Bruce.
Asdrubal Cabrera wants out of New York. He was moved from shortstop to second base, and he is not happy about it. Cabrera was a problem defensively at short, but has settled in nicely at second. In Cabrera, teams will get a versatile veteran infielder. Speaking of versatility, Cabrera will reportedly begin taking ground balls at third base. Despite a slow start to the season offensively, Asdrubal has picked it up of late as he is hitting .250 with nine home runs and 30 RBI's. Cabrera also has a team friendly club option for the 2018 season. The Boston Red Sox have recently been rumored to be interested in Cabrera.
Lucas Duda is a strange case amongst Mets fans. Some love Duda, and some hate Duda. Lucas Duda is a good first baseman, for a big man he handles himself very well at first.Speaking of big man, Duda is a power house. When Lucas Duda hits the ball, it goes a long way as he has 16 homers on the season. However, Duda is a streaky hitter and when he is cold he is ice cold. Duda would be a great rental pickup for a contender looking for a power hitting lefty with 30 home run potential. The New York Yankees and Seattle Mariners are been rumored to have shown interest in Duda.
The market for proven late inning relievers is very thin and very valuable. Addison Reed is a prime target to get traded. Reed will likely bring int the most surplus for the Mets in a trade. Reed is not only a proven closer, but he can also be used as an eighth inning set-up man. As we have seen, late inning relievers are very valuable come playoff time. Reed's services will be very valuable to a contender come October. Reed has been rumored to have been receiving the most inters thus far.
Main Photo: