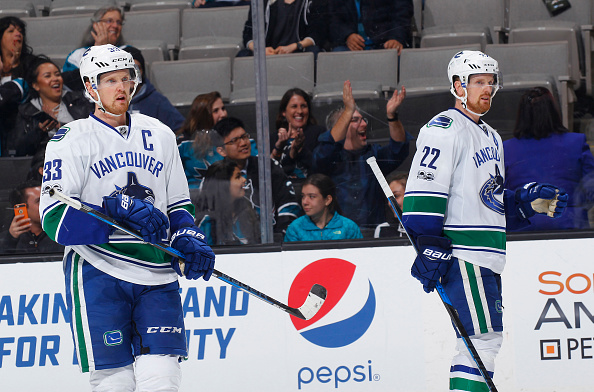 At the NHL entry draft, two teams that picked back to back within the top 6 of the NHL draft. The Vancouver Canucks picked a playmaking center from Sweden (Elias Pettersson) to replace his aging countryman. The Vegas Golden Knights also picked a scoring centre, taking Cody Glass from the Portland Winterhawks with the franchise's first draft pick. Both teams will likely find themselves with a high likelihood that they win the Rasmus Dahlin, Andrei Svechnikov sweepstakes next year given the current state of each team.
Although both teams are in very similar territory, they are still significantly different in many ways. Vancouver, through improper management of assets and overvaluation of free-agents, finds themselves without an identity and little to no direction. With a projected top-line of Henrik Sedin (one year remaining at $7M); Daniel Sedin (one year remaining at $7M); and Loui Eriksson (five years remaining at $6M); the Canucks are still at least one year away from feeling like a tanking team. The $20 million trio combined for 119 points in 2016-17—a total that has nearly been reached by both Henrik (112 points – 2009-10) as well as Daniel (104 points – 2010-11) individually in their prime.
The Sedins: Vegas' Face of the Franchise?
Vegas is in a completely different situation. Even though the expansion draft yielded very little star power outside Marc-Andre Fleury, they did manage to draft six high-quality players in the entry draft. This year's class featured Cody Glass, Nick Suzuki, Erik Brannstrom, and Nicolas Hague. Their depth will continue to grow over the next three years. The Knights currently own 13 picks in the first three rounds (3-7-3), for a total of 19.
Despite a great prospect pool, Vegas faces a challenge that Vancouver does not: having to sell the sport of hockey to their market. Vancouver has had their stars—Trevor Linden, Markus Naslund, Roberto Luongo, Pavel Bure, and the Sedin twins have all been the face of the franchise. Vancouver is also in a hockey-centric market in Canada. It is likely that Canucks Army would gladly welcome trading away their veterans in a complete tear-down to rebuild.
Faces of the Knights
Along with Fleury, names of note on the Golden Knights would be James Neal, Vadim Shipachyov, and a handful of young talent. Come December '17, Neal may be already moved; Shipachyov may be an NHL bust; and Fleury may look porous behind an NHL worst team. This would be a worst case scenario, of course. It should be fully expected that Shipachyov will effectively translate to the North American game. Fleury also shows signs that he is still a borderline elite goalie. However, there is still an obvious hole for star power on the team that needs it the most.
With a disappointing free agent class, Vegas would be well served to look to other teams around the NHL to give their fans something exciting to watch. They can do this without compromising their draft position next year, or their prospect pool. Enter the Vancouver Canucks and the Sedin twins.
Two second round picks for two players who will end up as Vancouver's top two all-time players? Yes. It's a no brainer, and not only for the Canucks.
From the Vancouver Canucks' Perspective
Why would Vancouver move two franchise-defining players for two second round picks when they will be off the books at the end of the year and most likely retire? I would ask you to turn your attention to the cap genius that has been employed by the Toronto Maple Leafs over the past handful of years. Brandon Pridham, the Leafs capologist, may be one of a kind, but he has set a precedent.
By moving the cap hits of the Sedins to Vegas, Vancouver would also free up $14 million. After receiving two second round picks, it would be in Vancouver's best interest to use that $14M to take on expiring contracts from cap contending teams and charge draft picks as a premium. Not to mention that not having the Sedins makes the team worse, even if it is just slightly.
From the Vegas Golden Knights' Perspective
Why would two players who slightly improve your team be worth two second round picks? Vegas' strength is the assets they possess and cap-flexibility. According to CapFriendly, Vegas currently has $8.7M in projected cap-space for the 2017-18 season. There is currently $10.25M likely to hit the LTIR at puck-drop and high-money pieces are likely to be moved in exchange for more picks and prospects. Of the 22 roster players listed on CapFriendly, 15 (68%) will expire at the end of the 2017-18 season. Their ability to move players with high cap-hits and the fact that the Sedins both have one year left on their deals makes their $14 million neglectable.
With the aforementioned prospect cupboard being filled, as well as the surplus of draft picks over the next three years, Vegas is in a position where they can give up two second rounders in exchange for two full-year rental players. This is also a small price to pay. Compared to the return for Martin Hanzal, the 2017 first round pick, 2018 second round pick and a 2019 fourth round pick, two second-rounder's is a steal. It could also be argued that Hanzal is not all that much better than either Sedin individually, let alone as a package.
This trade would mean more to Vegas than just acquiring a couple first-line rentals. No, this is about Vegas having two all-stars on opening night. Each comes with an Art Ross trophy, giving some pedigree to the new team.
Daniel and Henrik Sedin
None of this could happen without both Daniel and Henrik waiving their 'no movement' clauses. There is no doubt both players have settled down in Vancouver. However, there is an argument to waive for Vegas. No one wants to be told they are the reason their team will not get better. The Sedins have been blamed on multiple accounts for stunting the Canucks rebuild. This an organization they have given their entire careers to. Why wouldn't they want to go to Vegas and be THE Guys? The twins have a chance to have their names chanted by adoring fans as they cruise off into the sunset.
Main image credit: