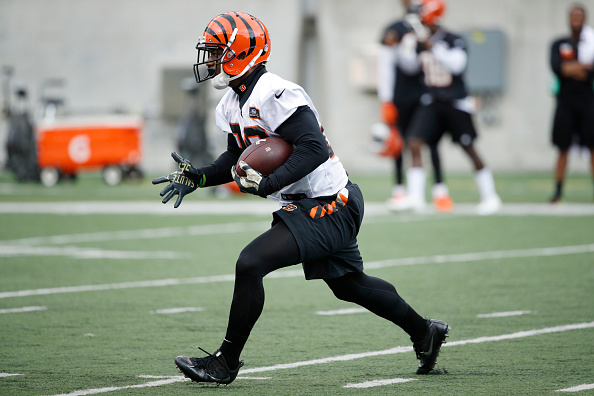 Drafting NFL rookies for your fantasy team can be daunting. Whether dynasty or not, there's an inherent risk factor to drafting a player who hasn't taken a snap in the NFL. Trying to accurately predict how a college player adapts is impossible. So we take as much data as possible about the player, the team, and formulate an idea of how successful they can be.
Top five NFL Rookies for Fantasy Drafts
Here's a list of the top five rookies worth taking a chance on this season.
Joe Mixon – RB – Cincinnati Bengals
Mixon is very talented and one of the rookie's worth chasing in drafts because of that talent. His situation is more murky than his ability. Jeremy Hill is still there and will have his role on the offense. Giovani Bernard is recovering from ACL surgery, and may have a role in this committee. Mixon may be the best back on the roster but it might not immediately start with him being the three down guy. He should eventually see the lion's share of the touches, it's just a matter of time.
Christian McCaffrey – RB – Carolina Panthers 
McCaffrey brings some versatility to the field as a rookie. He'll be slotted as a back but has the ability to operate like a receiver. There are plenty of questions about how he will be utilized. There are questions about how involved Jonathan Stewart will be, especially in the red zone. The coaching staff has been fairly public about taking the run side of Cam Newton's game down a notch. That opens up more rushing for Stewart and to begin with, mixing McCaffrey in to see how he handles the NFL level.
His average draft position climbing as high as it has is a little surprising. This can create some bust potential. He's currently sitting at the back of the third round to middle of the fourth. While not advocating drafting him that high, he's definitely someone to watch.
Corey Davis – WR – Tennessee Titans
Rookie wide receivers as a general rule, make me nervous. They can't all be Odell Beckham Jr. and show up ready to play in the NFL. Learning the offense, the routes, and developing a chemistry with the quarterback all take time.
Corey Davis looks like he is ready to play. While i don't think he's going be a WR1 immediately, he's definitely a guy to lock in for dynasty and could produce enough to be a steady flex play for the 2017 season.
Leonard Fournette – RB – Jacksonville Jaguars
Fournette is not a shifty or elusive runner. He's a more bruising, power style back. He is strong through the tackles, but won't make too many linebackers miss. It looks like he will immediately be the bell-cow back for this offense. Fournette may lose some third down work to T.J. Yeldon, who's still in the mix. Everything points to this first-round-pick being an immediate plug-and-play back. Fournette eclipsing 1,000 yards is a very real expectation.
Zay Jones – WR – Buffalo Bills
Jones is another rookie that was drafted in the right place. His numbers at the combine were solid. He is the current all-time receptions leader out of the FBS. He's immediately going to be the number two wide-out starting opposite of Sammy Watkins. A much larger role would be in store if Watkins were to go down with injury. He's worth a late round pick up as a flex play, or a bye-week streamer.
Main Photo: