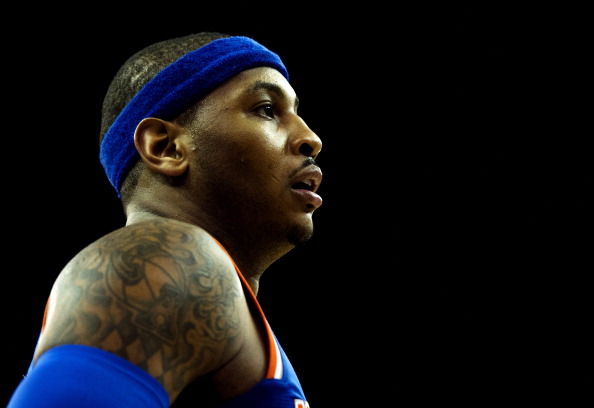 According to reports, on Tuesday, Carmelo Anthony said that he is not interested in meeting with the Knicks to talk about staying with the team. Anthony made it very clear he wants to go to Houston. This will team him up with Chris Paul and James Harden, two close friends. Here, multiple trades will be looked at. All of the upcoming trades will send Anthony to a team he will approve of.  Also, all these trades will be legal to salary caps and luxury tax. With that said, what does a possible Carmelo Anthony trade look like.
Trade 1
Rockets receive: Carmelo Anthony, Lance Thomas, 2018 2nd Round Pick (Knicks)
Portland Trail Blazers receive: Ryan Anderson, Chasson Randle
Knicks Receive:  Eric Gordon, Trevor Ariza, Maurice Harkless, Meyers Leonard, 2019 1st Round Pick (Blazers)
Why Rockets agree
H-town agrees to this deal for many reasons, none of them involving Lance Thomas. The only reason they get the second round pick is because the Rockets need to pay Lance Thomas. Houston gets Carmelo Anthony. The Rockets did seem to be front runners (ahead of NY) to land Anthony in 2014 free agency.  This teams Anthony up with Harden and CP3, along with Clint Capela, and Lance Thomas bench sitting skills. Look out, Warriors.
Why Trail Blazers Agree
The Blazers fill a weakness at power forward by acquiring dead-eye shooter, Ryan Anderson. Also, they get rid of the horror story called the contract of Meyers Leonard.  The contract of Leonard still haunts them, though, because for the Knicks to take the contract on, they will require a first round pick. Along with Anderson, the Blazers receive young point guard Chasson Randle.  The Blazers do not currently have a back up at the point guard spot, and Randle has shown flashes of offense.
Why Knicks Agree
The Knicks get a fair return. They receive Eric Gordon, the reigning 6th Man of The Year, and three-point contest winner. New York also receive a young small forward and three point specialist in Mo Harkless. Trevor Ariza, a veteran presence, and lock down defender, will also come to the Big Apple. Unfortunately, they receive Meyers Leonard and the horrifying contract that comes with him but they also receive a 2019 first rounder from Portland, which could become very valuable in the future.
Trade 2
Rockets Receive: Carmelo Anthony
Phoenix Suns Receive: Ryan Anderson, Kyle O'Quinn, 2018 Second Rounder (Knicks), 2020 first round pick (Rockets)
Knicks Receive: Eric Bledsoe, Jared Dudley, Tarik Black, 2019 swap best first round pick (Rockets)
Why Rockets Agree
First of all, giving up these picks wont change the Rockets mind. They are in win-now mode. By 2020, the Rockets' players will be aging, and possibly see the two Banana boaters on different teams. This could cause some issues, but the Rockets with Anthony can actually threaten the four headed monster in the Bay area.
Why Suns agree
Eric Bledsoe is probably tired of being stuck dying of a heat stroke in the desert, winning 20 out of 82 NBA games. He is probably wasting his career being on one of the worst NBA teams. So, yeah, trading him to the Knicks, doesn't help Bledsoe get away from a bad team. The reason the Suns get rid of him is so he doesn't leave them for nothing in two years.  Now, they acquire a solid package in return.
Why Knicks agree
Mostly, Eric Bledsoe. The Knicks are rumored to attempt to trade for Bledsoe every off season. This also puts them in a Dennis Schroder, Jeff Teague situation. The Knicks have a foreign point guard who is not ready to guide an NBA offense yet. Bledsoe can mentor Frank Ntilikina for a year or two, then the Knicks can either let him walk in free agency, or trade him away to a contender.
With Bledsoe and Kristaps Porzingis as two lead roles, and Tim Hardaway Jr., Courtney Lee, and Willy Hernangomez supporting them, the Knicks have the talent to be a playoff team in the east, just not a good playoff team. The Knicks also get a first round pick, which may be valuable in 2019. Dudley can also play either forward spot, while being a valuable bench player.  Black is also capable of playing the backup center, as Joakim Noah is too busy trying to one-up Greg Oden in injuries.
Trade 3
Cleveland Cavaliers Receive: Carmelo Anthony
Brooklyn Nets Receive: Iman Shumpert, Richard Jefferson, 2018 1st Round Pick via Trail Blazers (Cavs), 2019 lottery protected 1st round pick (Knicks)
Knicks Receive: Channing Frye, Rondae Hollis-Jefferson, Isaiah Whitehead, Kay Felder, 2022 and 2023 first round draft picks (Cavs)
Why Cavs Agree
The Cavs understand that they are the team with the best chance to dethrone the Warriors. The problem is it only took five games for the Warriors to take out Cleveland in this year's finals. LeBron James knows he needs more help. He knows that Carmelo Anthony wants to stop losing. He also knows his good friend Carmelo would waive his no trade clause to play in the land. With Anthony on the roster, along with Kyrie Irving, Kevin Love, and James there is a chance that the Melo factor puts the Cavs over the hump. The Cavs could challenge for their second Larry O'Brien trophy.
Why Nets agree  
The Nets could use some good defense, actually scratch that. Brooklyn could use a completely new team, and along with that, some defense. Brooklyn has to give up Hollis Jefferson, but getting a lock down defender in Shumpert, will be very helpful.  They also get back Richard Jefferson, who will get to retire with his former team. Jefferson made the finals twice with Brooklyn, he can mentor D'Angelo Russell, Sean Kilpatrick and the rest of the Nets young guns. They also might receive two first round picks, which they need desperately. It will hurt to lose Hollis-Jefferson, but he is the only player of value they lose, and the gain is more valuable in the long run.
Why Knicks agree
The Knicks lose Anthony, and replace him with Hollis-Jefferson, who is capable of starting. They also get a young guard tandem in Whitehead and Felder, who both have shown some signs of decency.  Channing Frye used to be a Knick, and now he returns to back up the Unicorn. Frye, along with Whitehead and Felder, add some bench depth to the Knicks. These players, though, do not make up for the ten-time all-star.  This is why the Knicks get these two draft picks. The Cavs will probably not be as good in 2022 and 23, meaning the Knicks do receive true value for the man who carried the team for seven years.
For some Knick fans, it's sad to see Carmelo Anthony go, others are happy about it. Making the Carmelo Anthony trade now is the right direction for the team. The Knicks need to embrace their new era of basketball, the Kristaps Porzingis era.
Main Photo: New York Knicks' forward Carmelo Anthony is pictured during his team's NBA basketball game against the Detroit Pistons at the O2 Arena in London on January 17, 2013. AFP PHOTO / ADRIAN DENNIS (Photo credit should read ADRIAN DENNIS/AFP/Getty Images)