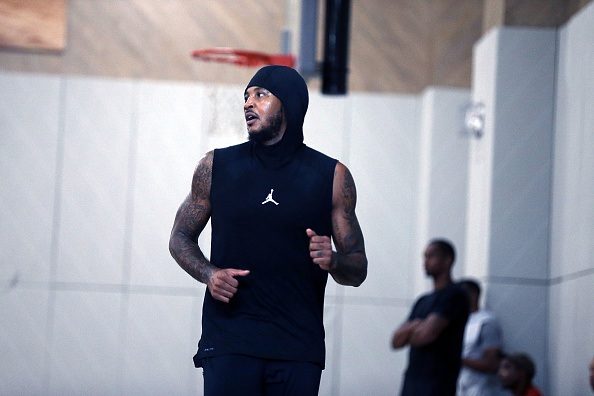 The Houston Rockets are off to a rough start this season after reaching the Western Conference Finals last season. The Rockets are 5-7 this season but seem to have drama following them around. Houston did lose some key players from their team last season in Trevor Ariza, Ryan Anderson, Joe Johnson, and Luc Mbah a Moute. The Rockets did also add some pieces this off-season in Michael Carter-Williams, Carmelo Anthony, James Ennis, Brandon Knight, and Marquese Chriss. The Rockets signed Anthony to a veteran minimum deal so that they could keep some of the key role players that helped them get within a quarter of the NBA Finals. Carmelo has become the scapegoat for Houston already. It is reported that he will be no longer part of the team. I will be breaking down potential landing spots for Anthony if he is waived from the Houston Rockets.
Potential Destinations
Philadelphia 76ers
The Philadelphia 76ers have two of the best young players in the game in Ben Simmons and Joel Embiid. Philadelphia also has Markelle Fultz, the number one pick from last season. He missed most of last season due to an undisclosed injury that impaired his shooting abilities. The 76ers recently acquired Jimmy Butler from the Timberwolves for Robert Covington and Dario Saric this week. They will now be considered one of the best teams in the Eastern Conference with a new big three. Philadelphia is still lacking outside shooting with only J.J. Redick and Wilson Chandler as shooters. Anthony would be a nice fit in Philadelphia due to his ability to score in a variety of ways. He could provide scoring to take some pressure off of Ben Simmons, Joel Embiid, and Jimmy Butler.
Los Angeles Lakers
The Los Angeles Lakers made a big splash in free agency this summer by landing superstar free agent LeBron James. The Lakers decided to take a different approach with LeBron than other teams in the past. Los Angeles decided to surround James with playmakers instead of outside shooters with the signings of Rajon Rondo, Lance Stephenson, Michael Beasley, and JaVale McGee. They still having some outside shooting in Kentavious Caldwell-Pope, Josh Hart, and Svi Mykhailiuk. The Lakers also have a young core in Lonzo Ball, Brandon Ingram, and Kyle Kuzma but still seem to lack scoring. Anthony and the Lakers were connected during the summer but he ended up signing with the Rockets. Carmelo and James are best friends so James could recruit him to Los Angeles to help him chase a title. Anthony would provide a scoring punch off the bench and his game would fit in well.
Golden State Warriors
The Golden State Warriors have won back to back championships and have one of the best teams in NBA history. The Warriors have a core of Stephen Curry, Klay Thompson, Kevin Durant, and Draymond Green. Golden State added DeMarcus Cousins this off-season to a one year deal after he tore his achilles last season. He will miss some of the season with his rehab. The Warriors' one weakness might be their bench and their second unit. The Warriors bench consists of Alfonzo McKinnie, Shaun Livingston, Jacob Evans, Jordan Bell, Kevon Looney, Andre Iguodala, Quinn Cook, and Jonas Jerebko. Livingston and Iguodala have already missed time this season with injury also. Carmelo Anthony could sign for the veterans minimum and get his ring that he has been chasing for years. Anthony would be a huge addition to their second unit and be a scoring machine in Steve Kerr's system. He would also allow for some rest to the star players as well. Steve Kerr would have a challenge trying to involve all of these guys on a team with one ball. He's made it work so far though in Golden State.
San Antonio Spurs
The San Antonio Spurs lost two of their iconic players last season. As well, they made one of the biggest trades of the season. The Spurs lost Tony Parker to the Hornets and Manu Ginobili due to him retiring. They also had an odd season last year with star player Kawhi Leonard missing most of the season as people thought he wanted out of San Antonio. The Spurs traded Leonard to the Toronto Raptors along with Danny Green for DeMar DeRozan and Jakob Poeltl. The Spurs also lost their young and upcoming star point guard Dejounte Murray to a torn ACL before the season started. San Antonio could use an offensive player like Carmelo Anthony in their starting lineup or off the bench. Gregg Popovich would get the most out of Anthony and would be a weapon for a playoff caliber team. He would take some pressure off of DeRozan and LaMarcus Aldridge as a secondary scorer. I would be curious to see how Anthony and Popovich would work together because Coach Pop is one of the best coaches of all-time and he would have Anthony thrive in certain situations.
Boston Celtics
The Boston Celtics have started off on the wrong foot this season. As the season progresses though, they seem to be finding their way. Boston is trying to work back in some of their returning players from last season. Kyrie Irving and Gordon Hayward missed most of last season, and that's where Terry Rozier and Jayson Tatum stepped up and had amazing seasons. With those two guys returning it's tough for everyone on the team adjust to each-other. Irving has stated that a veteran player would be nice to add to this Celtics team as a mentor and a key piece. Anthony would be a nice veteran piece to add to the bench of the Celtics, serving as a mentor to the younger players. Carmelo would take pressure off their starters and give them a rest so that they aren't playing big minutes every night. This would allow them to be rested for the playoffs to make a run at a championship.
New York Knicks
This would be an interesting move to bring back Anthony to the New York Knicks. The Knicks are going through a rebuild and might not be in playoff contention this season. Bringing back Anthony would allow him to mentor the younger players on the team. Carmelo could start at power forward with the injury to Kristaps Porzingis. New York would welcome Carmelo back with open arms for everything he did for this franchise and the city. Anthony never wanted to leave until he was forced out by Phil Jackson. Carmelo could sign for the one year minimum, and depending on what direction the Knicks want to head in, Anthony could possibly look for another short contract this offseason to return to the Knicks.
Main Photo:
Embed from Getty Images