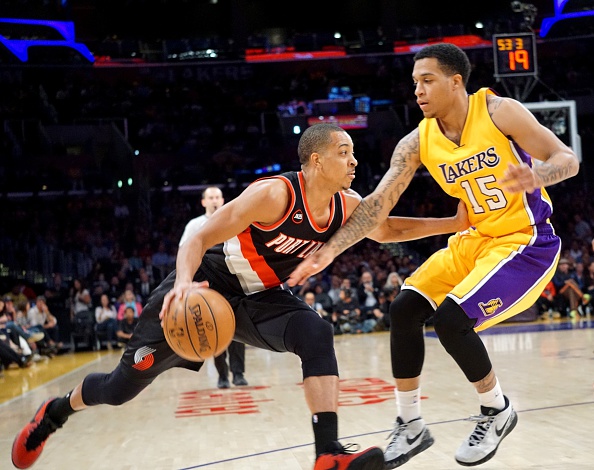 Last week, we looked at top five point guards in the NBA. In this article we look at the top five shooting guards. As a bonus we look at the guards who make the 10 players list and our  All-NBA team.
Top Five Shooting Guards in the NBA
DeMar DeRozan makes the cut because he can flat out score. He averaged 27.3 points per game last season which tops all players ahead of him on this list. What keeps him down on the list is his outside shooting. He shot just 26.6% from beyond the arc last season which should label him as pitiful among shooting guards in today's NBA.
He's a menace in the mid-range game though. He makes his living off of drives and pull-ups. He's crazy athletic which he shows off with some ferocious finishes in the paint and he has a great handle to create space for his mid-range jumper.
If one were to make a list of players with the best nicknames, Jimmy Buckets should top that list. A shooting guard who's called "Buckets" makes this list.
This is actually where the list gets really strong. There is a case to be made for Jimmy Butler in the top spot, these four players are that close. Butler falls in fourth as he can struggle at times with his perimeter shooting, a skill that's proved to be the most important offensive benefit in today's NBA. He shot 36.7% from three last season which is still above average.
What makes Butler unique is his versatility on offense. He plays off the ball a lot and can make plays coming off screens, cutting, or posting up. Butler can also create with the ball in his hands. His step-back and pull-up jumpers in the half court game are unguardable at times. He'll enter modes where the defender guards him perfectly and, impossibly, he still makes his shots.
This is probably the biggest surprise on the list. Many might have Klay Thompson ranked as high as number one and it's easy to see why. He might be the best three-and-D player in the NBA.
What keeps him down on the list is his ability to create his own shot or lack thereof. He is in the perfect situation for himself as a player. He shares a backcourt with the best offensive player in the league and primary ball-handler in Stephen Curry. Thompson isn't responsible for creating off the dribble very often and when he does put the ball on the floor it can be a little cringe worthy.
His job, which he does extremely well, is to get open on the perimeter and catch and shoot three pointers on offense. On defense he's tasked with guarding the better of the opposing team's backcourt players to help hide Curry from mismatches. Defensively he's very sound, both fundamentally and instinctively. He doesn't fall for pump fakes or jab steps which makes it difficult to drive against him in isolation and he rarely makes poor closeouts when switching.
Offensively, simply put he's the second best shooter in the league and that's all there is too it. He's a career 41.9% three point shooter and has never shot under 40% for the year in his career. He has a quick release which allows him to get shots off in tight space and in turn makes it incredibly easy for his teammates to get him the ball and convert.
C.J. McCollum does not get the recognition he deserves. It's rare to see his name in the top shooting guard conversation, but he's every bit of an offensive weapon from the two-guard spot as anyone in the league.
This past season he shot 42.1% from three and 91.2% from the free throw line. He may not have even hit his peak yet. At just 25 years old, McCollum has improved his shooting numbers in each of his four years in the league.
He isn't just a shooter either, McCollum can make things happen with the ball in his hands too. What separates him from Klay Thompson and Jimmy Butler is his ability to be a lights out shooter as well as an isolation scorer, whereas Thompson and Butler possess more of one or the other.
Naturally, defenders play him tight to prevent him from shooting which spaces the floor for his teammates and allows him to drive, creating offense in a multitude of ways.
Bradley Beal tops the list mainly because his strengths resemble McCollum's, but Beal is even younger. Similar to Thompson, Beal is in a situation that allows him to flourish, but similar to McCollum, he's able to beat defenders in more ways than shooting.
He does a lot of spot up shooting, thanks to John Wall who draws defenders off Beal on drives. The 23-year-old converted on 40.4% of his three point attempts this past season and really polished up his ball handling. He shot a career best 48.2% from the field and 53.8% from two point range because he was able to get into the paint a lot more this season.
These improvements made Beal one of the most dynamic scorers in basketball. His ability to create his own shot and spot up shoot creates is now next to none, and at 23 years old, he's just getting started.
Players in Top 10
In order to preserve the suspense of the official top ten rankings, this list of players is in alphabetical order.
Stephen Curry
So there's three point guards and one shooting guard so far with six players left split up between small forward, power forward, and center.
All-NBA Team (1st & 2nd Team)
Again in alphabetical order:
Stephen Curry
Main Photo: