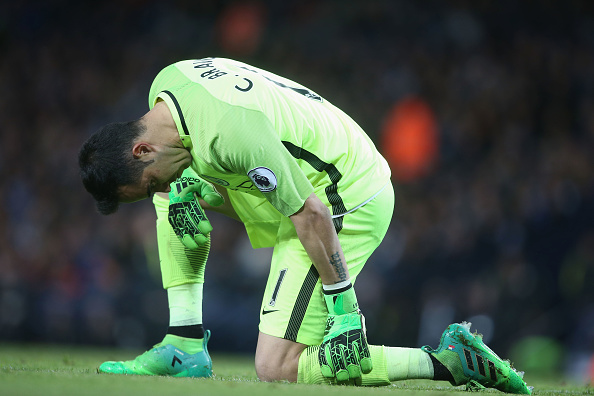 Now that the 2016-17 Premier League season is in the books, it is time to take stock. This year had plenty of highlights, from Antonio Conte's Chelsea revival to Zlatan Ibrahimovic's much-anticipated arrival. However, this campaign was not short on disappointment either. Here is a look at some of the biggest flops of the Premier League season.
Club: Leicester City
Yes, Arsenal, both Manchester clubs, and Liverpool all underwhelmed. But let us look elsewhere. No one, not even Claudio Ranieri, expected Leicester to compete for the title again this season. Few, however, predicted things would go so wrong for the champions. By the time Ranieri was sacked in late February, the Foxes had lost five in a row, hovered one point above the relegation zone, were out of both domestic cup competitions, and had failed to score a goal in the calendar year. After Ranieri's firing, Leicester won more points from their final 13 league matches than in their previous 25. Though they saved many of their finest performances for the Champions League, Leicester's improvement over the last months of the season showed how much more this club had to offer in a poor season.
Player: Dimitri Payet
After an outstanding first year, in which he electrified the league with his free kicks and won West Ham's player of the year award, many expected more of the same from Dimitri Payet's sophomore season. Instead, the Frenchman, after making 18 appearances, refused to play again for the club. Citing boredom with West Ham's defensive approach and the feeling that he could only regress as a player by toiling in the bottom half of the Premier League, Payet eventually forced a January movie back to his former club Marseille. An acrimonious end to a promising season.
Match: Manchester City 0 – 0 Manchester United
When the sides met in September for the season's first Manchester derby, the 2-1 scoreline belied a match full of excitement and incident. The second installment, pushed back to late April as it conflicted with United's EFL Cup final match, failed to deliver. A win for United would have allowed them to leapfrog City into fourth place, while City could have moved up to third with three points on the day. United's defensive posture neutralized every City attack, both teams succeeding only in displaying the deficiencies they will need to address next season. Marouane Fellaini's red card for head-butting Sergio Aguero was the main talking point on a dull night.
Transfer: Claudio Bravo
Claudio Bravo arrived at Manchester City off the back of two title-winning campaigns at Barcelona and consecutive Copa America triumphs with Chile. As a proven shot-stopper known to be good with his feet, he seemed the ideal replacement for Joe Hart in Pep Guardiola's new system. Despite his reputation, Bravo struggled in his debut, gifting a goal to Manchester United, and never seemed to recover. He failed to register a save in City's 4-0 drubbing at the hands of Everton and even received ironic applause from City supporters after making a save in an FA Cup match. Second favorite to Willy Caballero on many occasions this year, his future with the club is in doubt.
Manager: David Moyes
While many managers have fallen short of expectations, no one has failed as spectacularly as David Moyes. Back in the Premier League this season with Sunderland, the Scotsman seemed a shadow of the man once given the reins at Manchester United. As early as August he cast doubt on his side's ability to compete, and saw no point in bringing in new players as the situation worsened. Sunderland finished bottom of the table, relegated to the Championship. Moyes resigned shortly thereafter, though in truth he should have lost his job much earlier. If poor performances were not enough, threatening to slap BBC reporter Vicki Sparks following a post-match interview in April should have brought his time at the club to an end.
Main image credit: