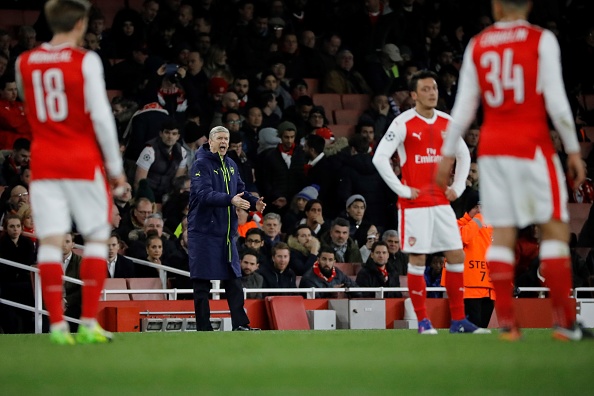 Gone are the days when teams like Manchester United, Liverpool, and Chelsea went about their business in Europe's elite club competition—the Champions League. English teams over recent years have lost their influence on the European stage and aren't able to make their mark in front of their Spanish or German counterparts.
Can the Premier League revive its Champions League Glory?
The last time an English team won the Champions League was in the 2011-12 season when Chelsea beat Bayern Munich over penalties at Munich.
Since then we have seen Arsenal getting knocked out in the last 16 too many times. We have witnessed Manchester City getting to a semi-final once, only to lose out to eventual champions Real Madrid. Many English sides couldn't even make past the group stages and hence were demoted to the Europa League.
We look into the reasons why English teams have not made their mark amongst the European elite.
Too many domestic competitions
Unlike other countries, England has three long, drawn-out domestic competitions: The League, FA Cup, EFL cup. Most other big footballing nations in Europe have two by comparison.
The EFL cup in England turns out to be one extra competition that Premier League teams have to take part in. With some squads having limited squad depth and injury issues, this leads to player exhaustion. Mid-week games sometimes prove too much for the English teams. We have seen Premier League managers whining about the long fixture list, and this is the one they cite first. Legitimately, top sides in England are simply playing more footballing their their counterparts in other European leagues.
Premier League: A competition unto itself
One of the things that makes the Premier League such a strong brand internationally is that it has more parity than most other leagues. With there being six sides that legitimately can challenge in any given year—Chelsea, Tottenham, Liverpool, Manchester City,Manchester United, Arsenal—there is no easy path to any silverware. Compare to other leagues where there is very little competition, such as Bayern Munich in the Bundesliga which has dominated for a long while.
Reasonable importance has to be given to every Premier League game of the season to succeed. Teams cannot afford to rest valuable players in league fixtures because nothing is guaranteed. Teams cannot expect results to go as per their expectations. In England, even the mid-table teams can spring-up surprises regularly. This is unlikely to happen in Spain or Germany.
Europa League Qualification: A Gamble?
Top teams in England have now shifted their sights on the second tier of the European set-up—The Europa League. We have seen teams like Liverpool and Manchester United fighting it out in the Europa League over the past few seasons. Not only does it bring about its own level of silverware, but also acts as a direct route to automatic qualification in next season's Champions League. Finishing third in the group stages in Champions League also leads to a demotion into the Europa League.
Though inferior in stature to its bigger brother Champions League, Europe's second tier is not a cakewalk. This season Manchester United's road to the final has been no less than a struggle. Taking the Europa League as the only way to get direct qualification has been a gamble to say the least. Playing in the Europa League involves late mid-week fixtures and a lot of travelling between them. Failure in this completion means no Champions League football next season unless they make it to the top four domestically. Liverpool took the gamble in the past few seasons but failed to win the Europa League.
Lack of domestic prowess
Six potential teams vying for two Champions League spots means two will always be left out—and that's not considering the possibility of 'a Leicester' happening again.
Domestic performances are vital to secure Champions League places without having to play the qualifiers. Teams like Manchester United have been finding it a struggle to make it to the top four in recent years. The best they have managed is fourth place two seasons back. Liverpool, unlike this season, have also failed to make a spot theirs. Jürgen Klopp has found his feet this season, and his team holds its own fate en route to Champions League football next season.
Teams have to strike a balance between both the competitions. Concentrating on the domestic competition more than Europe has led to this lack of success on the larger stage.
Lack of squad strength
The Premier League teams have spent a lot of money over the past few seasons to attract the players they want but that has not essentially guaranteed success. Manchester City failed against a young Monaco side, even after spending a lot of money in the transfer season over the years. Arsenal were trashed by Bayern Munich again. Spurs failed to go through the group. Ironically, the team which spent the least money, Leicester City, went the farthest of all English sides, playing through to the quarterfinals.
Even though big names have been added, they haven't necessarily added to the strength of the teams. The teams have been lacking players who can turn up for big occasions. Teams look good on paper, but on the pitch, performances have been lacklustre. In reality the teams are just a culmination of big names. Teams do not have the kind of adherence and fluidity that the successful teams in Europe have in recent times.
The only team which has made considerable European progress this season is Jose Mourinho's Manchester United in the Europa League. United play a good Ajax side on the 24th of May in Stockholm. They have taken the European route in order to get into the champions League but if it will pay off remains to be seen.
In the Champions League, this season has been another failure to say the least.
Main Photo: