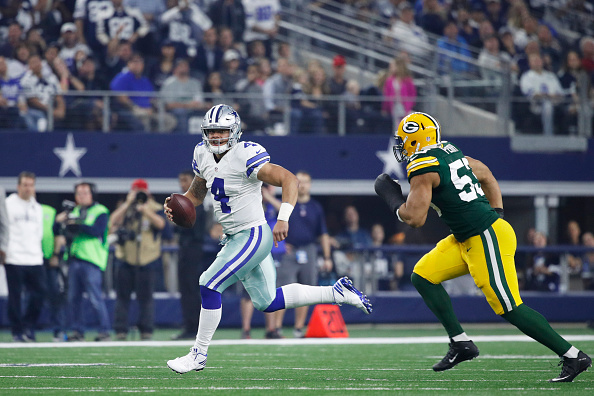 The Dallas Cowboys expectations may be too high for 2017. Every year, there are teams that do not live up to their expectations set from the previous year. The Cowboys had a stellar season last year, finishing with a 13-3 record and the number one seed in the NFC. They also had an 11-game win streak during the season.
3 Reasons Dallas Cowboys Expectations are Too High
Dak Prescott and Ezekiel Elliott were both rookies of the year candidates. This led to much of their team's success. They are a team that many are considering to be Super Bowl contenders again. However, based on how this off-season has been going, the Dallas Cowboys may struggle more than many may think next year.
Losses in free agency
Out of the 18 unrestricted free agents, the Cowboys had this off-season, they have already lost nine. They Cowboys have lost key players on both sides of the ball, but the most glaring losses came from the defense. Both starting safeties, as well as two of their starting cornerbacks from 2016, are no longer with the team. Combine this with losing three defensive linemen as well, and allowing 19 points a game as they did last year seems unrealistic. While they did spend most of their draft capital on defensive prospects, the fact of the matter is this will be a brand-new group playing together. The Dallas Cowboys expectations regarding their defense may need to be re-evaluated.
The offensive line also took a hit during this off-season when left guard, Ronald Leary left to Denver during free agency. Not long after that, right tackle, Doug Free told the team that he intends to retire. This is two huge losses for a unit that was considered to be the best offensive line in football just a year ago. There are going to be some new faces attempting to open running lanes for Elliott and pass protect for Prescott.
The Sophomore Slump is a Real Thing
This is not to say that Dak Prescott and Ezekiel Elliott are going to play terribly in their second year in the NFL. They should both continue to play well, but may not be able to dominate the NFL quite the way they did last year.
Historically there have been a number of talented rookie quarterbacks, who did not put up the same stats in their second year. Prescott threw only four interceptions last year and that is a record that will be hard to duplicate. Keep in mind that every team now has a full season of tape to watch and study him. He is no longer new to the league and no one is going to be surprised by Prescott's talent or production on the field.
The NFC East is Getting Tougher
The NFC East has always been a very competitive division in football. This year is not any different. With what the rest of the division has been doing this off-season, it will be tough to dominate the division once again.
The New York Giants defensive unit will be amongst the top groups in the league once again. They also added firepower to their offense with the additions of Brandon Marshall and first round draft pick Evan Engram.
The Eagles have added weapons for quarterback Carson Wentz. They added one of the league's most well known recievers in Alshon Jeffery. They have also continued to build an already good defense in the draft. Let's not forget that the Eagles also have one of the best special teams in the league.
The Redskins are the biggest question in this division right now. Though they lost DeSean Jackson and Pierre Garcon, they added a play-maker in Terrelle Pryor. The have also begun to rebuild their defense, which struggled last year, by taking defensive players early and often in this year's draft.
Playing all of these teams twice will be a daunting task for the Cowboy's which may make this upcoming season's schedule more difficult than one may expect.
Main Photo