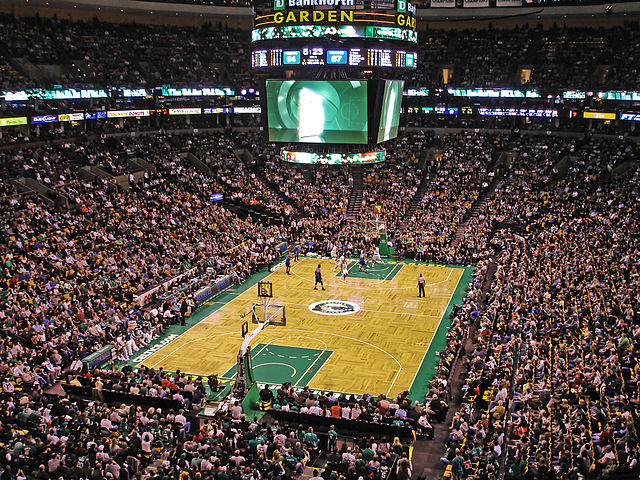 The NBA's eastern conference needed until the last day of the regular season to figure out it's top-8, but now it's set and it looks like there's going to be some great games ahead.
NBA Playoff Picture: The East (Part Two)
(4) Washington Wizards
The Wizards always seem to end up near the 4-seed, so I'm not surprised they're here.
This is a pretty good squad. They play pretty up-tempo, finished top-5 in points scored and their offense is very efficient. Their defense isn't spectacular though. While the team is very athletic across the board, they do allow a lot of points (107.4 on average). Part of that is due to their fast pace, but their defense just isn't very efficient (20th-ranked defense rating).
Washington has had the same core of guys for a few seasons now, so that will pay dividends right off the bat. But when the face of your franchise – John Wall – is averaging 23.1 pts and 10.7 ast, that certainly helps too.
Washington has a few more weapons actually. Bradley Beal is averaging 23.1 pts as well and is shooting 48 per cent from the field (40 per cent from three). Otto Porter averages 13.4 pts and is shooting the ball very well. Marcin Gortat is a presence in the paint on both ends and is averaging a double-double. Markieff Morris seems to have had somewhat of a resurgence in Washington and Bojan Bogdanovic – a solid pickup – has to be respected.
However, after that it really drops off. The Wizards rely heavily on that group of players, which isn't necessarily a problem – because it's tough to stop six guys at once – but it's not ideal to have such a big drop of production from your bench.
Washington will also be heading into the playoffs a little banged up. Ian Mahinmi suffered a calf strain this week and isn't expected to be back until the end of April, while John Wall has a sore quadriceps, but is still expected to play in Game 1 against the Hawks.
If Washington's bench can step up a bit and John Wall can fight through the pain, they should be alright.
(3) Toronto Raptors
The Raptors, at times, can be the most frustrating team to watch – for a number of reasons – but they're also exciting to watch and are a very good team, despite how often they get disrespected by the U.S. sports media.
A lot of things are lining up well for this team right now too.
The fans in the 6ix are insane this time of year, most of this group has been together for a long time and they're coming off a trip to the eastern conference finals last year. They're also playing really well overall right now and they should be entering the playoffs healthy.
The team itself is really good on both ends. They're top-10 in points scored, 6th-ranked offense rating. They allow 102.6 points – eighth in the league – and are efficient on that end as well. They also slow the ball down, so the pace they play with helps on both ends.
Everyone knows that Demar DeRozan and Kyle Lowry are the go-to guys on this team. But this could be their best years yet, respectively. DeRozan's offensive output, playing his game, is both refreshing and dominant. He came down with an illness and didn't play Wednesday, but he's expected to be playing in Game 1.
Lowry was injured for a while, but he returned at the perfect time. He's healthy at the end of the season, but returned with enough time to get his rhythm back. This year he took a bit of a back seat to DeRozan, but he's still playing at an all-star level, averaging 22.4 pts, 7 ast and 1.5 stl.
Toronto was also able to pickup P.J. Tucker and Serge Ibaka at the trade deadline. They deserve a lot of the credit for the way this team has looked since the beginning of March. Jonas Valanciunas is a force in the paint and with Ibaka's ability to stretch the floor, the two go well together.
Toronto's bench is also full of role players, who not only step up when needed, but understand their role and have bought in.
Last year, the Raptors got the monkey off their back and moved past the first-round, but every year, this team goes cold in the playoffs. They have a solid defense to hang their hat on and they shouldn't have trouble scoring against the Bucks, but that's definitely something to watch for.
That said, things seem to be aligning for this team right now. A month ago, the Cavs would have been the obvious choice to come out of the east, but now it's not so certain. I expect Cleveland to turn it around, but even then they'd still be a bit vulnerable. Given how the Raptors are playing, if they want to make it to the Finals, now is the time.
(2) Cleveland Cavaliers
They're already the defending champs and, on paper, this team is strong across the board.
However, the Cavs haven't been playing well at all as of late. Since the all-star break, they have an 11-15 record and they ended the season on a four-game losing streak. Resting players plays a part in that for sure, but there seems to be some dysfunction on this team right now.
Now, fact is, LeBron will fix it. It's what he does. And when he does, look out, because this team comes at you hard when it's rolling.
Offensively, this team is top-3 in the league. They score a lot and are very efficient doing it, but they're actually not an uptempo team, which is dangerous when you have the weapons the Cavaliers do.
LeBron James is the best player in the world, but his numbers (26.4 pts, 8.7 ast, 8.6 reb) are still crazy. Kyrie Irving scores more than 25 points a game – though the tendinitis in his knee is acting up, so that could play a factor. Kevin Love is, low-key, averaging 19 pts and 11.1 reb and Tristan Thompson fills his role well. After that it's role players, but those role players could start on a lot of teams in the league – Kyle Korver, J.R. Smith and Deron Williams, for example.
Defensively, however, the team is much less scary. The Cavs allow a lot of points and their defense isn't efficient, despite all their athleticism.
I'm a believer in LeBron James as a leader. I think he'll turn this ship around, especially with his legacy on the line. However, this team is vulnerable and if a team can slow them down on offense, it could make for a very good series.
(1) Boston Celtics
I'll admit, I'm a Celtics fan, so I'm hyped about this seeding. But from an analytical perspective, in today's NBA, this isn't your typical top-pf-the-conference team.
Yes, they have guys like Isaiah Thomas and Al Horford, but this is a team-orientated squad and a lot of that has to do with head coach Brad Stevens. His system rides the hot hand, but everyone has a role to play and each player has bought in.
As a team, offensively, Boston's top-10 in the league and they're relatively slow paced, so that makes it even more dangerous. The team's defense is average, they allow some points and they're not overly efficient, but players like Avery Bradley, Jae Crowder and Marcus Smart can lock guys up.
Isaiah Thomas is the heart of this team and he deserves to be in the MVP conversation. He averages 28.9 pts and 5.9 ast and we all know he's dangerous in the fourth quarter. Avery Bradley helps carry the load, averaging 16.3 pts and 6.1 reb. Marcus Smart, Jae Crowder and Al Horford all average double-figure points too.
As I said, this squad is all about the team concept, so bench guys like Kelly Olynyk, Jaylen Brown – and others I've already named – can and will pitch in when their number is called.
The Celtics have three x-factors going them: home crowd, health and recent success.
It's the Celtics, of course Boston is going to go nuts in the playoffs. Especially with this team. Avery Bradley is the only one banged up right now, but he's expected to play in Game 1 against the Bulls. And this team is 16-8 since the all-star break. That's big.
Times like this makes you think of the Celtic pride and mystique.
Now, I don't know exactly how far they'll go. Cleveland – and other teams in the conference's top- 8 – has given them trouble this year, but they've shown they can beat them.
As opposed to the western conference, where I see it being San Antonio and Golden State in the conference finals, the east is up for grabs and that always makes for great basketball entertainment.
Main image credit: Wikipedia