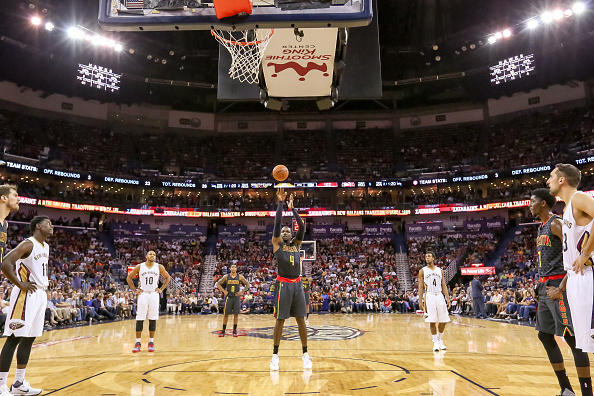 The NBA's eastern conference needed until the last day of the regular season to figure out it's top-8, but now it's set and it looks like there's going to be some great games ahead.
Be sure to check our other previews:
NBA Playoff Picture: The East (Part One)
(8) Chicago Bulls
The Bulls were dysfunctional at times this season, but they were able to right the ship enough to edge out the Miami Heat for the 8-seed.
Statistically, as a team, the Bulls are decent – they are only .500 after all. However, there defense is surprisingly tough, as they're ranked 6th in both points allowed and defense rating. Plus, they're one of the best rebounding teams in the league.
The Bulls also have two key factors going for them: health and a home crowd advantage. The team is healthy and Chicago finished with the best attendance in the NBA – which isn't surprising.
Offensively, they're average. They don't play fast, they're not particularly efficient on the offensive end and can't shoot the three-ball. But a team led by Jimmy Butler, Dwyane Wade and Rajon Rondo should hold its own.
The Bulls are facing the Boston Celtics in the opening round – a team they went 2-2 against in the regular season. Unlike the western conference, you could argue that regular season does mean a little bit in the east, because teams generally aren't as solid as those in the west.
However, unless the Bulls can score the rock a bit better, they're probably getting bounced early.
(7) Indiana Pacers
Do not sleep on this team.
If you take the stats at face value, they're the average of the NBA. However, if you look closely, you'll see that the Pacers shoot the ball well and they get steals and blocks.
Indiana's led by Paul George, who isn't underrated but can be forgotten about when talking about the stars of the league. He's averaging 23.7 pts, 6.6 reb, 3.3 ast and 1.6 stl, but if he plays the way he did against the Toronto Raptors in last year's playoffs, expect those numbers to increase.
He has some help too. Jeff Teague is good at creating some flow in the halfcourt offense and he's averaging 15.3 pts and 7.8 ast. Then you have some bigs like Myles Turner and Thaddeus Young – both averaging double-figure points and at least six boards – and C.J. Miles is good for 10.7 pts as well.
There's also guys like Monta Ellis, Lance Stephenson and Rodney Stuckey, among others, who have seen better days but still have to be respected by the defense.
Plus, it's Indiana. The Hoosier state. In the playoffs, the stadium is packed and the fans go nuts. So the Pacers have a home court advantage.
Unfortunately, they're facing the Cleveland Cavaliers first and despite the Cavs' recent slide, that team will snap out of it. Especially in the playoffs, when LeBron knows his legacy is on the line.
Cleveland also won the regular season series 3-1, although the Pacers have played them tough.
Another knock on the Pacers is some of their key guys are banged up heading into the playoffs. Jeff Teague is expected to play in Game 1 despite an ankle injury, but Al Jefferson is a maybe for that game and Glenn Robinson III doesn't have a timetable for his return yet.
But like I said, you can't sleep on this team. If the Cavs come out still slumping, then the Pacers could make this a series. If the Cavs turn it on, then the Pacers might get bounced. It's a tough call right now, but it should be entertaining nonetheless.
(6) Milwaukee Bucks
Milwaukee making the playoffs wasn't a big surprise to me, but finishing sixth in the east sure was.
Giannis Antetokounmpo is legit and sky's the limit for him considering his this good at 22 years old. He's the driving force of this team and he's really tough to stop because he does everything and plays several positions.
He was an all-star this year, averaging 22.9 pts (52.2 field goal percentage), 8.7 reb, 5.4 ast, 1.6 stl and 1.9 blk. However, he has two weaknesses: fouls and three-point shooting. He averages three fouls per game, so if he gets some early fouls, his damage is somewhat limited. He also can't – and seems hesitant to – shoot beyond the arc. If teams can stop him from penetrating, that will be a huge factor.
Giannis has help, but roles have certainly changed since Jabari Parker went done with another season-ending injury – which was a huge loss for this team. Khris Middleton is back from injury, Greg Monroe is a solid big, but both Jason Terry and Matthew Dellavedova have both won titles, so their experience will certainly help an otherwise young team.
As a team, they play slow and won't outscore opponents and despite being 9th in points allowed, their defense is not that efficient. But at least they have their health.
They're also playing the Toronto Raptors, who the Bucks went 1-3 against in the regular season. Given how well the Raptors are playing right now – assuming they keep that up – Milwaukee will probably head home early.
(5) Atlanta Hawks
Atlanta is a different team. They're not an overwhelming offensive threat, despite being one of the faster teams in the league, but they're defense is legit. They're top-10 in points allowed and their defense is efficient, boasting a top-5 defense rating.
The Hawks are below .500 since the all-star break, including a seven-game skid in March, but they also just beat the Cavs (twice) and Celtics. So it's tough to tell if they're coming out of the slump.
That said, despite losing Kyle Korver to the Cavs, they have some really good players. Paul Millsap and Dwight Howard are great bigs, especially since Millsap can stretch the floor. Dennis Schroder has come into his own as a very good point guard. But there's guys like Tim Hardaway Jr., Kent Bazemore and Ersan Ilyasova who all average double-figure points. The Hawks are also healthy heading into the playoffs.
Their opponent in the first-round is Atlanta's division rival, the Washington Wizards, who's record against Atlanta this season is 3-1 – though, Atlanta has played them very well.
It could be a good series if Atlanta's defense really shows up. But at the same time, their offense has to be running better than the stats say it has all season.
Main image credit: