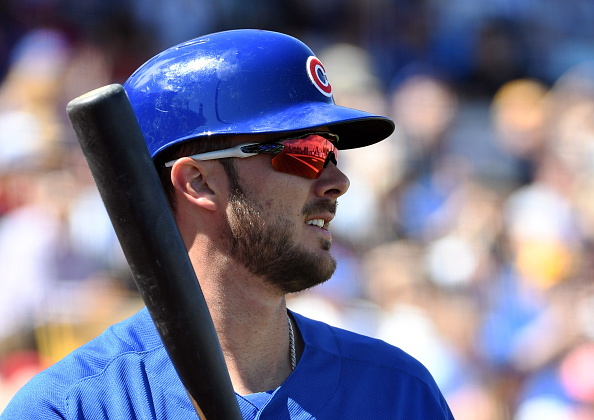 Coming off an amazing sophomore year where he hit 39 home runs, 102 runs batted in, and won an MVP trophy and the World Series, Kris Bryant is on top of the world. Heading into the 2017 season, what can he do to improve on his already stellar form? Win the MVP again, of course—and another World Series title wouldn't hurt either.
On the other hand though, there are minor things Bryant needs to work on to ensure another MVP candidacy. One issue is defensive lapses at times, sometimes making poor decisions. The other is his noted high strike out rate, with 154 strike outs being the most on the Cubs.
How Can Kris Bryant Repeat as National League MVP?
Defense 
To say Bryant is weak defensively is certainly a stretch. His issue is in some suspect decision making, particularly during tense situations with multiple men on base. He doesn't always make the right choice in where to throw after making a play. Which is the lesser of his two problems, but if he were to fix this problem it could save the Cubs a lot of runs.
Strike Outs
Kris Bryant is obviously a very strong power hitter. However, many have noted how many times he strikeouts, which is one area that the Cubs surely are working with him on. In his rookie year he struck out 199 times—the most on the team. The second most was Dexter Fowler who had 154. In 2016, he improved with 45 fewer strike outs, but still led the team with 154. The second on the team was Addison Russell with 135. Along with a reduction in strikeouts, his other stats improved as as result. He hit 10 more home runs and his average went up 17 points from a .275 in 2015 to a .292 in 2016.
If he is able to improve his defense decision making and continues to make strides in his plate appearances, he would be the most likely candidate to win the National League MVP award for consecutive years. If the trend continues like it did from 2015 to 2016, it is not out of the realm of possibility that we could see another triple crown year.
https://youtu.be/Z_Q_FouGodE
Main image credit: