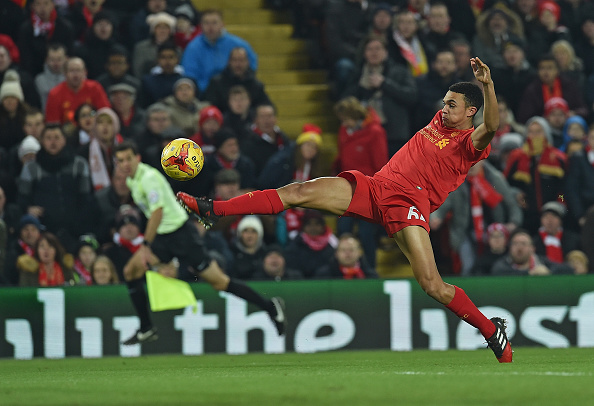 Having watched the Under23s on Monday night, I'm now convinced that Liverpool youngster Trent Alexander-Arnold is ready to step-up to Jürgen Klopp's first team on a regular basis.
Liverpool Youngster Is Ready For First Team
The 18-year-old has already featured for Liverpool's first team. He made his senior debut in a League Cup victory over Tottenham Hotspur at Anfield before making his Premier League debut in the 1-1 draw against Manchester United earlier this season.
Alexander-Arnold was superb in Liverpool's Under23's 2-0 win against Chelsea's youngsters at Prenton Park. The right back was a constant threat down the right flank all evening. With his pace and willingness to attack, his brilliant performance was capped off with a superbly taken free kick. It found the net for Liverpool's second goal.
The fact is that this kind of performance is not unique. Alexander-Arnold has been producing impressive performances on a regular basis for Liverpool's youngsters. Jürgen Klopp must be very pleased with his progress.
Alexander-Arnold reminds many of a young Steven Gerrard. With his gangly physique, speed, ability to beat a man, crossing ability and raw determination, if he proves to be half as good as the great man, then Liverpool will be very happy.
It is a massive step up for any youngster to play regularly for the first team, especially in such a tough league as the Premier League. But Alexander-Arnold deserves a run in the team because regular right-back Nathaniel Clyne is struggling for form at the moment.
Maybe Clyne just needs a rest? The England international hasn't been his usual self. Although he is a terrific defender, for all his willingness to get forward down the right wing, he doesn't create enough chances. Alexander-Arnold looks more dangerous and productive as an attacking wing-back.
It's not just Clyne that is struggling for form at the moment. Left back James Milner has been struggling of late too, and it might be an idea for Klopp to switch Clyne to the left and give Alexander-Arnold a chance at right back. This would also create the option of playing Milner in his more familiar role in midfield.
Klopp isn't afraid to play youngsters instead of players with reputations in the first team, and he proved that once again in last Sunday's 2-1 win over Burnley at Anfield when he replaced the struggling Philippe Coutinho with Ben Woodburn in the second half.
Every game is a must win game for Liverpool as they chase a top four spot, but don't be surprised to see Alexander-Arnold feature. He is ready.
Main image credit: