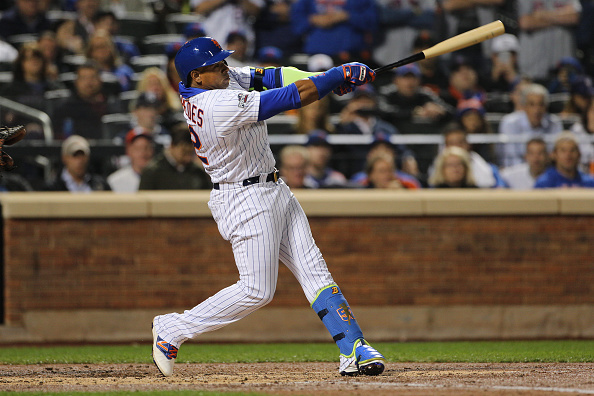 Left field is one of the weakest positions in the game today. There are a couple of 'no doubts' on this list, but the rest can be moved around based on opinion. Here are the top left fielders in the game today.
Top Left Fielders in MLB
10. David Dahl
Dahl was one of the Rockies' top prospects coming into last season. He tore the cover off the ball in the minors, and showed much of the same potential in 63 games with Colorado last season. He hit to an average of .315 with 12 doubles, 7 home runs, and 24 RBI's. Dahl has a solid combination of power, speed, and athleticism. In the field, he has some above average instincts and some solid arm strength. His sweet left-handed swing should help him produce around 20 homers/season. 
9. Alex Gordon
Gordon has put up average offensive numbers his whole career. The past two seasons he has been bothered by a wrist injury and his numbers have gone down. In 128 games, he hit to an average of .220 with 16 doubles, 17 home runs, and 40 RBI's. In his career he has an average of .264 with 1238 hits, 278 doubles, 151 home runs, and 563 RBI's. Gordon is a three time AL All-Star and has been awarded a Gold Glove in left four times. 
8. Michael Brantley
Brantley could be higher on this list if not for an injury last season. The past couple of seasons he has really turned his career around. In 2014, he hit a stellar .327 with 45 doubles, 20 home runs, 23 stolen bases, and 97 RBI's. He finished 3rd in MVP voting and was awarded a Silver Slugger award. Brantley followed that up with another solid season. He finished 28th in MVP voting, hitting .310 with 45 doubles, 15 home runs, 15 stolen bases, 60 walks, and 84 RBI's. Brantley will be a key factor in the Indians hope to repeat their AL Pennant. 
7. Justin Upton
Upton has been known as a streaky hitter throughout his career. When he's hot, he's red hot. Upton's biggest issue is that he has always had big strikeout issues. Last season he struck out a career high 179 times. Enough of the bad, he is a career .268 hitter with 221 home runs and 1315 hits. He has 30 home run potential, and can drive in 85+ runs/season. He is a two time Silver Slugger award winner. Upton has a big, long swing, however if he makes contact the ball goes a long way. 
6. Andrew Benintendi
Benintendi is the No.1 prospect in all of baseball. He played 34 games for the Red Sox last season and showed some signs. He hit to an average of .295 with 11 doubles, 2 home runs, and 14 RBI's. Benintendi is known for his offensive skill set. He has the ability to hit around the .300 mark and pile up the extra-basehits. As a lefty, with that short porch in right at Fenway, "Benny" could put up 20+ home runs/season. Defensively, Andrew has handled left field fine, and he also has the ability to play center.
5. Kyle Schwarber
Schwarber is a guy who just knowns how to flat out hit the ball. He missed most of last season due to a knee injury but was able to return for the World Series. After missing the whole entire season, Schwarber returned and went 7-for-17 with three walks. Two years ago, in 69 games with the Cubs he hit to an average of .246 with 16 home runs and 43 RBI's. Schwarber has some game changing left handed power. Although he is known as a power hitter, he has some outstanding patience at the plate. Defensively, Schwarber has no real position, however is bat is so reliable the Cubs find a way to get him in the lineup. 
4. Marcell Ozuna
Ozuna is coming off a year where he finally broke out. He tied his career high with 23 home runs. He also hit to an average of .266 and drove in 76 runs. Ozone drew a career high 43 walks which is a tremendous sign. He was this productive in a lineup that was missing Giancarlo Stanton for a good portion of the season, and the return of his big bat will certainly present more opportunities for the 26-year old outfielder. 
3. Ryan Braun
At age 33, Braun could definitely be on the verge of decline. However, one thing we all know for certain, despite PED usage, is that he can hit. He has finished in the top 25 in MVP voting seven times in his career. Braun is a lifetime .304 hitter with 285 home runs, 317 doubles, 1597 hits, and 937 RBI's. He has been awarded the Silver Slugger award five times. Braun is the elder member of a very young and raw Milwaukee lineup. 
2. Starling Marte
Marte has very low-key been one of the better outfielders in the game. He has been awarded back to back Gold Glove awards the past two seasons. Offensively, he has been a force. In five season in Pittsburgh, he has a .289 average with 122 doubles, 648 hits, 58 home runs, and 235 RBI's. The area where Marte does the most damage is in the stolen base column. He has some raw speed, and averages 35-40 stolen bases/season. 
1. Yoenis Céspedes
Céspedes is one of the best outfielders in the game today. Last season, he won his first career Silver Slugger award after hitting .280 with 25 doubles, 31 home runs, and a .530 slugging percentage. He carried the Mets' depleted offense all season. He is not only a star offensively, but defensively he has one of the best arms in the game. Yoenis not only hits for power, but he also hits for a high average, and posted his highest walk rate last season. 
Main image credit: