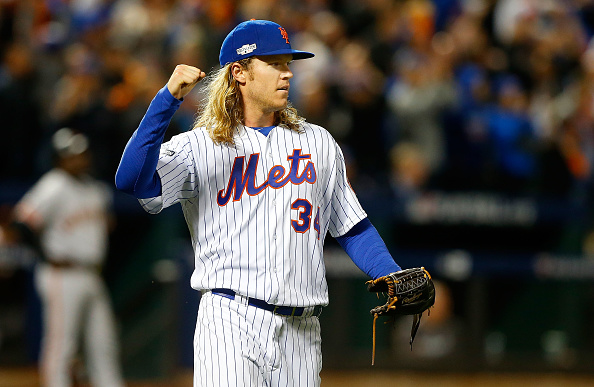 Some of the starting rotations these days have have one or more of the premier pitchers in the game. As we saw last year with both the Cubs and the Indians, rotations have the ability to carry teams. Many teams have a case to be the top rotations entering the 2017 season. Here are the top 10 starting rotations in Major League Baseball.
Top Starting Rotations in MLB
10. Tampa Bay Rays – Chris Archer, Jake Odorizzi, Blake Snell, Alex Cobb, Matt Andriese
Chris Archer struggled a bit in 2016, but finally found his way in the second half of the season. Young, promising lefty Blake Snell has some huge potential. Jake Odorizzi and Alex Cobb are phenomenal young starters. The backend of the Rays rotation could be solid as they have a bunch of young pitching prospects very close to ready for the call. 
9 Detroit Tigers – Justin Verlander, Jordan Zimmerman, Michael Fulmer, Daniel Norris, Matt Boyd
Justin Verlander is coming off a year in which he enjoyed his best season in four years. Michael Fulmer is coming off the AL Rookie of the Year and has some very solid potential. Jordan Zimmerman could be a phenomenal pitcher for the Tigers, as long as he stays healthy. Daniel Norris and Matt Boyd could build off solid 2016 seasons filling out the Tigers rotation.  
8 Toronto Blue Jays – Aaron Sanchez, Marco Estrada, J.A. Happ, Marcus Stroman, Francisco Liriano
In his first full year in the rotation, Aaron Sanchez had a phenomenal breakout campaign last season. J.A. Happ won 20 games, and Marco Estrada had another strong year. Marcus Stroman has the potential to have a real strong 2016 season, he just has to put it all together. The problem with the Jays rotation, is that the have no proven ace.
7 San Francisco Giants – Madison Bumgarner, Johnny Cueto, Matt Moore, Jeff Samardzija, Ty Blach
MadBum and Johnny Cueto make a phenomenal one-two punch in San Fran. The are locks to have excellent seasons in 2017. Samardzija is a safe bet to give you about 200 quality innings. Matt Moore, acquired this offseason, can be a great pickup if he can stay healthy. Ty Blach is a lefty who has shown some potential for the Ginats in the past and may steal the No.5 starter spot from Matt Cain. 
6 LA Dodgers – Clayton Kershaw, Rich Hill, Kenta Maeda, Julio Urias, Hyun-Jin Ryu
Clayton Kershaw is the bets pitcher in baseball and no one comes even close to him. Rich Hill enjoyed a turnaround year last season as he recorded a 2.12 ERA. Kenta Maeda and Julio Urias are both young and showed signs of some huge upside. The No.5 starter is Los Angeles is still up for grabs, however I think Ryu will win the spot. He missed almost all of last season due to injury, but in the two years prior to that won 14 games in both. 
5 Washington Nationals – Max Scherzer, Stephen Strasburg, Gio Gonzalez, Tanner Roark, Joe Ross
Max Scherzer has been one of the most dominant pitchers in the NL and shows no signs of slowing down. Tanner Roark gave the Nats a spark last season, enjoying a breakout campaign. Joe Ross has shown plenty of potential and is only 23 years old. Go Gonzalez is a straight innings eater, and a very good one at that. The biggest question in D.C. comes from the health of Stephen Strasburg. He has the ability if he is able to stay healthy, however, that is a very big if. 
4 Cleveland Indians – Corey Kluber, Josh Tomlin, Trevor Bauer, Carlos Carasco, Danny Slazar
This rotation is the same exact one that was one of the best in baseball a year ago and led the Indians one game away form the World Series. They are led by former Cy Young winner Corey Kluber. Carlos Carrasco and Danny Slazar both have the potential to be dominant. Trevor Bauer took a major step forward last season, and Josh Tomlin makes a sold No. 5 starter. 
3 Boston Red Sox – Chris Sale, David Price, Rick Porcello, Steven Wright, Eduardo Rodriguez
Boston going out and acquiring Chris Sale was without a doubt the biggest acquisition of the offseason. He is the missing piece this rotation needed. The Red Sox now have three Cy Young winners in their rotation. "E-Rod" has scratched the surface and has the ability to have a breakout season.
2 Chicago Cubs – Jake Arrieta, Jon Lester, Kyle Hendricks, John Lackey, Mike Montgomery
This same Cubs rotation just led them to their first World Series title in 108 years. It is hard to get any better than this group. Arrieta, Lester, and Hendricks are straight up aces and three of the best pitchers in baseball. Veterans Jon Lackey and Mike Montgomery go out and just eat up innings for the Cubs, saving their bullpen arms.
1 New York Mets – Noah Syndergaard, Jacob deGrom, Matt Harvey, Steven Matz, Zach Wheeler 
The super rotation is finally together and finally fully healthy. This rotation has the potential to be the best in baseball as long as everyone can stay healthy. Synderrgard and deGrom have pitched like Cy Young pitchers the past couple of years. Harvey has to return to his "Dark Knight" form and Matz has to finally break out his full potential. The Mets have the potential to have not one, but five different aces if every starter pitches to their full potential. This starting pitching will carry the Mets again this season. 
Main image credit: