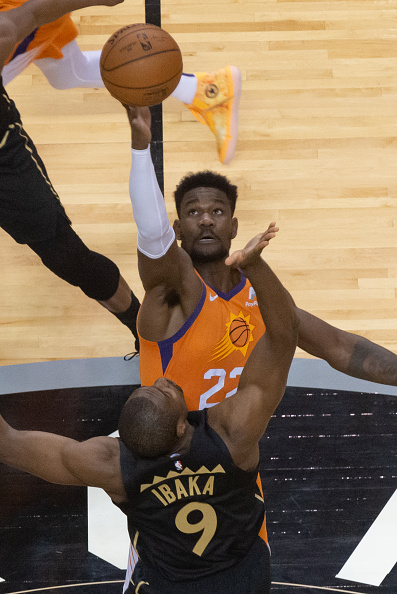 With the Phoenix Suns sent packing and appearing on the outs with their star center, I mapped out four potential Deandre Ayton trade destinations. It was a rough playoff exit for the Suns, but they still boast a talented roster and have enough flexibility to bounce right back into championship contention.
4 Thrilling Deandre Ayton Trade Destinations
In case you've been caught up in the NBA playoff action and haven't heard, Ayton is feeling dejected after the Phoenix Suns refused to offer a max contract. He's one of the most talented centers in the league, but it appears he won't sign long-term in Phoenix for anything less than the max, and the notoriously cheap Suns aren't putting it on the table.
So now we get to reap the benefits and mix up the league with fun trade ideas until the blockbuster Deandre Ayton trade eventually comes to fruition.
Why Would the Phoenix Suns Trade Deandre Ayton?
If Chris Paul and Devin Booker wanted Ayton in Phoenix, he would've been re-signed already. When the Point God is your point guard, almost any center will do; Bismack Biyombo just had his best season since Kyle Lowry was the one feeding him. Ayton was the exact player they needed to nullify Nikola Jokic on the boards in 2020, but against the Dallas Mavericks, they needed another dynamic playmaker to spell CP3.
A popular rumor is trading Ayton for Rudy Gobert, but this does nothing for the Suns. Luka Doncic and Steph Curry eat centers like Gobert alive, and while he would be a massive defensive upgrade over Ayton, the Suns need help on offense.
Paul didn't have the legs at 37 years old to punish the Maverick's aggressive, trapping style of defense. Look what the Golden State Warriors are doing to Dallas; Stephen Curry doesn't stop moving, and multiple Warriors can handle the ball, so if the Mavs are too aggressive on their double teams, somebody on the Warriors will inevitably come open. Chris Paul isn't mobile enough to replicate what Curry does, and Booker doesn't quite process actions quick enough to always find the skip pass or roll man. Gobert does nothing to alleviate these issues.
2. Deandre Ayton to the Orlando Magic
They could do a sign-and-trade with Ayton to the Orlando Magic for Markelle Fultz and Wendell Carter Jr. This would give them an athletic, playmaking point guard and a talented offensive center who can stretch the floor a bit and eat up rebounds. The Magic would add their center of the future while clearing up the logjam at point guard with Fultz, R.J. Hampton, Jalen Suggs, and Cole Anthony. I'm not sure if that's enough, though.
Fultz doesn't stretch the floor and has ongoing health issues. A backcourt relying on Fultz and CP3 to remain healthy for an entire playoff run could prove problematic for Phoenix.
[pickup_prop id="24558″]
3. Toronto Raptors Swap Fred VanVleet for Deandre Ayton
The Toronto Raptors need a center, the Suns need a three-point shooting, playmaking point guard. It feels like a match made in heaven, especially considering Fred VanVleet thrives off-ball. He doesn't have the athleticism of Curry or Jordan Poole, but Fred does not stop moving. It's easy to envision him and Booker wreaking havoc off-ball and scrambling the defense while CP3 finds the perfect opening.
While it feels like an undersized backcourt in Phoenix, FVV has no problem guarding players that tower over him. He's a dog with perhaps the most active hands in all the NBA, and his solid base makes him difficult to push off his spot.
Toronto would probably be wary of making this trade because it would leave them without a point guard besides Scottie Barnes, and neither Barnes nor Ayton stretch the floor, so they wouldn't make a great pick n' roll tandem as teams would flood the paint. It would secure the Six their center for years to come, and Barnes's timeline is much closer to Ayton's than Fred's. However, I think Toronto is much more likely to trade into this year's draft than make a move for a star.
4. The Suns and Thunder Shake Up The League
I don't know what Sam Presti's plans are with the Oklahoma City Thunder, I'm not even sold he knows how to build a basketball team. Can he acquire assets and win trades as well as anyone in the league? Absolutely. Can he assemble a functioning basketball team that highlights its best player's strengths? I'm not so sure.
The Thunder are another team with a logjam at guard, are thin at center, and are holding a win-now piece that they might not even want. If Josh Giddey is their point guard going forward, would they be willing to part with Shai Gilgeous-Alexander in a trade for Deandre Ayton? Chris Paul and SGA have proved they're a winning pair before, and centers are great for developing young point guards.
It appears that Presti isn't interested in winning anytime soon as he goes full process with OKC, so why not release Shai from purgatory for a player who could help boost Giddey's development? This is a true win-win trade.
It's a win for the Suns because they get a dynamic playmaker who's tall enough to slide into a three-guard lineup with Booker and Paul without giving up too much size or switchability. It's a win for SGA cause he gets to leave the basement and experience what winning feels like again alongside his old running mate, CP3.
It's a win for Ayton as he goes to an environment where he can get a load of touches without the pressure of winning a championship, and they have tons of cap space. Lastly, it's a win for OKC cause they get a player who will help their roster without creating a pile of wins, so Sam Presti can continue to cosplay as Sam Hinkie and keep accumulating draft picks.
Are These The Only Deandre Ayton Trade Destinations?
Anything can happen in this league, and plenty of other teams have been rumored to be in the Ayton sweepstakes. The Indiana Pacers could try a package involving Myles Turner and Malcolm Brogdon. Although, the Suns would be more interested in Tyrese Haliburton. Would the Sacramento Kings be willing to go back to the drawing board and move on from De'Aaron Fox? What about the Charlotte Hornets trying to find a center for LaMelo Ball? Do they have enough pieces to send back to Phoenix?
It will be a fun offseason, and I expect the fireworks to start going off immediately following the NBA Finals.
Main Photo: