While you might still be recovering from The Super Bowl that was just played, it is never too early to start preparing for the next season!
How to prepare for NFL betting season 2022/23 
2022 season 
The 2022/23 NFL season is set to start on September 8th, when the defending Super Bowl LVI champions Los Angeles Rams are hosting the NFL Kickoff Games. the draft for the next season wass scheduled to be held from April 28th to 30th this year in Las Vegas. This means that it is time to start preparing for betting.
Anyone can bet, even if you are the type of person to only watch the Super Bowl, or if you religiously watch all the games. Betting is easy and can be done online on several platforms. If you are interested in betting, visit https://betting.com/us/ to make it easy and understandable, even for new players. 
Find a betting platform 
On the website, you will find several different betting platforms you can choose from. Choosing a betting platform is a very important step. There are many bookmakers out there and choosing just the right one will for sure make it a lot easier for you to bet.
A good betting platform has to be safe to use, and also simple to understand. Furthermore, it needs to have the NFL as an option, if this is what you are looking to bet on. This lets you bet on the best talents in the NFL, and make your favorite league even more exciting.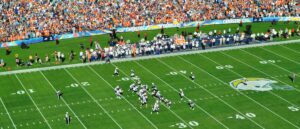 Create a strategy
How you bet also plays a big role when placing your money on wagers. While many will just place somewhat random bets on the games they watch, it is much smarter to have a set strategy before you start. There are many strategies to choose from, and some are very complicated and intricate. These are for the more experienced betters, or for those who want to learn. However, you can also do it in a simpler manner. 
A strategy many uses is to make some "safer bets" and combine them with riskier bets. This can, if planned right and with the luck on your side, allow you to earn from your bets. Risky bets require less money to be highly profitable if you win but are also less likely to happen statistically. If you are sure of one bet, you can place more money on that bet. It is, however, important to know that there is never a completely sure bet because you never know what can happen in the NFL. We have witnessed many amazing NFL moments this far.
Betting on the NFL is a great way to make the season much more interesting. The 2021 season just came to an end, but the draft for the 2022 season just came and went, and we can't wait to see how it will go. Look out for new talents and follow up on the teams before the season starts!
Main Photo: