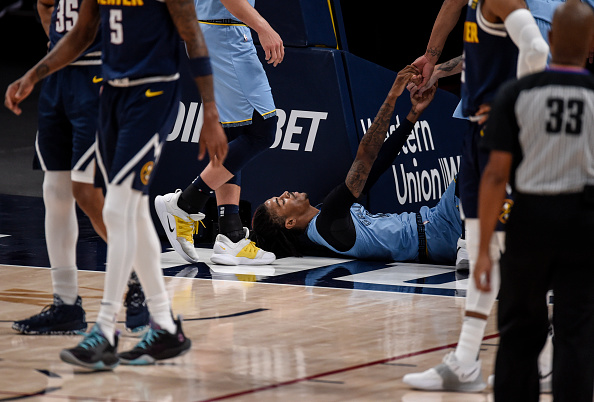 Ja Morant and Grizzlies surprised everybody during the 2022 season, and there are three reasons to remain optimistic about the Memphis Grizzlies future.
What the Memphis Grizzlies Future Holds
Nobody, and I mean nobody, saw this young, runnin' and gunnin' Grizzlies reaching these heights this early. The most fervent Memphis supporters wouldn't have predicted they finish second in a stacked western conference. They have the feel of a team that's ahead of schedule, which isn't always a good thing. You can look to the 2021 Atlanta Hawks as an example.
Are the Grizzlies destined for success? Was this season a fluke? What does the future hold in store for this budding Memphis Grizzlies team?
Why the Grizzlies Should Remain Optimistic
Young Core
The Memphis Grizzlies are the second-youngest team in the league, ahead of only the Oklahoma City Thunder, who you'll recognize as an absolute dumpster fire of a basketball team. The reason the Grizzlies were able to reach the heights they did wasn't just their break-neck pace and acrobatic offense, it was their stout and turnover-hungry defense.
That's rare for a young team! The Grizzlies ranked sixth in defensive efficiency at 108.9, led the league in steals, and were second in opponent turnover percentage. That's a team with the ability to play defense on a string, clog passing lanes, and get their hands in the cookie jar without being caught. Compare that to last year's Hawks, who ranked 18th in defensive efficiency posting a 112.1 rating. While they're not exactly the Grit N' Grind Grizzlies, their defense is still feisty enough to keep them in it when their shots aren't falling.
They're also a young team that gets along. Anytime you start drafting all these young up-and-coming players year after year and putting them on the same team without veteran leadership, you'll often get infighting as players fight for the top of the team's totem pole.
Flexibility
Their roster flexibility is another reason to remain confident about the Memphis Grizzlies future going forward. This is a by-product of being such a young team because they've drafted so many quality young players the Grizzlies have a lot of tradeable players under contract. This year, they also have two first-round draft picks and all their picks moving forward.
Fans of young teams don't always like the thought of trading their young 'core' pieces, but often that's the only way to find the last piece of your championship puzzle. Here are the players the Grizzlies could trade this offseason if they're looking for an upgrade:
Steven Adams / $18 Million Against the Cap / Expires 2023
Dillon Brooks / $11.4M / 2023
De'Anthony Melton / $8.25M / 2024
Brandon Clarke / $4.3M / 2023
John Konchar / $2.3M / 2024
There's a lot of mixing and matching you can do with those contracts. If you're worried about Adams' lack of range and mobility, you could try to get Myles Turner ($18M). Maybe you don't want to wait for Ziaire Williams to develop into a full-time starter on the wing, so you look to Harrison Barnes ($18M) or take a swing on Jonathan Isaac ($17.5M).
Isaac actually intrigues me quite a bit; he was one of the best defensive players in the league during the 2018-19 season and is still only 24 years old. I'm not even sure if he's on the trade block, but a defensive wing like Isaac is precisely the kind of piece the Grizz need if they're going to battle the likes of Luka Doncic, Paul George, Kawhi Leonard, and Anthony Edwards in the playoffs.
Another advantage of the Grizzlies youth is they can continue building through the draft. With their draft capital plus a sweetener, there's no reason they couldn't move up for Tari Eason, Jeremy Sochan, or even AJ Griffin if they get lucky. Those are versatile wings that'd fit right in with these Grizzlies.
Good Leadership
From general manager Zach Kleiman to head coach Taylor Jenkins to the players; the Memphis Grizzlies are an organization that exudes team culture. Ja Morant, Jaren Jackson, Jr., Dillon Brooks, et al. all appear to go to bat for one another. It's part of what makes this team so fun.
While teams like the Philadelphia 76ers and Los Angeles Lakers are constantly making headlines for throwing one another under the bus, it's refreshing seeing a team that makes headlines for how much fun they're having. It's also a testament to the team's culture how well they play when their best player goes out, they were 20-5 without Ja Morant during the regular season. When a team can weather injuries like that, it really galvanizes them.
[pickup_prop id="23760″]
Why Should We Worry About the Memphis Grizzlies Future?
The only thing I can see stopping this Grizzlies team from reaching the pinnacle is they might not have an actual number two on their roster. JJJ, Desmond Bane, and Brooks are all great in spurts, but none of them have the consistency to carry a team. When everything bogs down come playoffs, you need multiple guys who can get their shot to fall in the 4th quarters of gross, muddy playoff games.
That doomed the Milwaukee Bucks this year with the injury to Khris Middleton, and I'll be interested to see if it becomes a problem for the Dallas Mavericks against the Golden State Warriors. Many players on the Grizzlies match Ja's intensity and pace, but I'm not sure they've found anyone who matches his dynamic talent. Still, many teams are heading into the offseason with a lot more questions than Memphis.
The Memphis Grizzlies Future is still Bright
All in all, the Memphis Grizzlies future remains tantalizing. There are a couple of areas for improvement, but I don't see any cause for regression amongst this young Grizzlies core. The spirit of Grit N' Grind remains intact, and the league's more exciting for it.
Main Photo: