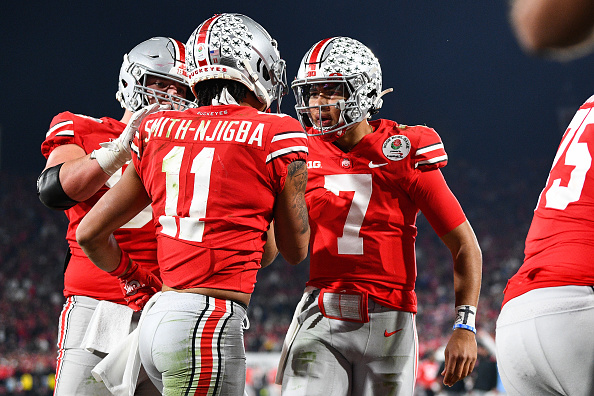 On Saturday, April 16, the 2022 Ohio State spring game will kick off. Over the last few years, players who were not well-known broke out and made names for themselves. Last year, it was Jack Sawyer and his 15-or-so sacks, or so it seemed.
For established players like C.J. Stroud, Jaxon Smith-Njigba, and TreVeyon Henderson, the spring game will be just another practice. For the entire defensive unit and new players all around, it will be a chance to show coaches and fans alike what they can do. The offense for the Buckeyes will, once again, be among the best in the nation.
The defense will need to be drastically improved if Ohio State wants to get back to the College Football Playoff and avenge their embarrassing loss to That Team Up North, Michigan.
What to Watch for in the 2022 Ohio State Spring Game
Next Jack Sawyer?
The 2022 recruiting class for Ohio State is the fourth-best class in the nation, according to 247Sports. It was the first recruiting cycle that was influenced by Name Image and Likeness deals. Oddly enough, Ohio State's 21 signed recruits is the fewest among the top six classes; Texas A&M signed 30! There are a number of elite athletes who have the ability to step onto campus and compete for significant playing time on day one.
11 of the 21 new Buckeyes enrolled early in January and will have their shot to get their shot:
Jyaire Brown, four-star cornerback
C.J Hicks, five-star linebacker
George Fitzpatrick, four-star tackle
Caden Curry, four-star EDGE
Kyion Graves, four-star wide receiver
Devin Brown, four-star quarterback
Caleb Burton, four-star wide receiver
Bennett Christian, four-star tight end
Gabe Powers, four-star linebacker
Kye Stoke, three-star athlete
Ryan Turner, three-star cornerback
In the 2021 edition of the spring game, Sawyer broke out and made everyone take notice. Who among these 11 could do the same in the 2022 Ohio State spring game?
The linebacker room was weaker last year. Steele Chambers seems to have a spot. Fellow running-back-turned-linebacker and Arizona State transfer, Deamonte "Chip" Trayanum has had a strong spring. C.J. Hicks could be the next "surprise" emergeance. Hicks is rated either first or second at linebacker for every recruiting outlet in the nation. He is already a monster athlete and is lauded as a potential future NFL Draft first-rounder and is compared to Fred Warner. In a linebacker room that is not up to Ohio State's standard with a brand-new defensive coordinator, Hicks will have his shot to show out.
After Denzel Burke, the cornerback unit is a massive question mark. There will be a handful of new names in the rotation this year, so Jyaire Brown will have his shot. Brown is already a fluid player with speed to keep up with anyone. Don't be surprised if he makes a play or two on the opposite team as Burke to make Jim Knowles' decision that much harder.
[pickup_prop id="16308″]
Finally, watch for Devin Brown. "Why bother paying attention to a true freshman quarterback who is third on the depth chart?" one may ask. Stroud is not going to play the entire game. It will likely be Stroud vs Kyle McCord to start and then McCord vs Brown. That battle serves two massive purposes. First, Ohio State needs depth at the position just in case anything were to happen to Stroud. Secondly, Stroud is likely going to hear his name heard very, very early in the 2023 NFL Draft. The Buckeyes need to see who their next signal-caller will be.
Defensive Upgrades
While the Buckeyes' secondary was not Michigan State bad, it was not great. The 2022 Ohio State spring game will be the first chance fans get to see whether or not the Buckeyes will improve upon allowing 246 yards per game through the air and 128 on the ground. Despite the fact that there was only one time that the defense allowed more yardage than their offense supplied. And they lost. The defense held the team back and is why coach Ryan Day gave Knowles a blank check.
At Oklahoma State, with fewer highly-rated players, Knowles' defense allowed a grand total of 297 yards per game (210 through the air, 87 on the ground). What better way to show just what you're capable of than to face off against one of the best offenses in the nation in Stroud and company?
Knowles brought over veteran safety Tanner McCalister from Oklahoma State to play alongside a healty Josh Proctor. Both Lejond Cavazos and Bryson Shaw have since transferred, ushering in the Proctor-McCalister duo with Lathan Ransom and Sonny Styles (incoming freshman) behind.
Aside from Burke, the cornerback room is going to look different. Jordan Hancock and Jakailin Johnson will push Cameron Brown for playing time and this will be their shot. With Ohio State moving to a two-linebacker base, there will be a need for a deeper corner room.
The linebackers will be different, as stated above with the possibility of Hicks. The defensive line will need to get better. Unleashing Sawyer and J.T. Tuimoloau will just be the start. The one player to watch and see if he could take a step forward from an impressive and flashy freshman year is Tyleik Williams. He showed that he had the ability to play at the college level last year, logging 6.5 tackles for loss and five sacks in just nine games.
Gee Scott, Jr.
Gee Scott, Jr. was part of that loaded 2020 class with Stroud, Smith-Njigba, and Julian Fleming. Seemingly buried on the depth chart, Scott made the switch to tight end before the 2021 season and appeared in four games, recording five receptions and 48 yards.
Gee Scott Jr is going to be a household name in a few months pic.twitter.com/tR0TUwZ3Z9

— Mr. Ohio (@MrOH1O) March 27, 2022
With Jeremy Ruckert heading to the NFL, there is an opportunity for Scott to impress and take his place in the starting lineup. He was lauded as an elite receiving threat as a receiver. Add some muscular weight and Scott turns into a real matchup problem. He's quick, shifty, and has extremely sure hands.
Even if tight end is not fully utilized at Ohio State, Scott could end up changing that and can end up as a fifth wide receiver. Traditionally, the Buckeyes' tight ends do not end up among the most productive in the country. Scott is talented enough to change that. Watch for a strong campaign to start in the 2022 Ohio State spring game.
Wide Receiver Depth
If the Rose Bowl is any indication, losing Chris Olave and Garrett Wilson will hurt, but will not handicap the offense. Smith-Njigba is already setting up to be WR1 in the 2023 NFL Draft. Marvin Harrison, Jr. scored three times and looks as polished as ever. After them, who will step up?
It's very likely that Julian Fleming will start out the 2022 Ohio State spring game as the third receiver, which makes sense considering how highly rated he was out of high school. He has dealt with nagging injuries thus far in his career and looks to be fully healthy. Another receiver who has dealt with injuries and possesses a high up-side is Kamryn Babb, a redshirt senior.
Personally, Emeka Egbuka is the one to watch. As a true freshman in 2021, Egbuka returned kicks and got in at receiver sparingly. On numerous occasions, Egbuka was a missed tackle away from taking a kick to the house. He has ridiculous play-making abilities and it's going to be near-impossible to keep him off the field.
It All Starts in Spring
While the 2022 Ohio State spring game is just a glorified scrimmage where the players play patty-cake instead of tackling one another, there is plenty to take away. Hype begins to generate for players and the season, positional battles are clearer, and it helps to satiate a ravenous fanbase.
Ohio State has CFP expectations yearly. Getting back to that level starts with the spring game. It's a new era on the defensive side of the ball and Buckeye fans will be treated to yet another superb offensive year from future NFL stars. Watch out for the next breakout stars who will become household names.
Main Photo: