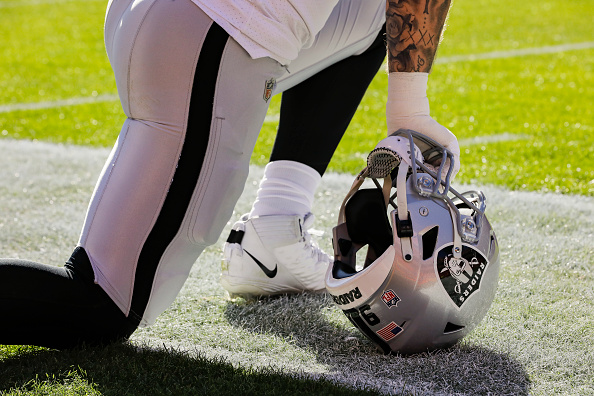 The Las Vegas Raiders blew everyone away when they pulled off a trade for Davante Adams, and the team didn't stop there. The Las Vegas Raiders free agency certainly started with a bang and has continued. The AFC West has been insane this off-season, with all teams showing that they will stop at nothing to reach the top. While you could argue for the Raiders to still be the worst team in the division, they have knocked free agency out of the park, and don't be surprised if this team is leading the division late in the season.
Las Vegas Raiders Free Agency Recap
Trading for Davante Adams
When you get a chance to add a wide receiver coming off a 1,500-yard season, you can't miss out on that opportunity. Not only were the Raiders able to add arguably the best wide receiver in football, but they also added their quarterback's favorite target from college. Derek Carr and Adams spent two seasons together at Fresno State in 2012 and 2013, as Adams totaled 233 catches, 3,031 yards, and 38 touchdowns.
Carr has had four consecutive 4,000-yard seasons, and it should come as no surprise if he eclipses the 5,000 mark this year. An offense with Adams, Hunter Renfrow, and Darren Waller is a scary thought and even more dangerous when you factor in that at any moment, they could hand the ball to Josh Jacobs. Las Vegas will be able to keep defenses on their toes with the exceptional ability to run and pass.
[pickup_prop id="21988″]
Bolstering the Pass Rush
Not only was Las Vegas able to extend Pro-Bowler Maxx Crosby, but they then went and added Chandler Jones to create a very dangerous duo that will keep opposing quarterbacks guessing which side pressure is going to come from. Crosby is coming off his first pro-bowl after a season in which he tallied 56 tackles and eight sacks. Crosby was the defensive star for the team and always seemed to show up when he was needed most. Adding Jones allows defenses to have more to think about and will lead to more productivity from both players.
Chandler Jones is coming off of a pro bowl season of his own. Jones has spent the last six years in Arizona, three of which included him being a pro bowler. Last season, he tallied 41 tackles and 10.5 sacks on the season. Jones is 32 years old but should still be a productive force that opposing offensive coordinators will have to think about. In an AFC West, where you will need to disrupt the pass, the Raiders did a great job creating a duo that will keep opposing quarterbacks from getting comfortable.
Adding Key Role Players
In the NFL, you need to have players that aren't stars but will show up and get the job done. The Raiders did a great job of adding players like that, such as Bilal Nichols, Anthony Averett, Vernon Butler, and Jayon Brown, among others. Nichols and Butler will help create a rotation of interior defensive lineman that will be able to plug up the middle. The Raiders will be able to use Averett and Rock Ya-Sin, whom they also added via trade this offseason in a secondary that finished 12th in the league in passing yards per game last season.
The Las Vegas Raiders have also gone and signed Ameer Abdullah and Brandon Bolden, that will be able to give Jacobs a break when he needs it during games. Abdullah and Bolden are both running backs that can impact both the passing and running games and will provide an excellent check-down option for Carr.
This Las Vegas Raiders free agency so far has been one that should be considered a great success as the Raiders have done a great job of improving on both sides of the ball. They've been able to add a couple of star players that will make a significant impact, along with role players that can get the job done and help the team succeed. This has to be considered one of the best free agency periods in Raider history and will provide a lot of excitement for fans as the team is coming off of a season in which they made the postseason.
Main Photo: