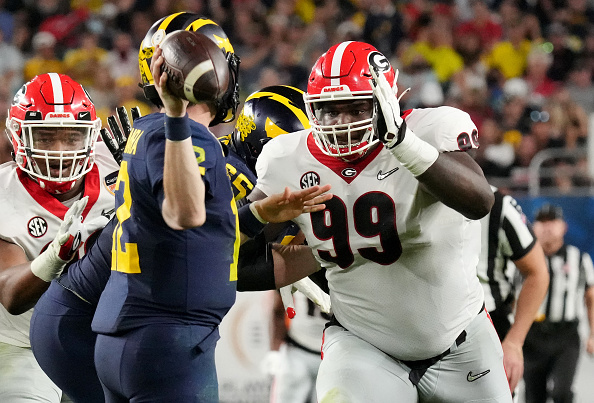 In this upcoming draft class, we will be treated to an extremely gifted defensive line class. In this article, I will be showcasing five of the best interior defensive linemen this class has to offer.
Overview of the 2022 Interior Defensive Line Class
Entering this season, Leal was a projected top-ten pick, as many thought that he had the ability to grow on an impressive 2020 season. Despite his improvement in numbers this year, he looked a shadow of his former self and that has pushed him far down draft boards as people question his NFL ability.
He has certainly not been helped by Texas A&M moving him all over the defensive line and not giving him a position to settle down and play at but had him rushing the passer from almost everywhere. He projects best as an interior defensive lineman (a 3-tech) but that is still up to debate. He is nimble on his feet and is quite explosive given his disappointing 40-yard dash of 5.00. However, he lacks the physicality that is usually desired in an interior defensive lineman and will easily be bullied by a guard or a center in the NFL. His body type is similar to that of an EDGE rusher but he looks sluggish there.
He has certainly fallen from first-round consideration, rather he'll be where will NFL teams think he is worth the pick. For the moment, he seems to be a day two selection. It is also up for consideration where his true position is.
For the second time in under five years, Houston has developed a high-level interior defensive lineman (after Ed Oliver). Logan Hall had a productive 2021 season in Houston while demonstrating his abilities before going to Mobile for the Senior Bowl and having a standout week that impressed scouts all over the league.
Hall, like Leal, is small for the position and so is capable of playing on the EDGE as well as on the interior. But, unlike Leal, he does possess the strength and the mentality to make it as an interior defensive lineman as that is where he looks most comfortable. He is also nimble and has good bend around a corner. However, his size does give him an obvious disadvantage as he sometimes isn't able to utilize his strength as the blocker will have already got their hands on him before he can fight back.
Hall looks to be a second-round player and could be a good fit for a team that is looking for a rotation on the defensive line as he has the skill to play anywhere along the defensive line.
While UConn is certainly not famous for producing high-level NFL talent, Travis Jones looks to be the end to that. Having started for three years in Connecticut, Jones has the experience to be a player that hits the ground running in the NFL. After having a good season, he went to the Senior Bowl and impressed as he shone in the one-on-one matchups.
Jones is a bully. He is able to make his presence known with a strong push-off and he is able to sustain his power well to push offensive linemen backward into the backfield. He also is able to handle double teams and is able to break through them and toward the quarterback. However, he needs to get better with his hands as he enters matchups with not much idea about how he will go about it. However, his physicality is unbelievable.
Jones has the ability and potential to be a first-round pick. However, as interior defensive linemen are not a very coveted position in the NFL he could see himself slipping to day two of the draft. However, it would be incredibly surprising if he slips past round two of the draft.
Despite playing very well last season, Wyatt was disadvantaged by the team he played on. This is because Georgia had an extremely talented defensive line and so there were no real standouts due to the general level being so high. He was noticed heavily when he stood out at the Combine with a brilliant all-round performance.
Despite being stuck as the "other" Georgia defensive lineman, Devonte Wyatt is incredibly talented. He is explosive off the ball and is able to convert that explosiveness into power as he barrels through offensive linemen using his speed and strength. He is also flexible when rushing the passer to get around blocks. However, like Jones, his hand placement needs work but not as much as Travis Jones' as he can use them effectively.
Wyatt looks to have cemented himself as a first-round pick and should get selected near the end of the first round, to a team that could use some reinforcement in their pass rush.
[pickup_prop id="19303″]
THE Georgia defensive lineman. Davis is built like a house and can move faster than some quarterbacks, running an unbelievably brilliant 4.78 at 341 lbs. He has been a four-year starter at Georgia and has been a cornerstone on an extremely strong defensive line that has changed a lot over the years.
The positives are clear with Davis. He is a physical monster and is the stuff of nightmares for any offensive lineman that has to block him. His size combined with his speed and reach make him almost unblockable, and that along with his first step make him truely brilliant. However, his limited snap count is quite concerning. All Georgia defensive players have this issue due to the depth of brilliance, but Jordan Davis is the biggest concern as he registered a very low amount of snaps for a projected first-round pick.
He should be an early first-round pick and could even be taken in the first ten if the draft falls kindly for him. But he should not be taken after pick 17 in this year's draft.
Main Photo: