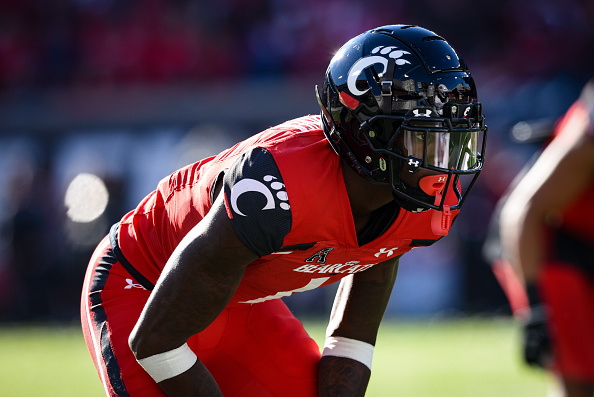 Going into the free agency and the draft, the New York Jets will have to find a number one cornerback. Do the Jets draft one in the first round with one of their two first-round picks (fourth and 10th overall)?
The team enlisted sophomore Bryce Hall as their number one corner and it seems like his ceiling is a low-end number one/high-end number two cornerback. It's not the worst thing in the world if Hall is your highest-placed cornerback on the depth chart. But it's not the best-case scenario if the Jets want to improve their defense that was the worst in the league last season.
First, let's outline what cornerbacks would likely be available in round one of this year's NFL Draft.
Is It Best For The Jets To Draft a Cornerback in Round One?
Projected Early Round-One Cornerbacks
Ahmad "Sauce" Gardner, Cincinnati
With the fall of Derek Stingley's stock due to injuries, Ahmad Gardner has risen to the top of everyone's draft boards when it comes to the cornerback position. Gardner's rise to the top also comes with winning some pretty impressive accolades, like 2021's AAC Defensive Player of the Year. He was also at the forefront of a defense that helped Cincinnati finish as a top-four team in College Football this past season.
Gardner's excellent ball skills fill a dire need for a Jets defense that placed in the bottom half of the league in takeaways. He remains focused while the ball is in the air, making sure not to get overaggressive. Gardner is also excellent in man coverage as he possesses the technique and foot speed to keep pace with quicker receivers downfield. Gardner could also fit the Jets' Cover 3 scheme as he has had the proper experience in zone schemes. He can play both on the outside and in the nickel.
Although he stands at 6'3″, Ahmad Gardner will have to build up more core strength as he isn't the greatest tackler and tends to take poor angles. Another mark against Gardner is he was in a mid-tier conference against mediocre competition, leaving some to question whether he can handle the talent level of NFL wide receivers. To rebut that, Gardner shut down speedy receiver Jameson Williams as he only gave up one reception on just two targets in the Cotton Bowl. Looking at the tape, Bryce Young barely threw in his direction further cementing that Gardner has nearly-elite coverage skills.
Sauce Gardner's only weaknesses being tackling and strength can be quickly fixed at the next level. His strong ball and coverage skills make him the best cornerback in this draft class.
2021 Statistics: 13 games, 40 tackles, five tackles for loss, three sacks, three interceptions, four passes defended
Trent McDuffie, Washington
Another name that has become familiar around the NFL draft circle is Washington cornerback Trent McDuffie. Not a household name, McDuffie is a projected middle first-round pick with the earliest likely selection being at the end of the top 10. In Daniel Jeremiah's first mock draft being done in January, he had the Jets selecting McDuffie at 10 after mocking Kayvon Thibodeaux to the team at fourth overall.
McDuffie's biggest strength is his versatility. McDuffie can play both in man and zone schemes. He can come off the edge on blitzes as well. What allows him to be so versatile is his top-notch athleticism and excellent speed. McDuffie excels in zone schemes making him a perfect fit for the Jets Cover 3 scheme. Being so good in the zone scheme, his eyes let him see the routes develop in front of him and he can also anticipate when the ball is heading in his direction. McDuffie is also a very physical tackler, which cements itself against the run.
One negative that goes against McDuffie is he may consistently choose to slide by blocks with his speed rather than his strength which opens more holes for the opposition.
Trent McDuffie easily separates himself from other cornerbacks in his class with the ability to play in different defensive schemes. There are very few among his position who can play as well in both man and zone schemes. McDuffie should get a lot more attention as the draft gets closer.
2021 Statistics: 11 games, 35 tackles, four tackles for loss, one sack, six passes defended
Derek Stingley Jr., LSU
Once touted as the best cornerback in this year's draft, Stingley's stock has taken a hit since he's consistently battled injuries over the past two seasons. More recently, Stingley only played three games this season before he would have a procedure done on his knee that would prematurely end his final collegiate season.
What sticks about Derek Stingley most is his fluid athleticism mixed with a smooth hip pivot. In press coverage, Stingley shows good patience as he has good hand placement on receivers in both defending the pass and run. He can keep up with receivers downfield with his speed and it also allows him to recover when he's out of position. Stingley displays good physicality mixed with an eagerness to tackle in defending the run. His awareness allows him to destroy blocks quickly.
[pickup_prop id="15948″]
On the downside, Stingley struggled to evade bigger blockers. He also could work on taking down bigger running backs.
The draft combine will be huge for the former LSU product. Derek Stingley can showcase his elite combination of athleticism, superb ball skills, and scheme flexibility. More importantly, he will need to prove that he's 100 percent healthy and that he has the potential to be the top-four pick he was once touted as.
2021 Statistics: Three games, eight tackles, one forced fumble, 3.5 tackles for loss
Andrew Booth Jr., Clemson
In the scenario that the Jets draft Andrew Booth Jr., a trade-back scenario would have to precede it. Booth is currently projected to be a middle to late first-round selection.
Like everyone else on this list, Booth can play in many techniques stemming from man and zone schemes. He also possesses above-average speed with long arms and fluid hips. One of Booth's better attributes is his physicality and aggression when taking on blockers. Booth also possesses good ball skills with the ability to get his head around the ball.
Booth struggles with pad level from time to time which causes unneeded movement. Though aggressive defending the run, Booth's tackling is questionable at best. He's not a consistent wrap-tackler and tends to go for the shoestring tackle too often.
Though he's a good man coverage corner, Andrew Booth is at his best when he sees routes develop in front of him. At the next level, Booth will need to refine his tackling technique.
2021 Statistics: 11 games, 37 tackles, three tackles for loss, three interceptions, five passes defended
Free Agency and Free Agent Cornerbacks
To me, getting a cornerback in free agency is the best route. The New York Jets need a veteran in the cornerback room to either help mold one of their younger corners or someone who can start and make an impact immediately. This gets the team to play competitive rather
Here are some free agent cornerbacks that would make sense for the New York Jets:
J.C. Jackson (New England Patriots)
The biggest name on the market, J.C. Jackson has morphed into one of the top cornerbacks in the NFL today. Whether it's his superb ball skills or holding his own in coverage, the former undrafted free agent is setting himself for a payday in free agency.
Per Spotrac, Jackson is projected to earn about $21 million in his next contract, wherever he goes. It's unlikely the New England Patriots end up re-signing him or using the franchise tag on him due to limited cap space.
In 2021, J.C. Jackson led the NFL in passes defended against (23) and also collected eight interceptions. His man coverage skills stick out as he's allowed one of the lower passing ratings in the league since 2018.
[pickup_prop id="20967″]
Now, why would Jackson be in play for the Jets? First, the team will have around $50 million cap space, even before cap cuts. One could argue that the team has more holes to fill than another outside cornerback. To support that, one could also say that the Jets' defensive philosophy is centered around getting after the quarterback which could allow for the team to go get a cheap veteran corner. That would be before they heard what Jets beat reporter DJ Bien-Aime had to say.
On the Badlands podcast, Bien-Aime made mention of a conversation he had with someone from the Jets front office. That high-ranking official told the Jets beat reporter that the team really wants to use a "premium asset" on a number one "legitimate cornerback". The official could be making mention of the team's abundant cap space or using the team's 10th overall pick in this year's draft to get that "legitimate cornerback".
A high ranking #Jets source told @Djbienaime that they really want to use a 'premium asset' on a 'No. 1 legitimate cornerback' this offseason whether that's a top-10 pick or free agency dollars + also the Bryce Hall anecdote is jarring: 🎙 Badlands w/ @JCaporoso #TakeFlight #NFL pic.twitter.com/zaY6KbW0uG

— Paul Andrew Esden Jr (@BoyGreen25) February 25, 2022
There will be more conversations that the front office will have about how to fix the cornerback position. But getting J.C. Jackson would be a major improvement to a pass defense that ranked 30th. DJ Bien-Aime also mentioned that opposing offensive coordinators purposely kept throwing in Bryce Hall's direction because of his lack of ball skills. Jackson's excellent play in coverage gives more time for the pass rushers to get to the quarterback. With his elite ball skills, he will also tally many turnovers for a defense that was third-worst in the NFL in creating turnovers.
Will general manager Joe Douglas write an empty check for a potential game-changer like Jackson on defense?
2021 Statistics: 17 games, 58 tackles, 12 interceptions, one defensive touchdown, 23 passes defended, two forced fumbles, one tackle for loss
Advanced: 49.1 opposing quarterbacks' completion percentage, 46.8 opposing quarterback rating, 6.2 yards per target
Rasul Douglas (Green Bay Packers)
In October, the Green Bay Packers signed Rasul Douglas to replace injured starting cornerbacks Kevin King and Jaire Alexander. The team expected him to hold down the fort for the time being, and boy did he excel. Douglas should have many suitors in free agency after the solid year he had with Green Bay this season.
For starters, Douglas led the Packers in interceptions with five and returned two of them for touchdowns. He also recorded 57 tackles while also allowing a career-best 44.5 opposing quarterback rating in coverage.
Fitting for the Jets zone scheme, Douglas is at this best when playing off coverage and is able to make plays on the ball.
It's up in the air as if Douglas will return to Green Bay in 2022 as the team is massively over the cap. Pro Football Focus projects that Douglas will earn around $6.75 million per year in his next contract. A one-year prove-it deal seems fitting if the Jets indeed sign him. Despite a good 2021 season, Douglas hasn't provided consistent production that resembled this past season's. That remains his biggest question mark.
2021 Statistics: 12 games, 57 tackles, five interceptions, two defensive touchdowns, 13 passes defended, one forced fumble, one tackle for loss
Advanced: 50 opposing quarterbacks' completion percentage, 44.5 opposing quarterback rating, 5.5 yards per target
Donte Jackson (Carolina Panthers)
Another cornerback that should garner a favorable market is Carolina's Donte Jackson. Jackson played in 12 games this season before being placed on season-ending injured reserve on November 30.
Over the course of his career, Jackson has put up solid production as a former second-round pick. In 2021, he recorded two interceptions while only allowing 478 yards and three touchdowns with an opposing passer rating of 86.5.
In terms of team fit, Jackson fits the bill on a financial value basis as well as scheme fit. Jackson is projected to get about $10 million per year in his next contract. He's superb as a zone coverage corner who can keep his eye on the quarterback and use his athleticism to break on the ball to support his playmaking skills.
Jackson fills the playmaking void that the Jets defensive lacks as adding him would bump the team up in turnovers created.
The biggest question that faces potential is Jackson's health over the years. He has battled injury after injury and has yet to play 1000 snaps in a season. Are the Jets willing to take the risk?
2021 Statistics: 12 games, 61 tackles, two interceptions, 10 passes defended, one forced fumble, three tackles for loss
Advanced: 62 opposing quarterbacks' completion percentage, 86.5 opposing quarterback rating, 7.1 yards per target
Casey Hayward (Las Vegas Raiders)
After a substandard from Casey Hayward in 2020 with the Los Angeles Chargers, he had a resurgence year that essentially could reset his market value in March.
The Las Vegas Raiders should make bringing back Hayward a priority. However, the status of that is likely up in the air since defensive coordinator Gus Bradley left to join the Indianapolis Colts for the same position. The Raiders are likely to go away from Bradley's Cover 3 scheme with the hiring of Patrick Graham as the team's new defensive coordinator.
Casey Hayward's best production comes in Cover 3 schemes dating back to his days with the Chargers and Bradley as his defensive coordinator. Keep in mind, Robert Saleh did serve as the linebackers coach under Gus Bradley with the Jacksonville Jaguars from 2014-2016. Saleh's defense is zone-heavy and that suits Hayward at this point in his career.
Pro Football Focus projects that Hayward will earn about six million dollars in his next contract. Pretty reasonable value for a 32-year old cornerback coming off a bounceback season. At worst, Hayward is a mentor who can help mold the other young cornerbacks in the room. At best, he's considered for an extension at season's end.
2021 Statistics: 17 games, 46 tackles, one interception, nine passes defended, three tackles for loss
Advanced: 57 opposing quarterback's completion percentage, 91.9 opposing quarterback rating, 7.6 yards per target
Trade Market
The cornerback market seems to be pretty dry as of right now. But, there is one name I want to focus on.
Marshon Lattimore (New Orleans Saints)
It would seem pretty extreme for the Saints to trade one of their best defensive pieces, considering he's a top-10, maybe top-five cornerback in the NFL. If you factor in the money, it doesn't seem so extreme anymore.
The New Orleans Saints have the worst cap situation in the league. Heading into free agency, Spotrac has them at about $49 million over the cap. Keep in mind, the Saints have some important free agents like Marcus Williams and Terron Armstead hitting the market and they need to be re-signed.
Unless the team restructures his contract, he'll soon emerge as a popular trade candidate and the Jets have the draft assets to trade for a cornerback of his caliber. They also have the cap space to take on his massive contract with a potential out in his contract in 2025.
Marshon Lattimore is simply one of the league's best cornerbacks. He prefers shadowing the opposition's best receiver and will take the burden off of Bryce Hall, giving the Jets a true number one cornerback. Lattimore also played in Dennis Allen's Cover 3 defense in New Orleans.
On the downside, Lattimore started off the season hot and then hit a major wall starting in Week 8. His aggressive style of coverage does leave him susceptible to the big play downfield. So, one can technically call him a boom or bust cornerback. Lattimore is elite but putting all the weight on his shoulders did cause his slip in production last season. The Jets will need to add some significant safety help and some pass rushers who can get to the quarterback.
I did mention that the Jets were willing to invest premium assets in a "legitimate cornerback". Would the team be willing to give up significant draft capital for Marshon Lattimore?
2021 Statistics: 16 games, 68 tackles, three interceptions, 19 passes defended,
Advanced: 57.5 opposing quarterbacks' completion percentage, 92.7 opposing quarterback rating, 7.8 yards per target
To Solve The Cornerback Woe, The Jets Should . . .
My personal preference as to what the Jets should do with the cornerback position is going out and signing a veteran in free agency. Previous names mentioned like Rasul Douglas, Donte Jackson, and Casey Hayward fit the bill to a tee.
Yes, Sauce Gardner and Derek Stingley are both eye-popping prospects but the team has other needs to fill. Yes, trading for Marshon Lattimore would give your defense a huge boost but he'd take a solid chunk of the cap space needed to fill other holes in free agency and to sign draft picks.
My train of thought is the team needs a sure thing at cornerback. Yes, Casey Hayward is possibly on the wrong side of 30 and Rasul Douglas could be a one-year wonder. But, they are veterans with experience and the team needs them for upgrades. The New York Jets have all the tools and assets to set themselves up for a playoff push in 2022. The fastest way to do that is by signing a veteran cornerback now rather than going through the learning curve of a rookie.
Main Photo: