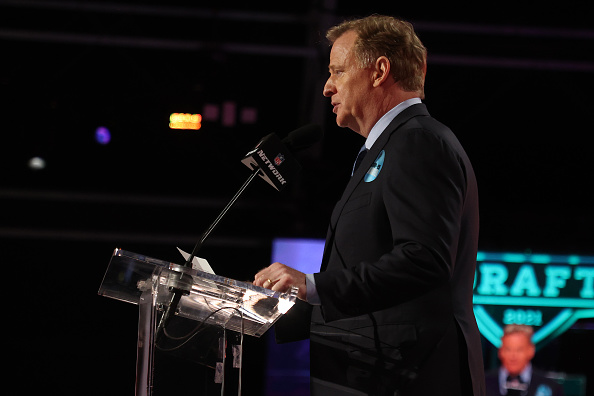 As the NFL Draft season approaches and the college football season is officially over, I thought it would be a good time to share my initial 2022 NFL Draft Big Board. I will be doing another one of these after the combine and Senior Bowl as well as when other draft-related activities happen, and so these rankings are subject to a lot of change.
After the big board, I will go through a few athletes I may be higher on than the consensus and a few I am lower on than the consensus, and why. The consensus NFL Draft big board can be found here (on NFLMockDraftDatabase.com)
Grading scale: 95+ Generational | 90-94, Early 1st Round | 85-90, Mid/Late 1st Round | 80-84, 2nd Round | 75-79, 3rd Round | 70-74, 4th Round | 65-69, 5/6th Round | 60-64 6/7th Round | <60, Undrafted Free Agents
2022 NFL Draft Big Board 1.0
Kyle Hamilton, S, Notre Dame (96)
Aidan Hutchinson, EDGE, Michigan (95)
(JOINT 2ND) Kayvon Thibodeaux, EDGE, Oregon (95)
Evan Neal, OT, Alabama (94)
Derek Stingley Jr, CB, LSU (94)
George Karlaftis, EDGE, Purdue (94)
Ikem Ekwonu, OT, NC State (93)
Tyler Linderbaum, IOL/C, Iowa (93)
Charles Cross, OT, Mississippi State (93)
DeMarvin Leal, IDL, Texas A&M (92)
Garrett Wilson, WR, Ohio State (92)
Devin Lloyd, LB, Utah (92)
Andrew Booth Jr, CB, Clemson (92)
Kenyon Green, IOL, Texas A&M (91)
Matt Corral, QB, Ole Miss (91)
Kenny Pickett, QB, Pitt (91)
Jameson Williams, WR, Alabama (91)
Kaiir Elam, CB, Florida (90)
Ahmad Gardner, CB, Cincinnati (90)
Nakobe Dean, LB, Georgia (90)
Jordan Davis, IDL, Georgia (89)
Drake London, WR, USC (89)
Chris Olave, WR, Ohio State (89)
Nik Bonitto, EDGE, Oklahoma (89)
Trevor Penning, OT, Northern Iowa (89)
Treylon Burks, WR, Arkansas (88)
Roger McCreary, CB, Auburn (88)
David Ojabo, EDGE, Michigan (88)
Bernhard Raimann, OT, Central Michigan (87)
Darian Kinnard, OT, Kentucky (87)
Carson Strong, QB, Nevada (86)
Lewis Cine, S, Georgia (86)
Desmond Ridder, QB, Cincinnati (86)
Jahan Dotson, WR, Penn State (86)
Trent McDuffie, CB, Washington (86)
Trey McBride, TE, Colorado State (85)
Jaquan Brisker, S, Penn State (85)
Zion Johnson, IOL, Boston College (85)
Drake Jackson, EDGE, USC
Jaxon Kirkland, OT, Washington (85)
Christian Harris, LB, Alabama (85)
Malik Willis, QB, Liberty (84)
Sam Howell, QB, North Carolina (84)
Kingsley Enagbare, EDGE, South Carolina (84)
David Bell, WR, Purdue (84)
Isaiah Likely, TE, Coastal Carolina (84)
Logan Hall, IDL, Houston (84)
Nicolas Petit-Frere, OT, Ohio State (83)
Daxton Hill, S, Michigan (83)
George Pickens, WR, Georgia (83)
Players Higher Than The Consensus
What can I say? I love athletic Tight Ends. People have concern over his blocking ability, but I feel that receiving ability is more important in the current NFL, and Likely has an excess of that, with his 912 yards and 12 touchdowns being reflective of it. Likely can turn into a real receiving threat in the league, and with some training in his blocking ability, he could be a stud at the Senior Bowl.
I have already written an article about Raimann. But to sum it up, he is quite a raw prospect at offensive tackle, but also a force in the run and passing game. His main weaknesses are mainly against speed rushers, something that he can work on quite easily until the NFL Draft.
Despite being dominated by Aidan Hutchinson in their matchup, I believe that Kirkland has all the skills required to be a good, franchise tackle in the NFL. While he probably will not be a starter right away, with good coaching and a little bit of time, I think he will be able to find his footing in the league.
I am a huge fan of Cine's ability and the role he had to play on Georgia's championship-winning defense. His versatility to be able to play in the box and being able to make huge plays in the run game, combined with his ability to play as a single-high safety and make huge pass breakups in the passing game, is something that will take him a long way in the NFL.
Players Lower Than The Consensus
Travon Walker (Difference Of At Least -19)
I was not impressed by Travon Walker's tape whatsoever. He looked sluggish off the line and was part of one of the most fearsome defensive lines in college football, with both Jordan Davis and Deonte Wyatt being NFL prospects.
Apart from the Iowa game, I did not like much about Ojabo's game. He looked like he couldn't beat the tackles he came up against whatsoever, and he only had production in tiny spurts, something that is not going to be sustainable in the NFL. He also had the best edge rusher in the country lined up alongside him, so his job was quite a bit easier.
While Willis does have the skills to be an NFL quarterback, he struggles a bit with his accuracy and has some tendencies to escape the pocket, which does not translate to the NFL level very well. I see Willis as a boom or bust prospect, and the reason he is so low is that I feel that there are more consistent and more reliable quarterbacks that will turn out to be better in the league.
Hill has shown the ability to be versatile in his play, but I think that not only is his secondary's job easier because of the strength of their pass-rush, but he is also more inconsistent against the run than I would like my safeties to be. Despite this, I still think he is a very capable starting slot cornerback in the league if he is moved there.
Main Photo: