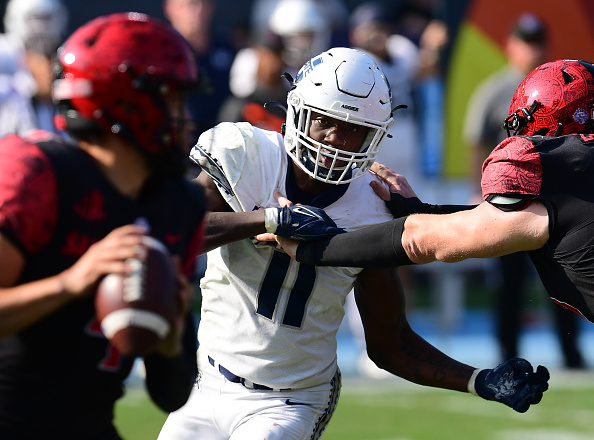 It's the most wonderful time of the year! As we did in 2019 and 2020, let's take a look at all 42 bowl games, plus the CFP National Championship Game. 18 matchups feature a first-ever meeting of programs.  
With how insane the coaching carousel has been, plus the full utilization of the Transfer Portal, we will try to keep up with all of the moving parts and put footnotes for notable players leaving. So, without further ado, time for the 2021 Mountain West bowls preview!
2021 Mountain West Bowls Preview
New Mexico Bowl (December 18, 2:15 p.m., ESPN)
Fresno State vs UTEP
Head-to-head: Fresno State 8-3-1 UTEP
Fresno State bowl record: 11-12 
Kicking off the 2021 Mountain West bowls slate, the Fresno State Bulldogs take on the UTEP Miners. The 9-3 squad has much to be proud of and was so close to an 11-win season. Only a touchdown separated the Bulldogs and a victory over Oregon and Hawai'i. On two occasions, Fresno went on three-game win streaks. Only Boise was able to put a hurting on the Bulldogs. 
The Transfer Portal gave the Bulldogs faithful a bit of a scare. The leader on offense is quarterback Jake Haener and he very nearly skipped town but recently withdrew his name from the Portal. This year, Haener threw for 3,810 yards, the second-most in the MWC and ninth-best nationally. For the second straight year, he led the conference in yards per attempt. Take away his 96-yard effort against Wyoming, that mark increases to over nine yards per attempt. 
Of Haener's 32 touchdowns, 11 of them went to junior receiver Jalen Cropper along with 827 yards. To go with the 330 yards per game through the air, Fresno can run the ball to the tune of 133 yards per game. Fifth-year senior running back Ronnie Rivers is no stranger to large workloads. All five years, he's logged at least 100 carries, and this year he rushed for 788 yards and five touchdowns. 
Fresno State has a near-elite defense, allowing just 20.2 points per game. The team leader in tackles (87) also leads the way with three interceptions, Evan Williams. UTEP will have a difficult time making plays against this defense. The Bulldogs force almost two turnovers per game and have made the most of their opportunities. 
UTEP is a good team but they will be overmatched in this one. Even without its coach, Fresno State kicks off the 2021 Mountain West bowls slate with a victory. 
Los Angeles Bowl (December 18, 7:30 p.m., ABC)
Utah State vs Oregon State
Head-to-head: Utah State 0-3 Oregon State
Utah State bowl record: 5-8 
Owners of a 10-3 record, the Utah State Aggies take on the 7-5 Oregon State Beavers.  USU opened the year by taking down the bowl-bound PAC-12 team in Washington State, and finished with a downright thrashing of San Diego State in the MWC Championship game. This was Utah State's first-ever MWC title and it's well-earned. This is a very solid squad. 
Arkansas State transfer, fifth-year junior quarterback Logan Bonner really came into his own this year. After passing for over 1,000 yards for ASU in the past two years, Bonner ramped it up to the tune of 3,554 yards and scored 36 touchdowns (best in the MWC). All this and not so much as an honorable mention for the All-MWC teams. Just goes to show how good the quarterback play is in this conference. 
His favorite target, however, was recognized with first-team honors. Deven Thompkins' 1,589 receiving yards are third-most in the nation and second-most in the MWC. He scored nine touchdowns off of 96 receptions, which are fifth-most in the nation. Thompkins is a force to be reckoned with. 
Perhaps the reason this offense is so prolific is out of necessity. The defense is rather porous. They allow 25.3 points per game and nearly 400 yards. This defense is without any first or second-team All-MWC selections, but they force 1.6 turnovers. They'll have to play their best considering they are featured in the first G5 vs P5 matchup this bowl season. 
There are concerns with the defense against Power Five athletes. Oregon State, however, is not proficient at defending the pass, which plays right into Utah State's strength. The Aggies get the win, improve their bowl record to 6-8, and gets the 2021 Mountain West bowls mark to 2-0.  
Famous Idaho Potato Bowl (December 21, 3:30 p.m., ESPN)
Wyoming vs Kent State
Head-to-head: 0-0
Wyoming bowl record: 8-8 
After getting off to a hot 4-0 start, Wyoming fell back down to Earth by dropping its next four games against MWC foes. This team seems to be very hit-or-miss. In their six wins, Wyoming scored an average of 35.5 points. In those six losses? Just 10.8. 
The strength of this team is its defense. The Cowboys give up just 177.5 yards per game through the air, good for ninth-fewest in the nation. Senior linebacker Chad Muma leads this unit. His MWC-leading 78 tackles, 7.5 tackles for loss, one sack, three interceptions, and two defensive touchdowns earned him first-team All-MWC.  
By all intents and purposes, Wyoming is a run-first offense led by Xazavian Valladay and Titus Swen. Valladay has a very real shot of going over 1,000 yards on the year, considering he is sitting at 984 and has five touchdowns. Swen has punched it in seven times to go with his 757 yards. 
There have been two quarterbacks to take meaningful snaps for this offense, but they combined for a grand total of 14 touchdowns. 11 of those belong to Isaiah Neyor to go with 791 yards. 
This game pits strength against strength. Kent State has an exciting offense. Wyoming's pass defense is suffocating. Usually, one sides with defense. Not here. Unfortunately for the Cowboys, Kent State has a prolific quarterback and, while he may not go for 400 yards, he'll will his Golden Flashes to victory. At this point, the 2021 Mountain West bowls record sits at 2-1. 
Frisco Bowl (December 21, 7:30 p.m., ESPN)
San Diego State vs UTSA
Head-to-head: 0-0
San Diego State bowl record: 6-8
Second time seems to be the charm for head coach Brady Hoke. The 11-2 San Diego State Aztecs take on an exciting 12-1 Conference USA Champion, UTSA. While those 12 wins are impressive, it should be noted that half of those were by one possession. As is the case with so many, this could have been a very different year for SDSU. Even with a dismantling in the MWC Title game, San Diego State fields a strong team. 
As is the trend with these west coast teams, the defense reigns supreme. Four of the Aztecs' starting 11 were named first-team All-MWC, including the defensive player of the year, Cameron Thomas. Two more Aztec defensemen earned second-team All-MWC, so it's no wonder that this defense stifled any and all in its way. Where they excel is defending the run, where they only allow 77.7 yards, good for second-best in the nation. That will come in handy. 
The way this offense gets the job done is on the ground. Former Nebraska Cornhusker Greg Bell is the bellcow for SDSU. His 997-yard, eight-touchdown effort earned him second-team All-MWC honors. He is the perfect back for this Hoke offense.  
As was said with the Wyoming-Kent State matchup, this one features strength vs strength. UTSA has a phenomenal rushing attack. However, they do also have the ability to sling it. The Roadrunners meep meep their way to victory and San Diego State drops the 2021 Mountain West bowls record to an even 2-2. 
[pickup_prop id="16513″]
Hawai'i Bowl (December 24, 8:00 p.m., ESPN)
Hawai'i vs Memphis
Head-to-head: 0-0
Hawai'i bowl record: 8-6 
Editor's note: The Hawai'i bowl was canceled due to a number of reasons within the Hawai'i program.
The decision was made on December 2nd that there would be an additional bowl (Frisco Football Classic) to allow for all 83 bowl-eligible teams to play. That meant an 84th team must be found. Naturally, it was Hawai'i for the Hawai'i bowl. The Rainbow Warriors posted a 6-7 record. Since they are located on the islands in the middle of the Pacific, the schedule is interestingly manufactured. They alternated home and away games. Hawai'i finished 2-5 in the continental U.S. and 4-2 at home. Considering the distance, this drastic split makes sense. 
Overall, this is not the best team Hawai'i has ever fielded. On defense, Hawai'i held opponents under 400 yards only four times; they even gave up a ridiculous 651 yards in a win over Colorado State. Linebacker Darius Muasau is the leader and he gets his, considering the unit is on the field for so long. The nation's leading tackler in 2020 only continued his dominance. His stat sheet is decorated with 14.0 tackles for loss, 7.0 sacks, an interception, and an MWC-best five forced fumbles. 
In addition to Muasau, the Rainbow Warriors boast the nation's interceptions leader with five, Khoury Bethley. He's got the ability to change the game, evident by his pick six against New Mexico State that put the game out of reach. 
Quarterback Chevan Cordeiro was the leader on offense and has since decided to take his talents elsewhere. He became the latest in a long line of skilled quarterbacks hitting the Transfer Portal on the 2nd, so Hawai'i will turn to true freshman Brayden Schager.
To take some pressure off of the youngster, Hawai'i will lean on its three solid playmakers, Dedrick Parson, Dae Dae Hunter, and Calvin Turner. If asked who the nation's leading receiver was with 1,752 yards, almost nobody would guess a wideout from Hawai'i, but Turner is the guy.
Memphis isn't what it was a few years ago. This game is a great example of "movable object meets stoppable force." Either way, no Cordeiro is going to spell doom for Hawai'i and the 2021 MWC bowls record will fall to 2-4. 
Transferring out: Chevan Cordeiro (transferring to San Jose State)
Quick Lane Bowl (December 27, 11:00 a.m., ESPN)
Nevada vs Western Michigan
Head-to-head: 0-0
Nevada bowl record: 7-11 
Oh how much can change in a few days. When the MAC edition dropped, this was a highly-anticipated matchup. It has since lost a bit of its luster, but it'll still be worth tuning in to see the 8-4 Nevada Wolfpack take on the 7-5 Western Michigan Broncos. 
Why has this matchup lost its luster? Stud quarterback Carson Strong is going to the NFL and has since opted out. In his absence, Nevada will likely turn to senior quarterback Nate Cox and his 168 career yards and one touchdown. Regardless, Strong's favorite target and fellow first-team All-MWC selection Romeo Doubs will suit up one last time. 
The defense that is tasked with slowing down a solid WMU offense is led by senior defensive tackle Tristan Nichols. Nichols earned the respect of coaches and media members because his 10.5 tackles for loss, 10 sacks, two forced fumbles earned him first-team honors. 
Carson Strong vs Kaleb Eleby was supposed to be a marquee bowl matchup. Instead, Western Michigan will be able to cruise to victory and cause the fourth-consecutive of the 2021 Mountain West bowls to end in defeat. 
First Responder Bowl (December 28, 3:15 p.m., ESPN)
Air Force vs Louisville
Head-to-head: 0-0
Air Force bowl record: 13-13-1 
The 9-3 Air Force Falcons take on the 6-6 Louisville Cardinals from the ACC here in the First Responder Bowl. As is the case with the other two service academies, Air Force loves to run that triple-option attack. Only three times were they held under 200 yards and they went 1-2. The losses to San Diego State and Army make sense as they both possess stout run defenses. The loss to Utah State was a shootout and triple-option teams are not built to keep up. 
First-team All-MWC running back Brad Roberts is the dynamic playmaker on this offense. Off of an MWC-most 279 rush attempts (third-most in the nation), Roberts rushed for an MWC-most 1,279 yards and 13 touchdowns. The man responsible for handing him the ball is junior quarterback Haaziq Daniels. Daniels kept it on the triple-option 139 times and ran for 698 yards and nine touchdowns. 
MWC second-teamers Jordan Jackson and Vince Sanford lead this Falcons defense. Sanford was literally everywhere this year. He led the team in tackles (56), tackles for loss (17), sacks (9.5), and forced fumbles (four). As a unit, this defense is elite. At only 95.6 yards allowed per game on the ground, good for seventh-fewest in the nation, Air Force is nearly impossible to move the ball against. Four times (once was NAVY), Air Force held opponents under 50 yards. 
Air Force will have its hands full against Louisville. However, this is a sound team and they'll be able to contain the dynamic quarterback. The 2021 Mountain West bowls slate is full of strong, under-the-radar teams and Air Force is no different. 
[pickup_prop id="16539″]
Arizona Bowl (December 31, 2:00 p.m., Barstool Sports)
Boise State vs Central Michigan
Head-to-head: Boise State 2-3 Central Michigan
Boise State bowl record: 12-7 
Editor's note: Due to an uptick of COVID-19 cases within the Boise State program, the Arizona Bowl will be canceled. Central Michigan will be taking Miami (FL)'s place in the Sun Bowl against Washington State.
The final game of the 2021 Mountain West bowls schedule pits Boise State and Central Michigan against one another. At 7-5, Boise State was respectable, but not elite as in the past. In non-conference play, the Broncos went 2-2, beating solid BYU (26-17) and UTEP (54-13) teams, but dropped to UCF (36-31) and Oklahoma State (21-20). This program proves year in and year out that it can hang with the "big boys." Why hasn't the PAC-12 called them up? 
Quarterback Hank Bachmeier was extremely productive in his junior season. He passed for 3.080 yards and just 20 touchdowns. The highlight of his year was in a barnburner of a loss against Strong and Nevada. He threw for 388 yards and four touchdowns but it just wasn't enough. 
His favorite target (by way of recording more catches than twice the next closest receiver) is and has been Khalil Shakir. He's had three very productive seasons, but none more than this year. He finally eclipsed 1,000 yards and finished with 1,117 to go with his seven touchdowns.  
Safety number zero JL Skinner leads a Broncos defense that isn't truly dominant in any one category. Only on three occasions did this unit hold its opponent to below 155 yards in the air…two of those games were against heavy run offenses and the other came as they allowed 218 yards to one guy on the ground. Not ideal. 
Sometimes, it's all about how you finish. In terms of the 2021 Mountain West bowls, Boise State looks to finish the slate strong. The Broncos are talented enough to take this matchup against a middle-of-the-road MAC squad, so the MWC record finishes at an even 4-4. 
Transferring out: Andrew Van Buren (team-leading nine rushing touchdowns)
Go [Mountain] West, Young Man
Group of 5 teams don't get much respect. Behind the AAC, the MWC has a strong claim of being the second-best G5 conference in the nation. Each of the eight 2021 Mountain West bowls has its own charm and allure. The MWC is in good hands and will have yet another strong showing, possibly even going 2-0 against a pair of Power Five foes. 
Next up, history is made in the American Athletic Conference!
Main Photo: