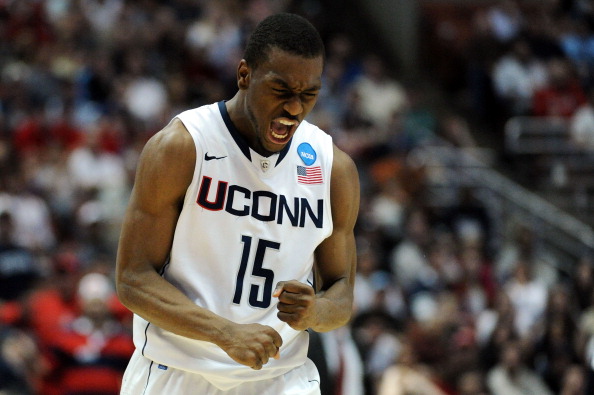 The New York Knicks and Kemba Walker seemed like a match made in heaven the moment he signed the contract. In a homecoming type of welcome, Kemba had the opportunity to shake off his struggles he went through as the de facto third scoring option and could rebuild his career in New York City, the place where it started as a youth. However, the Knicks have underwhelmed to this point of the season, and the latest decision to pull Kemba Walker out of the rotation altogether puts a significant damper on this experiment.
So you telling me Kemba Walker and Blake Griffin are not even playable anymore Damn !!

— Paul Pierce (@paulpierce34) November 30, 2021
Kemba Walker Out Of The New York Knicks Rotation Solidifies His Slow Fall From Grace
A statistical summary of why the Knicks are pulling Kemba Walker from the rotation:

Knicks have the best defense in the league when he's on the bench (99.0 DRtg) & are dead last (116.3 DRtg) when he's on the floor.

They are 27th in offense with him playing, 9th with him off.

— Fred Katz (@FredKatz) November 29, 2021
Coach Tom Thibodeau believes this is "best for the team"
The numbers do not lie: Kemba Walker has been a negative for the New York Knicks this season. He is averaging a career lows across the board. He is scoring just 11.7 PPG, on just 42% on just over nine attempts per contest, and logging just 24.5 minutes a night. His assists and rebounds are at an all-time low as well, with just 3.1 and 2.6, respectively. Not just individually, Kemba has been a detriment to the rest of the team when on the floor.
Whenever Kemba is on the floor, the Knicks are being outscored by a -122 margin, per StatMuse, with a defensive rating of 116.3. Kemba was never the most stout defender by a longshot, but he is clearly not helping on either end of the floor. Thibs has elected to start the veteran Alec Burks as the team's lead guard moving forward, pulling Kemba Walker out of the rotation, perhaps seeing some DNPs in the next few games.
Kemba's Slow Decline
Unfortunately, Kemba's struggles are nothing new. They can be traced back to the 2020 All-Star break, when Nick Nurse, one of the coaches for the annual festivities, decided to let Kemba play 29 minutes in the one-off game, while at the time, Kemba was on a minutes restriction by then-coach of the Boston Celtics Brad Stevens. Kemba missed a string of games after the break with knee issues, and only played a handful of games before the league's shutdown due to COVID-19. Unfortunately, Kemba was never the same since.
That was two seasons ago, and somehow just a year ago at the same time, with the paused 2019-20 season and the shortened 2020-21 season. Walker was an All-Star starter in 2020, now he is headed for DNP-Coach's Decision in the close of 2021. When the 2019-20 season resumed, Walker was visibly still shaken by the injuries sustained to his knee. He lost some of his speed, his ability to cut, and his stop-and-go dribbling, which in turn affected his shooting and overall offensive game.
The 2020-21 Boston Celtics season was one that saw the team have a rotating cycle of names on the injury list or the COVID protocols roster, with Kemba sitting out nearly half of the Celtics contests, especially back-to-backs. The goal was to rest and revamp Walker for a postseason run, but despite the rest he received all season, he was still unable to compete for a whole series against the juggernaut Brooklyn Nets team, and the Celtics were eliminated in five games. That was the end of Walker's Celtic tenure.
When the Celtics tried this after a full season it was called classless and immoral https://t.co/GPVKffzrvU

— Sloppy 6'5" (@ColeyMick) November 30, 2021
What Does Kemba's Future Look Like?
Multiple league sources believe the Knicks will look to trade Kemba Walker, and New York may have a trade partner in the Rockets, who are "eager" to move John Wall, per @ASherrodblakely

Full story: https://t.co/yHauN9s6Lg pic.twitter.com/hOzqLhXle7

— Bleacher Report (@BleacherReport) November 30, 2021
A Sherrod Blakely of Bleacher Report stated multiple sources believe that with Kemba Walker out of the Knicks rotation, that the franchise is looking to trade the former UCONN point guard, with one suitor being the Houston Rockets in exchange for John Wall. Wall currently makes $44 million this season, and $47 next, compared to Walker's $20 million paid over two seasons. The Knicks would have to include another rotational player or two to match salaries, or incorporate a third or fourth team to help strike a deal.
Wall and the Houston Rockets are working towards making a trade to move Wall to another team that needs his services more than they do, but his price tag is too high. Wall also is interested in returning to the team in a starting role, but Houston remains adamant on keeping him out. A Wall-Walker swap would benefit Wall as he gets the chance to play at a high-market in New York with a chance to revamp his career (just like Walker did, right?). Meanwhile, it is difficult to predict where Kemba goes from here.
Coach Thibs noted this is not a permanent move having Kemba Walker out of the lineup, rather it is the right move right now. Walker could very well turn his season around down the line, but how many times have fans tried to be optimistic saying that. As a Celtics fan, I've defended Walker more times than I should have, believing the tired narrative of "he'll be fine by the postseason" or "he'll figure it out". Who is to say anything will change this time around?
This Celtic fan is pulling for Kemba to shake off this rust and reclaim just a fraction of what he once was, but does having Kemba Walker out of the New York Knicks lineup signal the next phase of Walker's career?
Main Image Credit
Embed from Getty Images