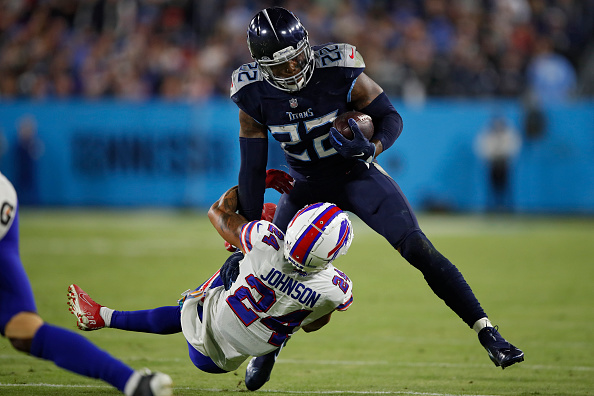 "Derrick Henry embodies old school football. It's the type of game when you have to buckle your chin strap and come prepared and bring physicality." 
On pace to break the all-time single-season rushing record of 2,105 yards, Henry has amassed 640 rushing yards in just six games this season. In 2020 Henry became just the eighth player in NFL history to surpass the 2,000 rushing yard-mark.
That alone was thought impossible, because the year before, in 2019, Henry had touched the ball 319 times. To expect Henry to follow that up with the same amount of carries, or even more, seemed incredulous.
"The King" would follow explode in 2020, carrying the ball 397 times for 2,141 yards, 2,027 of which came on the ground. "As the game goes on, I get better and I can see the defense getting tired. That gets me hyped."Henry may get hyped, but his freakish ability to carry the rock more than anyone else is unreal.
And while 2020 seemed like it would be the greatest statistical year for Derrick Henry's career, he's not calling it quits. In fact, he seems to be even better in 2021. He might also be the first non-quarterback to win the MVP award since Adrian Peterson did it in 2012.
Derrick Henry is Going to Win NFL MVP
Derrick Henry faces stiff competition for the MVP award, perhaps his fiercest competitor being Kyler Murray of the Arizona Cardinals. Or Tom Brady – forgive me for using this oft-quoted cliche – who seems to be growing younger with each passing year. Those players, among others, will certainly pose a threat to Henry's chances.
But if Henry can keep up his pace and continue his body of work, it won't matter how good the rest of the NFL plays, because Henry is on pace to have the greatest single-season running back year of all time. 
Derrick Henry is on pace to break ALL of the records
"He wears you down," Pittsburgh Steelers coach Mike Tomlin said. "He's capable,  of winning by attrition… He's also big-play capable. It's really astounding that a back his size is capable of going to the house just about every time he touches it."
Against the Buffalo Bills on Monday Night Football, Henry proved Mike Tomlin's point, taking the ball 75 yards to the house, on just his fifth carry of the game.
Derrick Henry's 783 rushing yards after six games this season has him on pace to surpass Eric Dickerson's NFL record for rushing yards in a season and become the first player with two consecutive 2,000-yard rushing seasons. This season he sits at an astounding 130 YPG (yards per game) average.
[pickup_prop id="5464″]
"This is a guy who averages about 25 carries a game," Tomlin said. "Regardless of how the game is going, you better be prepared to answer that element of the challenge over the course of the game."  That average actually sits at 27, which is four more than last year. Why is this important? More carries equal more yards.
However, Derrick Henry can manage to set records without 25 carries. For example, in week 6 against the Buffalo Bills, Henry set a new NFL record. He passed Jim Brown and became the first player to ever have three games with 100-plus yards rushing and three touchdowns in the first six games of an NFL season.
Even still, Henry is set to smash the NFL record for most carries in a season (416) and is on pace for 483. He is on pace to carry the ball almost 500 times.
The Tennessee Titans certainly aren't going to stop feeding Henry the ball. "Getting Derrick Henry the ball gives us a better chance to win," said Titans offensive coordinator Todd Downing. The Titans are going to give Henry the ball each and every wee and nothing will stop them from doing it, because he's their best chance to win, and no team can seem to stop "The King."
The more records he sets and breaks this season, the better chance Henry has of winning MVP.
"What about his competition?" you ask. And you have a point. Currently, Dak Prescott leads the way at +500 to win MVP. Josh Allen and Kyler Murray are close behind. And they could very well win the award.
But if Derrick Henry can have the best season of all-time for a running back, which he is on pace for, then he will win the award. None of the other MVP frontrunners are doing anything close to that; yes they are playing amazing football, but they are not setting records that will most like stand for the rest of time.
It comes down to two things: which MVP candidate proves more impactful to their team, and which MVP frontrunner can set more astronomical numbers than their competition. Henry has the best chance to do so; he is the main reason the Titans win their games, and as I have already explained, is on a historic pace.
Prescott is invaluable to the Dallas Cowboys, that much was proven true last year when he was lost for the season. He will easily win the Come Back Player of the Year award. But unless he can surpass some of the records set by Patrick Mahomes in his second year, Prescott will not reset any NFL records, which Henry should do.
The road ahead of Derrick Henry is a long one and filled with adversity. If he plans or wishes to win MVP, he is going to have to play like he is now. He has to have the best season for a running back of all time. Henry knows that, and he knows what he has to do.
"You control your own destiny. You go out there and work hard and show people that you come to work and earn your respect. All you can control is how you go out there and perform every day."
Derrick Henry is running harder than anyone in the NFL, and potentially NFL history. He knows there will be potholes on the road to success. He is not worried about that. His focus is on working harder and running faster, than everyone else.
"When you work hard, it's definitely going to show. That's why with any athlete, we have struggles, and we have adversity, but as long as you work hard and keep your head down, you will always prevail. "
That work ethic, combined with unreal talent, is what will set him apart from the rest of the pack, and why "The King" will take home the MVP crown.
Main Photo: