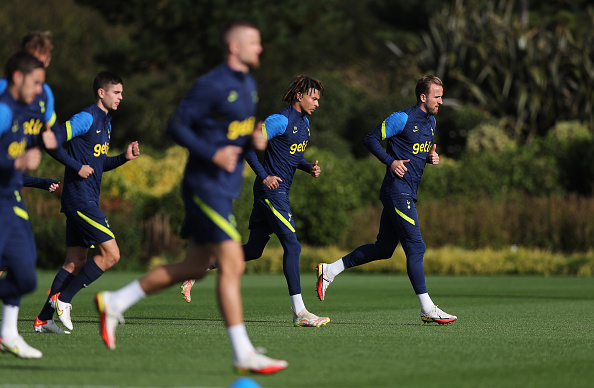 Seemingly destined to leave last summer, Harry Kane has very much started the season like a dejected want-away prisoner at Tottenham Hotspur. And it's not helping Tottenham or his reputation as one of the best in the business. In usual circumstances, we could just brush this form off as Euro 2020 heartbreak still taking its toll – something that seems to have damaged the likes of Luke Shaw – but, with Kane, something feels off completely. In a situation similar to that of a child with the hope of Disneyland, only the end up at the dentist, Kane just looks like he doesn't want to be there.
The main problem here is that he didn't look all too great when pulling on the England shirt, either – pulled off in the second-half by Gareth Southgate. And that's when the questions ramped up over his form; that's when people began to ask how exactly did last season's top goalscorer and assister become a shadow of his former self?
Harry Kane's Form is Doing Neither Him or Tottenham Hotspur Any Favours
Spurs Should Have Sanctioned Sale
Turning down the chance to sell a 28-year-old for £150 million was a strange decision by Tottenham – especially when that 28-year-old's departure is a growing inevitability. That offer is unlikely to arrive again for Kane. Instead, as Erling Haaland becomes available for less next summer, Manchester City is likely to ignore their pursuit of the English forward, and focus on the younger Norwegian. And that leaves both Kane and Tottenham with an undeniable conundrum. 
All of a sudden, next summer, when attempting to make the move, Kane's options will be limited. Manchester United has just welcomed back Cristiano Ronaldo and is unlikely to splash such extensive cash on Kane. Liverpool's last big spending spree was in 2018, and another is unlikely to come along soon; Chelsea is…Chelsea, so there shouldn't be a chance of Kane making that move. And Manchester City, the only feasible club last summer, may look elsewhere next year. So, where would Kane go?
As each week passes, it is looking more and more of a fact that Tottenham should have sanctioned Harry Kane's move last summer. The forward would, of course, be better off, and so would the club. Nuno Espírito Santo would have had £150 million to spend on finally rebuilding the squad – something that Mauricio Pochettino wanted to do a long time ago. As a result of that rebuild, chances are, Tottenham wouldn't be sitting eighth having been torn apart in the north London Derby. Pundits have been cold on both player and club and bookies have taken notice also with unfavourable odds. Read more about this topic on casinonotongamstop.net.
Son
Heung-min
Has Taken Kane's Place With Fans
Before the fiasco of a potential departure last summer, Kane's name could be heard loud and clear at every Tottenham game, whilst nothing but positives were said about the forward. Now, however, Son Heung-min is the name mentioned in a positive light; he is the new hero; the new talisman under Espírito Santo. And rightly so. 
Tottenham proved at the very start of the season – ironically up against Manchester City – that they are not a team built around one individual, but a collective that, when on form, can beat any team in the Premier League. It's just about finding that form, whether or not Kane matches it, and marching forward through players that want to be there; that want to turn things around under Espírito Santo.
Main Photo: