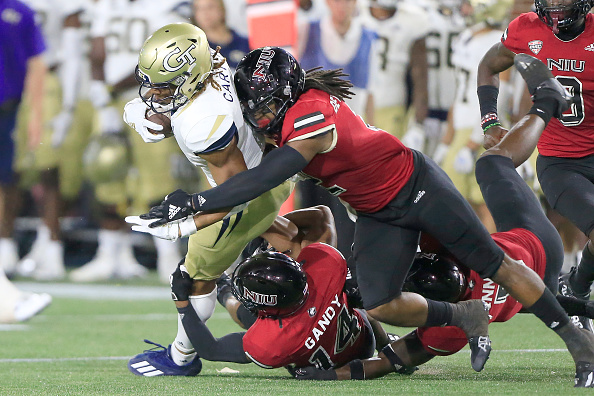 Power 5 vs Group of 5 matchups were everywhere for the first week+ of college football. In many cases, the G5 got the better of its bigger counterpart, leading some to continue to cry out that pre-season polls are worthless. The best part of some of these upsets? The best G5 teams were not even the ones doing the upsetting.
In addition to looking at each of the Power 5 vs Group of 5 upsets, we will also look at FBS losses to FCS and near misses. The first week+ was very good to a lot of bettors taking the spread.
Power 5 vs Group of 5: Upsets Galore!
Near Misses
South Dakota (FCS) almost beat Kansas
Northern Iowa (FCS) almost beat (7)Iowa State
Missouri State (FCS) almost beat Oklahoma State
Montana State (FCS) almost beat Wyoming
Gardner Webb (FCS) almost beat Georgia Southern
Louisiana Tech almost beat Miss State
Central Michigan hung with Mizzou
Texas State almost beat Baylor
Fresno State almost beat Oregon
Tulane almost beat (2)Oklahoma
FCS over FBS
South Dakota State (FCS) beat Colorado State. 42-23
Six FCS teams beat their FBS competition to start the 2021 season! Naturally, last year's FCS runner-up looked good. The Jackrabbits struck first and never looked back. They out-gained the Rams 466-462 thanks to Pierre Stong Jr. and Isaiah Davis' combined 222 yards and three touchdowns on the ground. Sure, Colorado State is a G5 team, but the expectation is to always beat the team you're paying to play.
Holy Cross (FCS) beat UCONN, 38-28
42 miles separate The College of the Holy Cross and the University of Connecticut. After getting shellacked by Fresno State in Week 0, UCONN dropped its FBS/FCS contest 38-28. The Huskies just did not look good. Quarterback Jack Zergiotis threw for only 174 yards off of 41 attempts and 17 completions. He helped with his three touchdowns…but also threw three interceptions. Meanwhile, Holy Cross had 226 yards rushing and forced four turnovers. Honestly, there are many wondering if UCONN should just move down to FCS…
UC Davis (FCS) beat Tulsa, 19-17
The #Pow6r conference's 2020 runner-up did not kick off 2021 as it should have. Heading into the final frame, the Golden Hurricanes held a narrow 17-13 lead. While they out-gained the Aggies 484-389, they turned the ball over three times! Deneric Prince did his job, rushing for 179 yards and a score, but going 2/11 on third downs will not get it done. Hunter Rodrigues stepped up, however. 311 yards and a touchdown on the back of a 28/35 passing performance.
Eastern Washington (FCS) beat UNLV, 35-33
The final Group of 5 team to drop a match to an FCS opponent was the UNLV Rebels. Quarterbacks Doug Brumfield (5/12, 117 yards, interception) and Justin Rogers (7/11, 23 yards) struggled. The star for UNLV was Charles Williams and his 172 yards and two touchdowns on the ground. This game was so even that they needed two overtime periods to decide and even then, UNLV failed on a two-point conversion. The winning quarterback was Eric Barriere and his 374 yards and three touchdowns. Imagine what this game could've been without his two interceptions…
Montana (FCS) beat (20)Washington, 13-7
Two Power 5 teams dropped games against FCS foes. Montana gained a whopping total of 232 yards. How could the Grizzlies win this matchup at a top-20 program? They won the turnover battle 3-0. In terms of raw stats, Washington 100% should have won this game. But Montana kept the game close and forced those three crucial turnovers. All they needed was to capitalize on one to go up 10-7. For good measure, they tacked on a field goal with less than three minutes to go. Gone are the days of the CFP Washington Huskies. Not great for The Alliance.
East Tennessee State (FCS) beat Vandy 23-3
Only two SEC teams lost in Week 1. Vanderbilt scored first with a field goal in the first quarter…then subsequently gave up 23 unanswered points. As with Washington, Vandy turned the ball over three times. One of those turnovers directly resulted in six in the form of a scoop-and-score. The Buccaneers were led by Quay Holmes and his 149 yards on the ground.
Power 5 vs Group of 5 Upsets
Charlotte beat Duke, 31-28
The headliner of the Power 5 vs Group of 5 upsets rundown features Charlotte earning its first FBS-level victory! And they really had to earn it. Duke may not be a premier ACC foe in football, but they have a stud running back by the name of Mataeo Durant. Durant broke off for 255 yards and three touchdowns on the ground. Those three scores were from five yards out, 59 yards, and 53 yards. Unfortunately, he had one of the Blue Devils' two fumbles.
Meanwhile, the 49ers could not be stopped on offense. Chris Reynolds threw for 324 yards and three touchdowns. Not to mention the fact that they had two receivers north of 100 yards in Victor Tucker (133 yards) and Grant DuBose (118 yards, two touchdowns). The two teams traded scores in the final three minutes, but the game-winner was an 11-yard touchdown with only 33 seconds to go.
UTSA beat Illinois, 37-30
Oh, Illinois. You go from beating Nebraska in Week 0 to being one of the Power 5 vs Group of 5 upsets. The Roadrunners of the University of Texas, San Antonio took the lead late in the first quarter off of a Frank Harris touchdown run and never conceded. UTSA has a pair of playmakers in Harris, the quarterback, and Sincere McCormick. Harris threw for 280 yards and a score and added 32 yards and a touchdown on the ground. McCormick, one of the top running backs in the nation, tallied 117 yards on the ground.
Artur Sitkowski would not be denied, however. His 266 yards and three touchdowns were enough to keep the Fighting Illini in the game. Alas, he does not play defense. Bret Bielema's first loss (of likely many) in his second stint as a Big Ten head coach comes at the hands of a C-USA squad.
Northern Illinois beat Georgia Tech, 22-21
Gone may be the days of Northern Illinois threatening to crash the BCS/NY6, but they were one of the many Power 5 vs Group of 5 upsets. Georgia Tech is not a top-tier program in the ACC, but dropping a game to a MAC opponent is not ideal. Still only a few years removed from being a true triple-option team, the Yellow Jackets have struggled to find themselves. Jahmyr Gibbs (99 yards) and Jordan Mason (96 yards) are formidable running backs, but not enough on this day.
The Huskies are now led under center by former Michigan State Spartan, Rocky Lombardi. His numbers are not Jordan Lynch-esque, but he added 136 yards and two touchdowns through the air. The true star on this offense is running back Harrison Waylee. Waylee ground his way to 144 yards and a touchdown. Lombardi tossed the game-winner with 38 seconds to go in the game. Instead of kicking the PAT and prolonging the game into overtime, the Huskies went for two and the win.
Nevada beat Cal, 22-17
The quarterbacks in the 2022 NFL Draft are not nearly as strong as the 2021 class…but don't tell Carson Strong. The Nevada signal-caller willed his Wolfpack to victory in one of the many Power 5 vs Group of 5 upsets. It's very possible Strong will hear his name called on the first night of the 2022 NFL Draft and if he continues to play as well as he did in this game, he could challenge Spencer Rattler and Sam Howell atop the quarterback board.
Cal allowed Nevada to rattle off 22 unanswered points between the second and third quarters and only ran nine plays in the third. Either way, the two kickers combined to miss four field goals in this game. College kickers, man…
[pickup_prop id="10790″]
Utah St beat Washington State, 26-23
Finally, the final of the Power 5 vs Group of 5 upsets, the Aggies of Utah State traveled to Pullman, Washington to take down the Cougars of Washington State. Wazzu started Tennesse transfer Jarrett Guarantano, but he left trailing 5-3 with an apparent injury. Jayden De Laura faired admirably and found Calvin Jackson Jr. seven times for 91 yards.
The issue for the Cougars was stopping the run. As a team, USU averaged 4.8 yards a carry, which totaled up 222 yards and a touchdown, led by Calvin Tyler Jr., John Gentry, and Andrew Peasley. Wazzu had a valiant comeback in the fourth, capped by scoring a touchdown and two-point conversion with 13 seconds left. Unfortunately for them, the 23-11 deficit with 12 minutes to go was too great to overcome.
Who's Next?
Everyone loves massive upsets. Well, everyone except those who bet on the game and fans of the P5 team. Will there be more Power 5 vs Group of 5 upsets? It's more likely than not. Below, we can find possible upsets waiting to happen.
American:
UCF at Louisville (Week 3)
Cincinnati at Indiana (Week 3)
Memphis vs Mississippi State (Week 3)
SMU vs TCU (Week 4)
Cincinnati at Notre Dame (Week 5) *sure, ND isn't truly Power 5, but it's a massive game*
MAC:
Buffalo at Nebraska (Week 2)
Ohio vs Northwestern (Week 4)
Sun-Belt:
Coastal Carolina vs Kansas (Week 2)
Appalachian State at Miami (FL) (Week 2)
Mountain West:
Nevada at Kansas State (Week 3)
Boise State vs Oklahoma State (Week 3)
Main Photo: