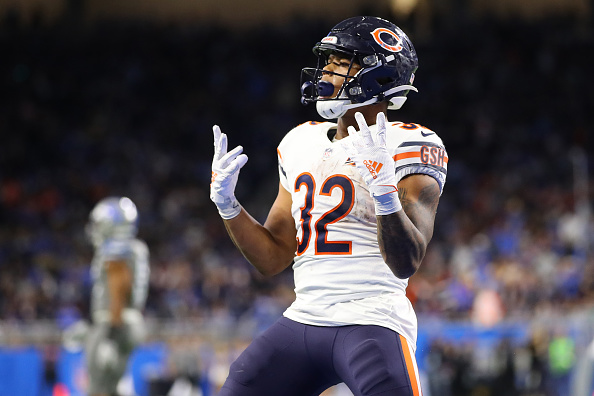 The latest installment of the Madden NFL video game franchise is set to release this month. The annual ratings reveal seems to generate more interest with each passing season. Seeing which players were overrated or underrated is a fun way for NFL fans to debate who the best and worst of the NFL's active players are. Every year several players are given ratings that many fans don't agree with. Here are five players who are underrated in Madden 22.
Five Players Who are Underrated in Madden 22
The runner-up for the league MVP last season is rated an 88 overall to start this year's Madden. This rating makes Allen the seventh-ranked quarterback in the game. While it is easy to say the cover athletes Patrick Mahomes and Tom Brady deserve to be rated higher and the man who beat out Allen for MVP Aaron Rodgers, the remaining quarterbacks are a confusing bunch. Russell Wilson and Lamar Jackson both fell victim to Allen's Bills last season and posted inferior stats to Allen's MVP caliber season.
The last, Deshaun Watson, was the quarterback of one of the NFL's weakest teams last year and has almost no reason to be rated above Allen this year. The issue isn't with eh ratings of these other quarterbacks. The issue is Allen's inferior rating. Placing Allen equal with Wilson as a 94 would be a more proper rating for the rising quarterback coming off of his AFC championship appearance.
This is one of the most confusing players whose rating in Madden 22 is too low. Fitzpatrick has been voted First-Team All-Pro in each of the last two seasons, yet is the tenth-ranked safety in this year's game. Fitzpatrick has been the gold standard for the safety position in recent years and to think that players such as Devin McCourty are ranked higher than Fitzpatrick is puzzling.
Even if Fitzpatrick were just the second or third safety behind players such as Tyrann Mathieu and Budda Baker, his 89 overall rating is too low. A rating of at least 93 would be more appropriate for the two-time First-Team All-Pro. Fitzpatrick seems to be consistently one of the players who are underrated in Madden.
Evans is the ninth-ranked wide receiver in this year's Madden. There are many talented receivers in the league currently so it isn't necessarily an issue with his placement among his peers. However, Evans has displayed incredible consistency throughout his career. Evans began last year's Madden with a 92 overall rating. So, following a seventh consecutive 1,000-yard season in an incredibly crowded offense, and a super bowl championship, his rating was decreased to a 91. It is truly interesting to see what it takes to get a boost from the Madden rating adjuster. Evans should at least receive a bump to a 93 for his efforts last season.
David Montgomery is entering his third year in the NFL. His 82 overall rating is typical for a younger player who hasn't emerged as a star, but in comparison to the other running back ratings in Madden 22, it is a bit low. Montgomery is the 24th ranked running back in the game. Montgomery finished fifth in the NFL in yards from scrimmage in 2020. He would have been fouth if he had played the single game he missed and had just 29 total yards. This is an accomplishment too great to be ranked 24th amongst his peers.
The other running backs in the top five with him are Derrick Henry, Alvin Kamara, and Dalvin Cook. All three of those backs are in the top five running backs in Madden 22 and all have a rating above 93. While Montgomery shouldn't be a 93, he should have a more respectable rating around 86. Giving Montgomery a high eighties rating with room to improve into the nineties with a strong 2021 would be more ideal than the 82 they have given him. For now, Montgomery is just one of many players who are underrated in Madden.
The final player on this list is the Chiefs' newest offensive lineman. Brown Jr. was traded to Kansas City after Baltimore found themselves in possession of two elite offensive tackles. Unfortunately for Baltimore, both tackles wanted to play left tackle as the position often gets more money in contract negotiations compared to right tackle. This led to Baltimore having to pick between Brown Jr. and Ronnie Stanley. Stanley is rated a 93 in this year's Madden while Brown Jr. is just an 82.
While Baltimore choosing Stanley may suggest he is the better tackle, the difference truly lied with the fact that Stanley already had an extension, while Brown Jr. still needed a contract. The financial aspects played a bigger part in Baltimore's decision than overall talent. It is unlikely two players linked that closely would be 11 ratings apart. Brown Jr. would be better slotted in behind a tackle like Laremy Tunsil who is an 89 in Madden 22. An 87 would be a better fit for the young tackle. Brown Jr. is yet another one of the players who are underrated in Madden 22.
Main Photo: