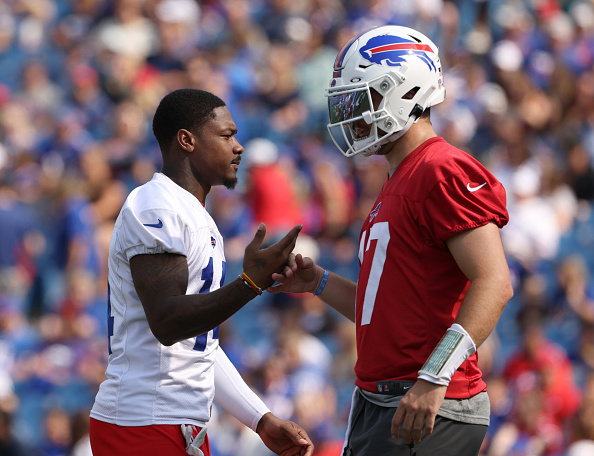 The 2021-22 NFL season is almost here. The Buffalo Bills will look to return to the AFC championship and earn their spot in the super bowl. Anything less for Buffalo would have to be considered a failure for the franchise. With the regular season being an important step toward getting a favorable path through the playoffs, here is my 2021 Buffalo Bills schedule prediction.
2021 Buffalo Bills Schedule Prediction
The Bills open up their season in a highly anticipated game with Pittsburgh. The Steelers have a lot of question marks surrounding them heading into 2021. The Bills have seemingly replaced the Steelers as the up-and-coming threat to the Chiefs that they seemed to be just a few years ago. While Pittsburgh's defense is outstanding, their offense has had a major change. Ben Roethlisberger remains the starting quarterback for the Steelers, but running back James Conner has left for Arizona.
In his place is their rookie first-round pick, Najee Harris. Harris is a promising young running back who can help in the run and the pass. Whether Big Ben can hold up will be a determining factor in their success this season. Buffalo will put him to the test early and should get the better of Pittsburgh with a strong performance in front of what will be an electric home crowd.
The Bills will go from one tough defense to another when they travel to Miami for Week 2. The future of Xavien Howard in Miami is questionable and his potential absence could have a major impact on the direction of this game. The competitiveness of Buffalo's meetings with Miami will depend on the development of Tua Tagovailoa, who struggled against Buffalo last season, and their ability to slow the Buffalo offense. Just looking at the meetings between these two teams last season, it is safe to assume that Buffalo will walk away from this one with a victory.
The early stretch of elite defenses continues into week three with a home game against the Washington Football Team. The storylines for this one will focus on a few key points. Buffalo will face former Bills starting quarterback and presumed current Washington starter, Ryan Fitzpatrick. This will be a fun week for Bills fans who have always been fond of Fitzpatrick. Secondly, the matchup between Buffalo's offensive line and Washington's defensive line. Washington has one of the best defensive lines in football and if Buffalo's offensive line can't hold up, an upset could be in order. However, I don't see an upset happening and Buffalo should grind out a surprisingly close win in a low-scoring game at home.
Buffalo's reward for surviving the gauntlet of defenses in weeks one through three is a home game against a candidate for the last-place team this season in the Houston Texans. Houston is still not in the future plans for Deshaun Watson and with a growing lack of talent on their current roster, Houston is set to replace Jacksonville as the worst team in not only the AFC South but the entire conference and league as well. Look for Buffalo to light up the scoreboard for the home fans in week four after a potential slow offensive start against these elite defenses.
The Bills' first true super bowl caliber test will come in week five in primetime against Kansas City. Buffalo and the Chiefs met twice last season with Buffalo coming up short both times including the AFC Championship. Kansas City has had some major changes occur since that championship matchup, both good and bad. They overhauled their offensive line to better protect Patrick Mahomes.
This is rough for a Buffalo team that failed to get pressure anyways prior to the upgrades. Kansas City did lose pass-rusher Frank Clark to legal issues that could impact his availability at this point in the season. It is likely Buffalo will give the Chiefs a fight, but until proven otherwise, the Bills remain the underdog and the likely loser of this matchup.
[pickup_prop id="7222″]
Ironically the NFL schedule makers have Buffalo facing their only two AFC losses from last year back-to-back in 2021. They will have a chance to get revenge on Tennessee for ending their undefeated streak last season with a win in week six. Derrick Henry will no longer be the primary focus of the Titans' offense this time around with the addition of Julio Jones.
The Titans' passing offense is now on the same level as their rushing and that could cause issues for Buffalo's defense. It will be a very close game this time around, but Tennessee gets the edge being the home team with fans being back this season.
Week 7 – Bye Week – 4-2
It will be interesting to see if Buffalo goes with rest or preparation with an early bye week this season.
Week 8 – Miami Dolphins – Home – 5-2
The second meeting with Miami will be at home for Buffalo. Once again, Miami's defense will pose a challenge for Buffalo, but their offense remains their weakness. Miami doesn't seem to have the ability to keep up with Buffalo's offense regardless of how well their defense plays. It will take something big for Miami to pull off a victory against Buffalo on their home field. Buffalo should sweep their meetings with Miami for the third straight season.
The Jaguars have been one of the NFL's worst teams since their appearance in the AFC championship in 2018. Even with the addition of quarterback Trevor Lawrence, Jacksonville isn't close to the level of Buffalo this season. Buffalo should have an easy time with the Jaguars in week nine.
The creators of the schedule did Buffalo a favor when they gave them back-to-back away games against the two worst teams from last season. Buffalo will have an easy time with divisional opponent New York following their meeting with Jacksonville. These two games being away is also a bonus for Buffalo as they have more important matchups at home as a result.
Following an easier two-game stretch Buffalo will have a wildcard rematch with Indianapolis. This game should be a close affair similar to their playoff game last season. The result could come down to if Carson Wentz is healthy enough to play in this game. If not, Buffalo should be able to score enough to defeat the Colts. Although, even with Wentz, the Colts probably leave Buffalo with a loss in this one.
One of the biggest questions of 2021 is what the post-Brees era saints will look like. It is unknown if the duo of Jameis Winston and Taysom Hill has what it takes to keep the team competitive. They do have a solid defense and several talented weapons on offense. However, with it looking like Michael Thomas may have another injury-filled season, Buffalo should be able to defeat New Orleans. This would be the game on the schedule I could see Buffalo losing where they should win, but Buffalo will look to put on a show in this Thanksgiving matchup.
Following a thanksgiving game in week 13, Buffalo will then have 11 days to prepare for a home primetime game against their rival, the New England Patriots. The Patriots had an impressive off-season and with several defenders returning, they should improve in 2021. However, they still have Cam Newton at quarterback and the home crowd in Buffalo should be going crazy for this one. It would be shocking to see Buffalo drop this one.
Buffalo travels to Tampa Bay to face the defending champs and Tom Brady. This game is important for Bills fans as Buffalo was just one win short of facing Tampa Bay in last year's super bowl. Getting a win against Tampa Bay would give Buffalo a huge confidence boost knowing they can beat the team they would have faced in the super bowl and a team they could very likely face if they made it to the super bowl this season. I think Buffalo rides their hit streak into Tampa Bay and grabs a win in week 14. This win sets up a huge potential rematch in the super bowl with everything in the line.
Following their huge win in Tampa Bay, the Bills welcome a familiar face to Buffalo in Sam Darnold. This time he will lead the Carolina Panthers' offense. It will be interesting to see if Darnold can finally play up to his potential with an offense loaded with talent like Carolina's offense. While Darnold very well could have a great year, it won't include a win against Buffalo.
Week 16 – New England Patriots – Away – 13-2
Buffalo's second meeting with New England will be in Foxborough and this is always a close game between these two. While Buffalo is the better team, New England is always a threat at home when Bill Belichick is coaching. Buffalo will need to be focused or they could drop this game to the Pats in week 16. I believe Buffalo has their eyes set on getting that AFC championship rematch with Kansas City and they won't allow for a mistake this late in the year. Buffalo moves within 1 game of sweeping their division for the second year in a row.
Before Buffalo gets the chance to sweep the AFC East, they have a home game against the Atlanta Falcons. Atlanta is another team that was at the top of the draft this past season and isn't currently on the level of a team like Buffalo. The loss of Julio Jones is further proof that Atlanta isn't focused on winning in 2021 and they won't win this game in Buffalo.
Week 18 – New York Jets – Home – 15-2
Buffalo ends their regular season against the Jets. It is beneficial that Buffalo has two home games to end their season limiting their travel fatigue heading into the playoffs. We won't know if Buffalo will need to play their starters in this one, but it is likely that Buffalo's backups could handle the Jets similar to how their backups last season dominated the tough Miami defense in week 17. By this point in the year, the better team usually comes out on top regardless of whether the starters are in for four quarters or not.
[pickup_prop id="7159″]
Main Photo: