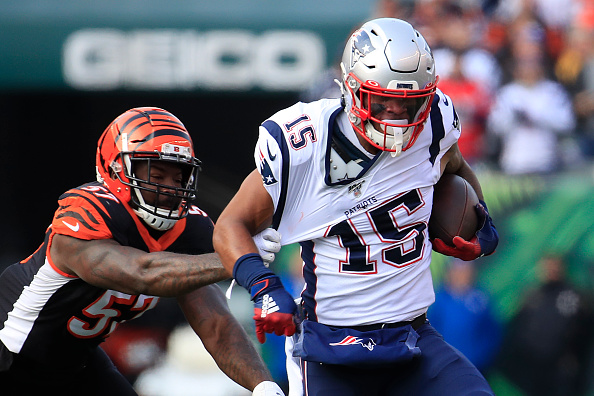 Whenever you say the name "N'Keal Harry" to anyone in the state of Massachusetts, they will usually cringe. A N'Keal Harry trade has been wanted in New England for a while.
Harry was selected 32nd overall by the New England Patriots in the 2019 NFL Draft, making him the last pick in the first round. He was a star at Arizona State, racking up over 1,000 yards in two of his three seasons there. 
But his pro career hasn't gone the way many have expected. Injuries slowed him down in his rookie year. His sophomore season wasn't any better, putting up only 309 yards and just two touchdowns in a lackluster Patriots offense. 
So what now for Harry? He has reportedly requested a trade, yet he has no background to prove that he is worthy of a roster spot. Surely one team will give him a chance, right? Well, we are going to give you three teams that should trade for Harry. 
Three N'Keal Harry Trade Destinations
San Francisco 49ers
Now with a N'Keal Harry trade, a team won't get a number one target. Yet, he still could be a good piece to a puzzle. 
The 49ers are coming off a disastrous season where most of their stars were injured for the majority of the year. Harry could fit perfectly into the system. 
Deebo Samuel and Brandon Aiyuk were injured for most of the year. The Niners were also without Kendrick Bourne, who left the team in free agency to join the Patriots. 
So what would make Harry fit in this situation? Depth. After a season derailed by injuries, the 49ers need depth. And why not give Harry a shot? He didn't have too much time to shine in New England. A career revival in the Bay Area could be exactly what he needs. 
The asking price for Harry will probably be low. So if he racks up at least 500 yards next season, consider it a win for the Niners. 
[pickup_prop id="6283″]
Indianapolis Colts
The Indianapolis Colts have a stud in Michael Pittman, yet they still need a wide receiver. 
T.Y. Hilton is aging and is not getting better with age. While he is still reliable, his play has drastically dropped off. 
Pittman only had 503 yards in 2020, he showed flashes of greatness. Adding Harry to the mix will be a good thing. 
The Colts have a brand new quarterback at the helm. Carson Wentz is going to be under center for the Colts for the first time this year. Adding new weapons for him to play with is not a bad thing. 
A N'Keal Harry trade is a good idea for the Colts. If Wentz can play as he did in his near MVP season, the sky's the limit for Harry. 
Houston Texans
The Texans are projected to be the worst team in the league this year. Where do I even start? The only good thing about that team is Deshaun Watson, who isn't even guaranteed to play next year. 
There is really nothing good about them. Brandin Cooks is still decent, yet they seem to be a wasteland of veterans this year. 
Harry would be a good addition to a lackluster roster outside of Watson. The Texans could really use any help they can get. 
Though the Texans don't have a lot, I'm sure they could spare a 5th or 6th round pick to acquire N'Keal Harry. Like I said earlier, anything would be good for them at the moment. 
Overall
N'Keal Harry isn't a hot target, as he really hasn't gained any interest from teams. A 4th round pick will probably be the most valuable thing a team must give up. That is only because he was a former first-round pick. 
Main Photo: