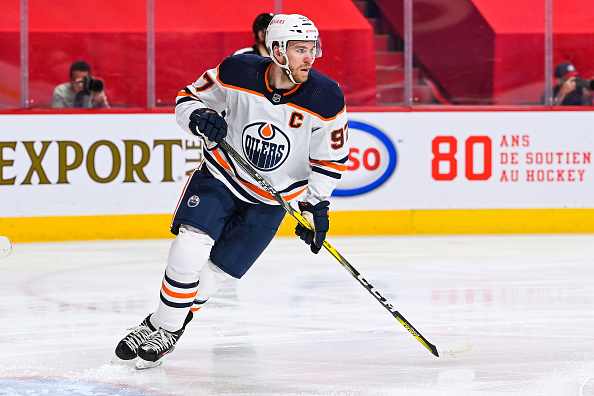 The 2020-21 regular season has wrapped up and it was another strange year but one for the history books. After a 56-game shortened season that started in January, the league had to clear some hurdles to get this season started and finished in an appropriate amount of time and they did. We saw some incredible performances from all around the league, including an impressive 100-plus-point season from one of the NHL point leaders. These stars have shown us in a year that was filled with chaos that they still shine brightest no matter what is put in front of them.
NHL Point Leaders At The End Of The Regular Season
Connor McDavid (105)
What can we say about this man? After years of debate on who's the best player in hockey, Connor McDavid stepped up yet again and wanted to end that discussion with an exclamation point. This is back-to-back years that the Edmonton Oilers have had a player lead the league in points. Not only does McDavid have a big lead in the points column but he earned over 100 points in just 56 games. That is unbelievable and all-time great from the best player in the league. He will always be one of the NHL point leaders until he decides to hang up the skates.
Leon Draisaitl (84)
McDavid isn't the only Oiler to do well in the regular season as they have a player in Leon Draisaitl who is getting better and better with every season. He has the second-most points in the league as he has scored the fourth-most goals (31) and the second-most assists (53) behind his counterpart. Draisaitl is no stranger to this kind of performance as he finished the 2018-19 campaign with 50 goals with 55 points for 105 points. In a shortened season in 2019-20, he lead the league in points with 110 as he had 43 goals and 67 assists. He and McDavid have been on a mission to gain the Stanley Cup and will continue to fight for years to come.
Brad Marchand (69)
Brad Marchand broke into the league in 2009 playing with the Boston Bruins. A decade later, he's still here and producing at a very high level as one of the leaders on this team. In 53 games this season, he scored 29 goals and tallied 40 assists to become third among NHL point leaders.
Marchand is a big part of the perfection line along with Patrice Bergeron and David Pastrnak. This is one of if not the most lethal lines this league has seen in a long time. Not counting this 56-game shortened season, Marchand has tallied 80 points or more in four straight seasons with one of them being a 100-point season. He would've easily made it to that mark and maybe even more in an 82-game season.
Mitch Marner (67)
In just his fifth season, Mitch Marner is already a star in this league. He's had a 94-point season and he's had more than 60 points in each season. This year has been no different as Marner tallied 67 points in 55 games. His strong performances given to this team are one of the reasons why the Toronto Maple Leafs are in contention every season. Marner is only 23 so he has a lot of room for improvement as he's only going to get better in his young career.
Mikko Rantanen (66)
This man right here might be one of the most underrated players in hockey. Mikko Rantanen has turned into one of the best two-way players in the league. He finished with the fifth-most goals in the NHL with 30 and had 36 helpers for a 66 point season in 52 games. Rantanen finished with over 80 points in the 2017-18 and 2018-19 seasons. He also finished this season with the best plus/minus in the league with +30. Everyone might know him as Nathan MacKinnon's teammate or his right-hand man but he is so much more than that. At just 24-years of age, Rantanen is playing elite all-around hockey and is helping the Colorado Avalanche grow an identity not many teams have. 
Other Point Leaders
Patrick Kane (66)
Auston Matthews (66)
Nathan MacKinnon (65)
Mark Scheifele (63)
Sidney Crosby (62)