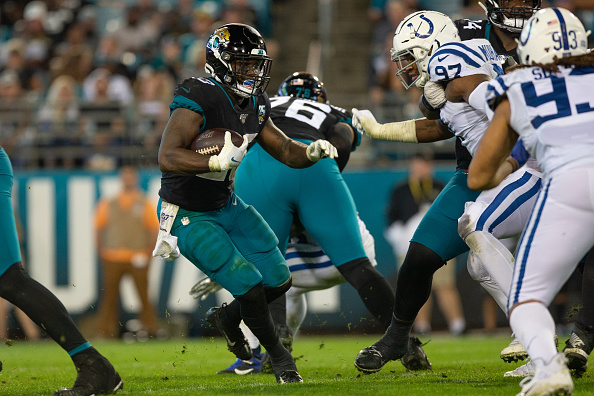 The Jacksonville Jaguars waived Ryquell Armstead this week, per a press release by the team.
This release is just bitter. There's no sweetness about it. When Armstead was drafted in the 5th round of the 2019 NFL Draft, he was meant to function as a cheap replacement for Leonard Fournette in a variety of ways. At the time, few people knew that the 2019 season would be Fournette's last as a Jacksonville Jaguar. Because of this, Armstead was expected to gain yardage with a running style similar to Fournette's whenever the latter needed a break or was injured.
However, the release of Fournette after the 2020 NFL Draft revealed that Armstead was actually pegged as the true replacement for Fournette and his volume-heavy production.
Or so we thought.
Ryquell Armstead Got One Of The Worst Breaks Ever Seen In The NFL
James Robinson's Unfathomable Rookie Season Took Place While Ryquell Armstead Suffered from the Virus
James Robinson's ridiculous rookie season set fantasy football experts and traditional gridiron pundits ablaze. While Jaguars fans had very little to celebrate during the course of an abysmal 1-15 season, the rise of Robinson as an undrafted legend was something we could all cheer for on Sundays (and that one Thursday night disappointment against the Dolphins).
Robinson finished the 2020 season with 289 touches for 1,414 all-purpose yards and 10 total touchdowns. These numbers were already historic in their own right. However, one must remember that Robinson missed the final two games of his rookie campaign due to an ankle injury. 
These numbers came in the midst of Ryquell Armstead's season-long battle with COVID-19. Coming into the 2020 season, Armstead was set to compete with a running back group filled with new and unproven additions. Armstead was actually the favorite to win this competition, as Dare Ogunbawale and Devine Ozigbo combined for less than 100 career rushing yards going into training camp. To his credit, veteran receiving back Chris Thompson had 1,194 rushing yards coming into the 2020 campaign; but that yardage total was gained over the course of seven seasons.
James Robinson's chances to win the starting job were even bleaker than the aforementioned individuals, however, as Robinson was an undrafted free agent from the FCS while everyone else in the position group was at least an NFL veteran.
Enter 25th Overall Pick Travis Etienne
If James Robinson's production wasn't enough to end Ryquell Armstead's time in Jacksonville, Clemson running back Travis Etienne being drafted with the Jaguars' 25th overall pick surely was.
Despite the criticism surrounding the pick, everyone knew that Etienne was set to become a major player in Urban Meyer's offense. Instead of worrying about how this pick would affect Armstead's roster spot, journalists immediately began questioning how many carries would be taken away from James Robinson in 2021. Some critics even thought that the Etienne pick would immediately tank Robinson's value as a fantasy football star.
Despite Meyer's current use of Etienne as a wide receiver, many are still worried about Robinson's upcoming workload or lack thereof. This concern might have been the most troubling sign for Armstead's career in Jacksonville, as he became an afterthought in the minds of the media, the front office, and the completely revamped coaching staff.
Has Ryquell Armstead's NFL Career Been Fair So Far?
No.
I mean, I can only dress this up so much.
Ryquell Armstead got a pretty raw deal during his time in Jacksonville. Fournette ate up all the touches in 2019 and Robinson took the reigns in 2020. Along with that, Armstead was probably the NFL's hardest hit victim of COVID-19. In a world where we definitely thought that pro athletes would be able to skate through this pandemic, Armstead showed that nothing is ever that clear and simple.
I hope he rebounds from all of this and lands on his feet. Everyone loves to say that running backs are a dime a dozen and can be found on any scrap heap or waiver wire, but guys like Armstead seem to fall through the cracks all the time.
Stat guys: here's your chance to make all the tweets come true. Armstead is one of the freshest backs in the league if he can get healthy. He was drafted to be a 270-plus carry a year guy and is decent when running routes on the backline of the end zone. He still is that guy. At the very least, he can be the backup power back to your team's version of Austin Ekeler.
In either case, just go get him.
Main Photo: