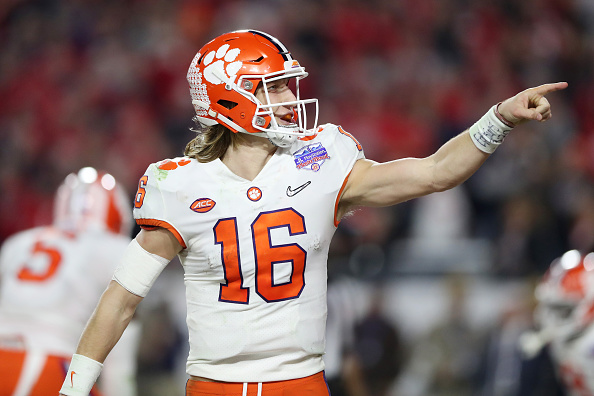 The NFL Draft is just over a week away and rumors around the league are starting to heat up. 
Will the Patriots trade up for a quarterback? 
What team will pull the trigger on Kyle Pitts?
How are teams valuing Trey Lance and Mac Jones?
All of these questions will be answered in this 1-15 first round 2021 NFL mock draft. Stay tuned for the second half of the first round later this week. 
The unique process leading up to this year's draft which included no combine, and players opting out of their college seasons makes it even harder for NFL scouts to evaluate individual prospects. This should make for an unpredictable, but still exciting and eventful NFL Draft.
With all of that being said, here are picks 1-15.
Dempsey's 2021 NFL Mock Draft: Picks 1-15
The first pick of this 2021 NFL mock draft is a no-brainer. This pick has been set in stone for the past year and a half. The Jets just happened to mess things up once again (what a surprise) and handed the Jaguars their franchise quarterback for the next 5-10 years.
Many say Trevor Lawrence is the most polished, pro-ready quarterback to come out of college football since Andrew Luck. He may have some growing pains under first-year NFL head coach, and former college football rival Urban Meyer, but the offense is only improving. DJ Chark, Laviska Shenault, and James Robinson are solid young offensive weapons that are going help Trevor Lawrence in his first few years in Jacksonville.
[pickup_prop id="3938″]
2021 NFL mock draft experts like Mel Kiper Jr. first had the Jets selecting offensive tackle Penei Sewell, then it was quarterback Justin Fields, and now it is Zach Wilson. After trading former number three overall pick Sam Darnold to the Carolina Panthers, it is clear now that the New York Jets want a fresh start at the position. Scouts went crazy for Wilson after his BYU pro day and for good reason, the kid can sling the rock.
At first glance, Zach Wilson may give off Taysom Hill vibes, but he is much more than that. He is poised in the pocket and has the ability to take off when needed. The only question mark is did he play against tough enough competition to be considered for the number two overall pick?
Texas State, UTSA, Troy, North Alabama, and Western Kentucky are just some of the weaker teams the Cougars had to face off against this season. In fact, the best team they did end up going against was a ranked Coastal Carolina team that BYU LOST to. Regardless, Wilson is a raw, but talented quarterback that may find some trouble finding immediate success with such a historically bad franchise, but the upside is unlimited.
Is this the right pick? No. Will it still happen? Yes. Remember this mock draft is not about what you or I think the 49ers should do, it is what they WILL do. With this pick, San Francisco decides to play it safe by taking the pocket passer that did a great job of executing plays for head coach Nick Saban at Alabama.
Kyle Shanahan has worked with quarterbacks similar to Jones in the past (Matt Ryan, Kirk Cousins, and Jimmy Garoppolo) and evidently likes how they fit in his system which primarily relies on the run game and short passes. The 49ers have been linked to Mac Jones by multiple sources, and it looks like this pick could disappoint some fans on draft night.
[pickup_prop id="3937″]
The Falcons can go a variety of ways with this pick, but in this 2021 NFL mock draft, they are unable to find a trade partner and decide to stay put at the fourth overall pick. Falcons general manager Terry Fontenot realizes that his team will never be able to select this high up in the draft again and comes to terms with taking Matt Ryan's sucessor.
Historically, Ohio State quarterbacks have not panned out in the NFL, but Justin Fields could be the exception to that rule. Dwayne Haskins, Cardale Jones, and even Terrelle Pryor, who eventually switched over to wide receiver, were never able to excel at a high level. Fields has come out and said that he is, "different than those guys", which may be true.
Unlike prior OSU quarterbacks, Fields can run with the football and does it effectively. Theoretically, he would learn under Ryan for a year and then begin throwing the ball to one of the deadliest receiving units in the entire league. This is a great fit if they decide to go this route in the first round.
[pickup_prop id="3939″]
The Bengals need SOMEBODY to protect the quarterback they just spent a number one overall pick on. Their offensive line in 2020 allowed the second-most sacks and the fifth-most quarterback hits in the entire league. This poor performance by the offensive line ultimately led to Joe Burrow's season-ending injury in Week 11.
With offensive tackle Jonah Williams coming back next year, pairing a pro-ready prospect like Sewell with him on the opposite side of the line should help protect Burrow in a crucial second year. Sources have said Sewell is preparing to play right tackle in the NFL which would make a ton of sense if he were to be drafted by Cincinnati, hence this pick in this 2021 NFL mock draft.
[pickup_prop id="3940″]
For starters, Pitts is not a tight end, he is a pass catcher and matchup nightmare for any NFL defender. Kyle Pitts has shot up draft boards since his pro day and many experts believe he has the best hands in the entire draft. At this pick, the Dolphins are able to add another weapon to the offense for Tua Tagovailoa. His versatility to be able to play in the slot, out wide, and act as a normal tight end is what makes him so valuable.
There have been questions about his blocking on the line of scrimmage, but moving bodies upfront can be taught by NFL coaches. Being 6'6" and having the ability to run a 4.44 40-yard-dash can not be taught and is something the league has not seen in an extremely long time.
The Lions lost wide receivers Kenny Golladay and Marvin Jones in free agency. Thus, they have to replace them. What other way to do it than to draft the top wide receiver on the board? Ja'Marr Chase decided to opt-out of the 2020 college football season, but in 2019 he dominated the college football landscape and won a national championship with Joe Burrow.
Chase is an interesting prospect because he isn't the best route runner in the draft class nor the fastest receiver either. Ja'Marr Chase thrives in jump ball situations and is exceptional at making contested catches. He has the traits to be able to develop into a great separator and number one option on any NFL team.
Devonta Smith, WR, Alabama
The Carolina Panthers traded for Sam Darnold earlier this offseason and the young quarterback could use some weapons to throw too. Former Panthers wide receiver Curtis Samuel left for Washington which leaves D.J. Moore and Robby Anderson as the top options. Devonta Smith is an elite route runner that would be a perfect fit in Joe Brady's passing attack.
The Denver Broncos need help in every aspect of their defense, primarily cornerback and linebacker. Micah Parsons would add much-needed depth at a positional need. His freakish combination of size and explosiveness allows him to explode and drive into gaps when he sees the play develop and, as a result, he's a persistent winner of beating ball carriers and blockers to the spot between the tackles.
Parsons is an impact player on third downs, which significantly boosts his value to pro teams and masks some of the experiences of transitioning to stack linebacker. Even with off-the-field issues, it's an easy pick in this 2021 NFL mock draft.
The Cowboys have a massive need at cornerback. With Dann Quinn coming in as the new defensive coordinator, the front office is going to have to draft someone who fits his Cover 3 scheme. Patrick Surtain II was a three-year starter for the Crimson Tide is best known for his eyes, length, discipline, and physicality. This 2021 NFL mock draft pick would be a slam dunk pick for the Cowboys.
This 2021 NFL mock draft selection would be the best-case scenario for Big Blue. The Giants have had a need at offensive line for the past decade and must address it during the NFL Draft. The Giants ranked 31st in total offense and second in sacks allowed per game (3.1 per game). That in itself is unacceptable and will not win you football games.
Daniel Jones deserves to be put in a much better position to succeed and drafting an offensive lineman in the first round would help out tremendously. Slater is a big body who played offensive tackle all throughout college and proved to hold his own against some of the top pass rushers in the Big 10. Another option here for New York is to trade down. In Dave Gettleman's eight years as an NFL general manager he has never traded down in the first round, so that would be new territory for him. 
With Jalen Hurts as the clear-cut starter in Philly, general manager Howie Roseman should do everything in his power to surround him with playmakers. Jaylen Waddle is one if not the most explosive receiver in this draft and can play in the slot or out wide.
At his best, Waddle is a speed demon who can stretch the field and makes up for his lack of size with above-average route running. The only concern is his injury history which may play a factor in the Eagles decision at 12th overall.
A lot of officials around the league would be surprised if the Chargers didn't draft an offensive tackle at this spot in the 2021 NFL mock draft. Los Angeles addressed the interior of their offensive line earlier in the offseason by signing former Packers center Corey Linsley, but they still lack someone on the backside to protect Justin Herbert's blindside.
Darrisaw played three seasons at Virginia Tech and, according to pro football focus, allowed no sacks and six hurries in 293 pass-blocking snaps last season. This pick is a no-brainer for the Chargers.
With the majority of the top offensive lineman off the board, the Vikings have the luxury of taking the first pass rusher in the draft. The only question is which one do they select at 14th overall? There is not a clear-cut edge rusher like in years past so this is a difficult pick to project. However, Kwity Paye, the defensive end out of Michigan seems to be the best fit for Mike Zimmer and his defense.
Paye is a raw prospect who relies on his natural athletic ability to beat tackles, but if coached correctly could turn into a pro-bowl caliber player. This would be classified as a "high-risk, high reward" pick by most.
Trey Lance, QB, North Dakota State
The Patriots organization has been linked with an overabundance of draft rumors over the past couple of weeks. Some see the Patriots trading up into the top ten to select Justin Fields, while others believe New England will trade for Jordan Love from the Packers. In this mock draft, the Patriots stay put and Trey Lance falls to them, which is an unlikely scenario, but still possible in this 2021 NFL mock draft.
Trey Lance is the wildcard quarterback in this draft for a variety of reasons. For starters, he played at North Dakota State (Carson Wentz played there as well) which is in the FCS and is comprised of lower quality football teams when compared to say the SEC or Big 10.
On top of that, Lance played one game last year and has only played a TOTAL of 18 games over his entire collegiate career. We have seen players with very minimal playtime in college struggle at the professional level (Mitch Trubisky is just one example) which is a serious reason why Lance could fall to as low as 15. Bill Belichick does not appear to be sold on Cam Newton or Jarett Stidham as his starting quarterback, so taking a quarterback in the first round is not out of the question.
Main Photo: