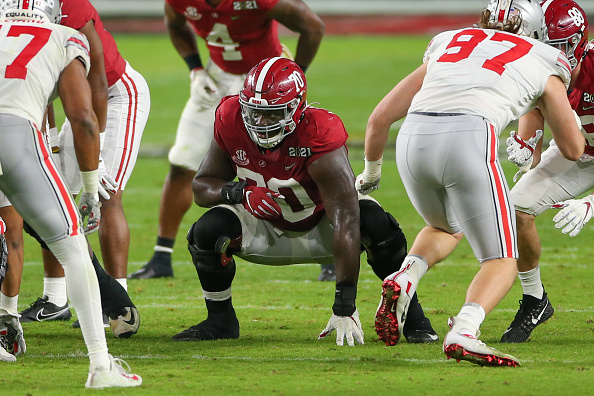 One month from now on April 29th, the Pittsburgh Steelers will be looking to have their best draft class since 2017. In this 2021 Pittsburgh Steelers mock draft, I'll attempt to predict who's going to be a part of that class. The offseason and the salary cap lowering have taken a big toll on the roster.
Stalwarts of the defense Steven Nelson, Bud Dupree, and Mike Hilton will be playing elsewhere in 2021. While on offense, the offensive line is getting remade and the hunt for a running back continues. Without further ado, here's the 2021 Pittsburgh Steelers mock draft.
2021 Pittsburgh Steelers Mock Draft Rounds 1-3
In the first round, I predict the Steelers won't go with a flashy pick like Najee Harris or Travis Ettienne. The odds of them being available at pick 24 doesn't seem likely. That said, if one of those two is available at pick 24, it's going to be tempting for GM Kevin Colbert to take one of them. But the Steelers are an old-school team that tends to zag when everyone else zigs. And due to having four new starters on the offensive line, getting a tackle who has experience playing guard will help the Steelers rebuild the trenches.
Alex Leatherwood was the third-ranked offensive tackle in his class and showed his versatility by playing guard for a season at college. He has good size at 313 pounds and is 6′ 6″ which gives him a height advantage over smaller defensive linemen. Leatherwood's strength is run blocking which is what the Steelers badly need. He's also a solid pass blocker, only giving up two sacks last season. Team owner Art Rooney II said that the team is looking to improve the running game during the draft, and Leatherwood would be an asset on that front.
The biggest knock on Leatherwood is his senior bowl performance where he was beaten by speed rushers on 50 percent of his snaps. Admittedly that's somewhat concerning and shows vulnerability. But one bad game shouldn't override a career of consistent play and good measurements. It might not be flashy, but Leatherwood is a Steelers kind of player. That's why he's the first pick in the 2021 Pittsburgh Steelers mock draft.
After missing out on Harris or Ettienne in the first round, the Steelers take the third-best running back in the draft, Javonte Williams from UNC. In just 11 games last season, Williams had an astonishing 19 touchdowns on the ground! He also averaged an eye-popping 7.3 yards per run and a 9.4 per run in four games against top 25 teams.
With the departure of James Conner, Williams would step in and play starting snaps alongside Benny Snell and Anthony McFarland Jr. In college, Williams wasn't the featured back as he shared the spotlight with Michael Carter who I confidently think is the next best back in the draft and the Steelers fallback plan. So his value as a workhorse back is a bit questionable.
But Williams has the measurements to support this high draft selection. At 5′ 10″ and 225 pounds, his size is ideal for the modern-day NFL running back. In fact, his size is almost identical to that of Nick Chubb, which is one of the reasons draft expert Daniel Jeremiah compared Williams to Chubb. Speed isn't the calling card for Williams which will turn off some teams (He ran a 4.55 40 yard dash).
But his downhill running style, consistency, and ability to run through tackles would remind Steelers fans of Chubb with the potential to grow in the passing attack. Finally, Williams was a locker room leader at UNC which will help Steelers brass fall in love with him as they're drawn to those kinds of players.
My colleague points out that the Steelers will be relying on homegrown players in order to sniff the playoffs in 2021. To add to that belief, the Steelers won't sniff the playoffs without adding at least two quality cornerbacks the rest of the offseason. Hilton was one of the league's most consistent nickel corners during his tenure in Pittsburgh, and Nelson played at a top ten level in his two seasons with the team. By selecting Ifeatu Melifonwu, they're getting a relatively raw, untested player who has the chance to be great in the future.
Melifonwu's athleticism is what jumps out the most when watching him play. His 40 yard dash time was 4.48 and his vertical was 41.5″. His wingspan is huge, and he uses his ranginess well already. He's only a redshirt junior, so time will be needed to put on muscle. While he puts on muscle he'll get tested by opposing quarterbacks since Joe Haden and Cameron Sutton will be on the outside. But within a couple of years when his body and brain catch up to his athleticism and natural talent, Melifonwu will be not just reliable, but a game-changing talent.
2021 Pittsburgh Steelers Mock Draft Rounds Four-Seven
Round Four Compensatory – Quintin Morris – TE
Round Seven – Ali Fayad – OLB
[pickup_prop id="5483″]
The Pittsburgh Steelers Need To Nail The Draft On Both Sides
If there's anything the 2021 Pittsburgh Steelers mock draft has taught us, it's that there are needs on both sides of the ball. This season won't be like the Steelers seasons of old where you can pencil them into the playoffs in the preseason. Unless they make some big surprise moves, they'll be in a neck-and-neck race for the AFC North. The division around them has improved talent-wise, so it will be the Steelers' turn to show they can keep up.
Main Photo:
Embed from Getty Images