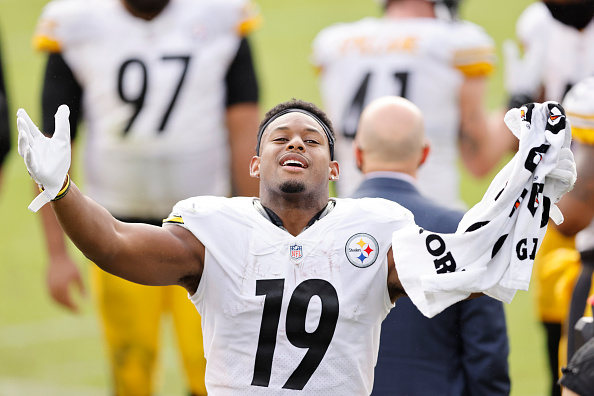 If you saw a list that began with the words "Pittsburgh Steelers Free Agency" you probably don't imagine it consisting of a bunch of big-name players being added to the roster. And you'd be right. The Steelers almost never are active in free agency and this year was no different.
However, what the Steelers have done, or not done, in free agency tells us something about what they think of their team. In fact, it can tell us almost everything about what Mike Tomlin and Kevin Colbert think of their team. Their motto is "The Standard is the Standard". Let's see if that holds true.
Pittsburgh Steelers Free Recap: The Standard Stays the Standard
Before I dive into dissecting the Steelers free agency, it has to be noted that there have been some winners and losers this off-season. To begin, let's take a look at the players that the Steelers have signed recently. Obviously, this will become updated as the Steelers continue to add free agents, but as of 3/23/2021 this Steelers free agency recap is accurate.
Steelers Free Agency Signings
This was the biggest surprise. He was expected to leave in free agency for greener pastures, specifically pastures filled with more money. Smith-Schuster was actually offered upwards of thirteen million dollars from the Baltimore Ravens and eleven million dollars from the Kansas City Chiefs.
Aside from the devotion to the team that Smith-Schuster showed, his "return" (there isn't a good word for "was going to leave then decided not to"), is great for the Steelers. He was Ben Roethlisberger's most reliable option in 2020 and is the leader of the very young and talented receiving core. Keeping him is huge for the Steelers. In this Steelers free agency recap, this one potentially has the biggest impact.
A player that is not exactly a household name, nonetheless, he is a solid depth piece for the Steelers offensive line. He played in the super bowl for the Tampa Bay Buccaneers and is famous for dropping a pass in the end-zone. Fortunately for him, the Steelers won't ask him to run routes in Pittsburgh, and he will back up starting tackles Zach Banner and Chukwuma Okorafor. He can also kick inside and play guard if needed.
Another solid depth piece, Finney will hold down and potentially start at center for the Steelers this 2021 season. The Steelers will undoubtedly look to the draft to upgrade here, but Finney, while not flashy, is a capable starter until his place can be taken by a more talented player-probably a rookie.
The Steelers had to decide between Mike Hilton and Cameron Sutton, and they chose Sutton. Probably because he is better in coverage than Hilton, though he created fewer "splash" plays in the run game. He is an above-average slot corner, and might also kick outside to the boundary. He still has a lot of potential and made big plays in coverage in 2020. With a higher snap count most likely coming, his star is on the rise. If you are looking for underrated players on the Steelers, he might be your guy.
Zach Banner
Another player whose star is on the rise, he was the Steelers' opening-day starter at right tackle but suffered a torn ACL in the first game of the season. Banner will look to be a starter once again, though whether he plays at left or right tackle is unknown as he continues to battle for position with teammate Okorafor. With his signing, the Steelers no longer need a tackle, and could potentially have a darn good one if Banner pans out the way Mike Tomlin expects him to.
Special teams ace formerly for the Detriot Lions, Killebrew will provide linebacker depth while probably replacing special teams captain Jordan Dangerfield. He is another solid depth player, signed to help special teams and improve the linebacker room. However, his signing probably won't, (and shouldn't) stop the Steelers from drafting a linebacker.
[pickup_prop id="5479″]
Free Agent Losses
Mike Hilton
After being signed onto the Steelers practice squad, and eventually becoming not only a starter but one of the best slot corners in the NFL, Hilton wanted to be paid for what he was worth. He signed with the Cincinnati Bengals on a 3-year, 24 million dollar deal. He leaves a hole at the slot corner position, with only Sutton left, the Steelers need to add depth here, and will undoubtedly do so in the draft.
If any move rivals the singing of JuJu Smith-Schuster, it's this one. Bud Dupree signed with the Tennesse Titans for a 5-year, 82.5 million dollar deal. The Steelers had no chance at all to sign him and watched him leave in free agency, a big hole opening up behind him on the defensive front.
The Steelers will look to Alex Highsmith, who they drafted in the third round last year, but will absolutely need to add depth behind them. After the Titans also signed the next player in this list, Besides T.J. Watt and Highsmith, the Steelers have no one on the roster that can player OLB.
A simple depth piece with a little upside, Adeniyi was a capable backup for Dupree and Watt for the last two years. However, Adeniyi followed Dupree to Tennesse and left no one behind him to back up Highsmith and Watt. His loss catapults an OLB to one of the top needs in the draft for the Steelers.
Feiler did not have his best year in 2020 but was still solid and his presence will be missed. He could have provided depth at tackle, which is where his best season came at in 2019, but also provide depth at guard. His loss likely prompted the signing of Haeg, but the Steelers will still need to add depth at tackle to make up for his loss. Feiler signed with the Los Angels Chargers for 3-years, 21 million.
Alualu was one of the best interior defensive run stoppers in the NFL last year and earned an 86.6 rating from Pro Football Focus. He signed with the Jacksonville Jaguars on a two-year deal. He only played around 40 percent of the snaps on the Steelers defense, but his presence on the field as a backup and reliever will be sorely felt. The Steelers will need to address this position in the draft.
What do the Steelers think of their team?
They obviously expect big things from Highsmith, Banner, Orkorafor, and Sutton. They have to, because if they don't, then the Steelers 2021 season won't even sniff the playoffs. Right now they are putting their faith into their homegrown players. It remains to see if that faith will be rewarded. I think it will be.
BUT….(There is always a but) clearly the Steelers still have some holes to fill. For one, the running back position was not addressed in free agency and will be a top priority as they enter the draft. However, aside from running back, they really have done a good job of acquiring depth and starting-caliber players that can be called upon if necessary. Finney is an example. He won't blow anyone away with his play, but he is an NFL starter.
Little is left to be done for the Steelers except for watching film, going to pro days, updating their big boards, and running some mock drafts. Speaking of which, while you're here, go check out Ryan Potts Mock Draft 3.0 to get an idea of who might be available for your team when the draft rolls around. The Steelers are where they always want to be heading into the draft. Drafting for talent, not for need. It's their philosophy, and it hasn't failed them. The Standard is the Standard, and this Steelers free agency period proved that, once again.
[pickup_prop id="5476″]
Main Photo: