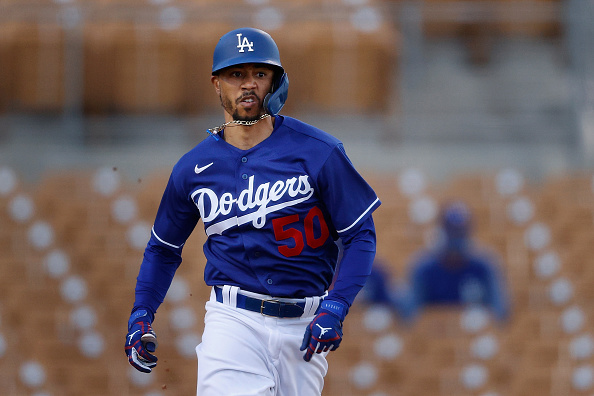 The odds for the 2021 National League MVP is considerably closer than it is in the American League. Former MVPs and young stars crowd the top. Like in the AL, last year's betting odds favorite is number one yet again while a few familiar faces enter the fray from last season. There's also arguably the face or future face of the league entering the top five. This year's National League MVP race will be one of the best we've seen in a while. The 2021 Major League Baseball season is just under two weeks away and we couldn't be more excited to have back America's National Pasttime.
Odds To Win 2021 National League MVP
Mookie Betts (+700)
For the second consecutive year, Mookie Betts is the favorite to win the National League MVP. In his first year with the Los Angeles Dodgers, he finished second in the MVP voting. It's also worth noting that Betts won an MVP in the American League in 2018. Many consider Betts as the closest thing to Mike Trout in baseball. He helped the Dodgers capture a World Series last year and could very well do it again this season. Betts is a great all-around player and having the best odds to win MVP twice in two years as a National League player tells us all we need to know.
Juan Soto (+750)
Juan Soto had the fourth-best odds to win the National League MVP last year and finished fifth. He is a bright, young star who has a lot to give to the Washington Nationals and this league. Soto finished second in the Rookie of the Year voting in 2018 with 22 home runs and 70 RBI. In 2019, he stepped his game up big time as he hit 34 home runs and drove in 110 to help the Nationals win their first World Series in franchise history. In last year's shortened season, he batted an amazing .351 with 37 RBI in 47 games. Soto has superstar power and is on the right track to be the next face of the MLB.
Cody Bellinger (+800)
These last few years have been great for Cody Bellinger. He won the Rookie of the Year in 2017 while making an appearance in the World Series as well as in 2018 (lost both), captured the MVP award in 2019, and won the World Series in 2020. All of this success for the Dodgers had Bellinger's fingerprints all over it. He's yet again one of the top favorites to win National League MVP. Bellinger will once again share the spotlight with his MVP favorite teammate but that won't stop him from putting up huge numbers.
Fernando Tatis Jr (+850)
The newest young star is taking center stage and quickly making a name for himself. Fernando Tatis Jr has impressed a lot of people despite not playing a full season in his two years. He finished third in the Rookie of the Year voting in 2019 with only 84 games played. In last year's 60-game season, he had 17 home runs with 45 RBI and was a huge reason the San Diego Padres made it to the Divisional Round. Coming into this season, he's projected to have a huge season and become the superstar the MLB hopes he will be.
Ronald Acuna Jr. (+950)
Here's yet another young star that could take this league by storm. Ronald Acuna Jr is coming into his fourth season in 2021 already having won the Rookie of the Year in 2018 and coming fifth in the National League MVP voting in 2019. In 46 games in the shortened 2020 season, he hit 14 home runs with 29 RBI. Acuna Jr also has a slugging percentage of .581 with an OPS (On-Base Plus Slugging) of .987. His 2019 season of 41 home runs and 100+ RBI would certainly make him one of the favorites to win MVP this season. Acuna Jr is poised to take the Atlanta Braves to new heights and compete for a World Series. 
Next Best Odds
Nolan Arenado (+1000)
Francisco Lindor (+1200)
Freddie Freeman (+1200)
Christian Yelich (+1500)
Corey Seager (+1500)