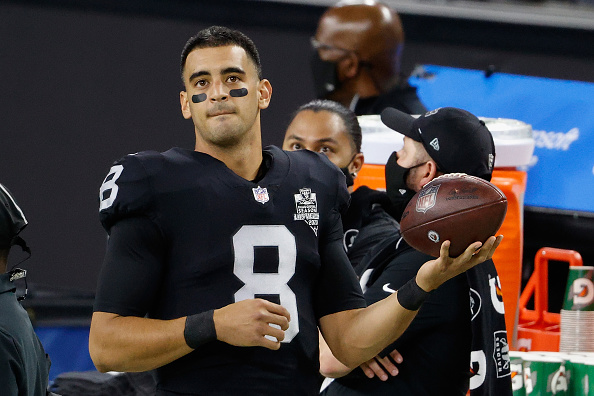 Marcus Mariota trade rumors are swirling!: With the Super Bowl being in the history books, the offseason has officially begun. Rumors of who will go where have been swirling around the media ever since the regular season ended back in January and many questions have been raised since. Where will Deshaun Watson be traded to? What will the Jets do with the #2 overall pick in the draft? Trade rumors are swirling around. More specifically, Marcus Mariota trade rumors.
But there are multiple questions surrounding quarterbacks as previously mentioned. Questions are surrounding who the Patriots quarterback will be next year. Cam Newton could come back. Jarrett Stidham can take over. Or the Pats could draft a quarterback with the #15 pick in the draft this year. Running it back with Cam would not be a terrible idea. Just get him so legit receivers to work with. But one quarterback who has fallen under the radar is Marcus Mariota. And he shouldn't have.
Marcus Mariota Trade Rumors: Why the Patriots Should Make a Move
The #2 overall pick in the 2015 draft is currently the backup to Derek Carr on the Raiders. Mariota came out in week 15 of the regular season, where he replaced Derek Carr after Carr suffered a groin injury.
After not playing football since being pulled halfway through the 2019 season with the Titans, Mariota balled out in a way. He tossed for 226 yards, a touchdown, and an interception in a losing effort to the Chargers, who were no slouch of a team this season even though their record didn't say so.
Derek Carr would come back, but Mariota left his mark. This performance alone brought in a lot of trade interest from multiple teams in the league. But him going to the Patriots makes the most sense. 
Signs of Future Success
At 27 years old, he still has a lot to prove and could turn his career around in New England. People said this about Cam Newton going into last season, but Newton is currently 31 years old and should be in the prime of his career. Mariota can only get better under Bill Belichick.
Remember that Mariota beat the Chiefs in the 2017 playoffs in Arrowhead 22-21, which was a huge upset since the Chiefs defense still had stars like Marcus Peters, Derrick Johnson, and Justin Houston. Mariota threw for 205 yards, two touchdowns, and an interception. He even threw a touchdown pass to himself in this game. You could argue that without the lucky play, the Titans would not have won this game. 
Still a Lot to Prove
Mariota is yet to throw for 4,000 yards in a season, but his career-high came in 2016 where he threw for 3,426 yards. He could be the next Patriots franchise quarterback or the next bridge quarterback. There is no in-between. The Pats should have to give up a 3rd round pick and a 5th round pick to acquire him. But with this, you need receivers. That should be at the top of the priority list this offseason. Everyone said Cam was the steal of the offseason last year and it wasn't, so hopefully Mariota can be the steal of the offseason this year. 
The Reality of the Marcus Mariota Trade Rumors
Now, this is hypothetical. Bill Belichick may or may not go out and grab a former top-five draft pick like he did this past offseason with Cam Newton. The Pats could make this trade depending on what the Raiders decide to do with Derek Carr, but they could try to trade or inquire about Marcus Mariota.
Marcus Mariota Trade Proposal
Raiders receive: 2021 5th round pick and 2022 7th round pick
Patriots receive: QB Marcus Mariota
Main Image: Embed from Getty Images