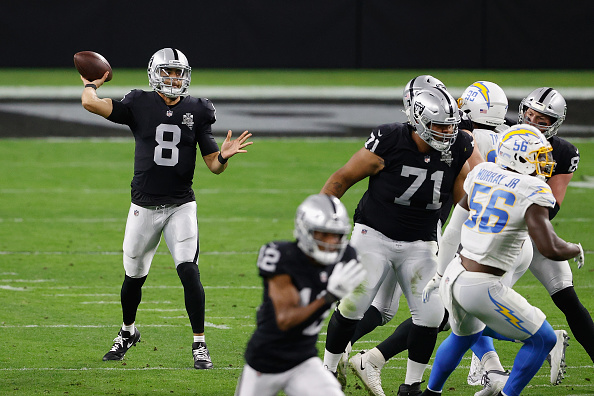 Several quarterbacks in the NFL have been starters at points in their careers who are now backups or worse. Many of these quarterbacks are young quarterbacks who had rough starts to their careers due to several different reasons. While these quarterbacks' potentials vary, several of them are former top ten picks in the NFL draft. While not every quarterback will get a second chance in their career, they do at least deserve a chance to revitalize their careers. Here are five quarterbacks who deserve a second chance.
Quarterbacks Who Deserve a Second Chance
Mitch Trubisky has had an up and down career through his first four seasons in the NFL. His rookie season had an interesting story with the Bears signing Mike Glennon to a three-year, $45 million dollar contract before drafting Trubisky second overall. They also traded up to select Trubisky, making it unclear where they wanted to go at the position.
Despite going out of their way to secure Trubisky, they went with Glennon in Week 1. By Week 5 Trubisky had claimed the starting job from Glennon. He would go 4-8 to finish the year but showed promise in his 12 starts. His sophomore season saw him breakout with 11 wins in 14 starts and 3,223 yards and 24 touchdowns leading to a pro bowl selection. The Bears looked like they had their franchise quarterback until an eight-win season in Trubisky's third year showed signs of regression.
His fourth season saw him benched for veteran Nick Foles before reclaiming the job due to a Foles injury. A potential change in command looms in Chicago and the exit of Matt Nagy and Ryan Pace may lead to the exit of Trubisky as well. Even if Chicago does move on from Trubisky, which seems likely with their declining of his fifth-year option, he could get some attention from other teams who are a quarterback away from being a contender.
Teams like Washington who have a strong defense may not want to wait for a rookie to develop. That is where Trubisky had a good chance to land and try to revitalize his career. Whoever takes the chance on Trubisky gets a former pro bowl quarterback with a 27-20 record as a starter. While not amazing, it is a positive record that shows proof Trubisky can be a reliable starting quarterback in the NFL. He's certainly one of the quarterbacks that deserves a second chance.
Marcus Mariota is another former second overall pick who had a great start before some lackluster performances. Mariota had a rough start to his record going 3-9 as a starter, but the team around him wasn't very good and he managed to throw 19 touchdowns and 2,800 yards in just 12 games.
In his sophomore season, he had eight wins in 15 games but threw 3,400 yards and 26 touchdowns which showed great development from the young quarterback.
In his third year, Mariota won nine games and led the Titans to the playoffs. He even won a playoff game, but his 13 touchdown passes that season showed signs of regression. His regression continued in the next two seasons until he was benched for Ryan Tannehill in 2019. Now, he is the backup for the Las Vegas Raiders.
Mariota replaced Derek Carr following an injury in Week 14 against the Los Angeles Chargers. Mariota played an impressive game throwing for 226 yards and one touchdown. He also ran for 88 yards and one touchdown on nine carries. This performance, while just one game against an unimpressive Chargers team, shows that Mariota still has something left in him.
The talent that led him to be a second overall pick is enough to warrant a second chance at a starting job. He has the potential to turn his career around and could have an opportunity to do so. Mariota signed a two-year deal with Las Vegas, so his only option, without a trade, in 2021, is with the Raiders. Derek Carr isn't playing at a level that would question his spot as starting quarterback, but anything can happen in the NFL.
Before the Tennessee Titans selected Marcus Mariota with the second pick in 2015, Tampa Bay selected Jameis Winston first overall. Winston played five seasons with Tampa Bay and had great statistical success. Winston started all 16 games in 2015 winning just six games. However, Winston threw for 4,000 yards and 22 touchdowns earning himself a Pro Bowl selection as a rookie.
He followed this up with a nine-win season where he threw another 4,000 yards and 28 touchdowns. His next two seasons would both see him win just three games. That year, he threw 6,500 yards and 38 touchdowns. His final season would see Winston go 7-9, but it is a memorable season for one reason. Winston eclipsed 5,000 passing yards on the season, which led the NFL. However, he also threw 30 interceptions, leading the NFL as well.
This high number of turnovers led to Tampa Bay moving on from Winston following the 2019-20 NFL season. Winston landed as the backup for the Saints but fell to third on the depth chart after head coach Sean Payton went with Taysom Hill as the starter during Drew Brees' absence with a rib injury. Winston threw for 19,737 yards in his first five seasons, which is the second most ever during that stretch.
Winston has shown he has a talented arm, but his decision making has lacked at times. He has yet to reach the playoffs in his career as a starter but could still have an opportunity to take a team to the playoffs in the future. If Winston can limit his turnovers, he could be a very reliable starter for an NFL team. He's one of a few quarterbacks who deserve a second chance.
Jacoby Brissett has had a solid NFL career with the New England Patriots and Indianapolis Colts. Brissett, a former third-round pick by New England, had few expectations when he entered the NFL. A few injuries had Brissett play three games as a rookie with limited success. However, Brissett impressed the Colts' front office, and following his rookie season, he was traded to Indianapolis. Brissett found himself the starter by Week 2 following a season-ending injury for Andrew Luck. Brissett went 4-11 in that season. He did manage to throw 3,100 yards and 13 touchdowns as well as another 260 yards and four touchdowns rushing.
Luck returned in 2018 and Brissett managed the backup role for the entire 2018 NFL season. Then, following a shocking Andrew Luck retirement announcement, Brissett reclaimed the starting job for the Colts. This came with a two-year extension totaling 30 million dollars. Brissett's second season as a starter saw him throw for 2,942 yards and 18 touchdowns. He showed the skill needed for a starting quarterback, but this did not translate to wins for the Colts.
Indianapolis went looking for a new quarterback the following off-season and landed veteran Philip Rivers on a one-year deal. Brissett has served as his backup and is used in short-yardage situations throughout the 2020 NFL season. Brissett has one year remaining in his contract but could be a trade candidate if Indianapolis keep Rivers around or even draft a quarterback. A good team with an aging veteran may consider acquiring Brissett such as Pittsburgh or maybe he could reunite with Bill Belichick in New England. Regardless, Brissett has proven that he deserves another shot to start on a team that can put pieces around him and is certainly one of the quarterbacks who deserve a second chance.
Josh Rosen has had an unfortunate start to his NFL career. Rosen's rookie season saw him start 13 games for the Cardinals following his selection in the 2018 NFL draft. The Arizona Cardinals selected Rosen 10th overall and quickly put him on the field as their full-time starter. His rookie season went roughly, with Rosen throwing 2,278 yards and 11 touchdowns. He also threw 14 interceptions and fumbled 10 times. This rough season led to the worst record in the NFL and the firing of head coach Steve Wilks, the coach that was there when they drafted him.
That off-season, Arizona hired Kliff Kingsbury from Texas Tech and selected Heisman winner Kyler Murray. The selection of Murray led to the Cardinals trading Rosen to the Miami Dolphins for a second-round pick and a fifth-round pick.
Rosen would start three games for Miami in 2019, losing all three. He threw just one touchdown in those games compared to five interceptions. Rosen has not played a game since but has recently signed with the San Francisco 49ers. With uncertainty at the 49ers' quarterback position, Rosen may get an opportunity at some point with San Francisco. If anyone can bring out Rosen's potential, Kyle Shanahan may be able to. This could be a blessing for Rosen and a great way for him to get a second chance in the NFL.
Main Image: Embed from Getty Images