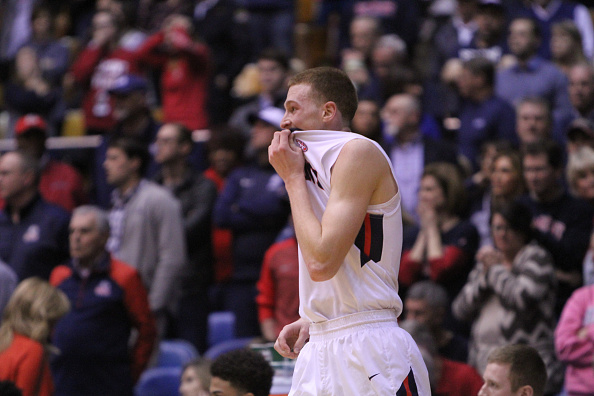 Over the decades, a large number of Indiana high school basketball players have gone on to play in the NBA (and ABA). If you look back to the 1946-47 inaugural season of the Basketball Association of America (BAA), which later effectively morphed into the NBA, there were six Indiana high school basketball products on BAA team rosters.
Hall of Famers like Oscar Robertson, Larry Bird, and George McGinnis all spent their formative years playing Indiana high school basketball. More recent stars like Shawn Kemp, Glenn Robinson, and Rick Fox played their high school ball in Indiana. And current NBA superstars Gordon Hayward, Mike Conley, and Eric Gordon, to name a few, are ex-Indiana high school basketball standouts.
NBA Rookies Who Played Indiana High School Basketball
This season, four NBA rookies are products of Indiana high school basketball programs. This group includes three first-rounders and an undrafted player. Only time will tell how these individuals compare to other NBA players from Indiana, but the future looks bright. 
McDermott played his Indiana high school basketball at Pendleton Heights High School in Pendleton, the same high school that produced Kellen Dunham, another Butler Bulldog standout. McDermott's senior season for the Butler Bulldogs, in which he averaged nearly 12 points and six rebounds per game as a starter, got the attention of some NBA front offices.
He unsurprisingly went undrafted and signed a two-way contract with the Memphis Grizzlies. Despite his sparse usage to this point, Memphis has opted to keep him with the team instead of sending him to Orlando as part of the G-League bubble. 
After seeing some playing time early in the season McDermott was inactive for a long stretch of January and February with shoulder issues, but it is no surprise that the Indiana High School basketball star bounced back when he returned to the lineup on Valentine's Day, going 3-for-4 from the field including two three-pointers against the New Orleans Pelicans. After all, McDermott overcame a staph infection in high school that nearly killed him, so a shoulder issue is comparatively small potatoes.
Desmond Bane is another Memphis Grizzlies rookie who played Indiana high school basketball. Bane, however, is a much more prized prospect than his teammate Sean McDermott. Bane was taken 30th overall in the draft last November and is already proving to be a significant contributor to the team as a rookie.
Bane played his Indiana high school basketball at Seton Catholic in Richmond, Indiana. He went on to TCU and was twice named to the All-Big 12 team during his four seasons with the Horned Frogs. Bane has appeared in nearly every game this season for Memphis and tends to play 20+ minutes a night at shooting guard.  In a game earlier this month against the Charlotte Hornets, Bane had 18 points, including four three-pointers. The Grizzlies have high-hopes for this Hoosier and his future looks bright.
[pickup_prop id="2722″]
Isaiah Stewart is the most highly-touted of the Indiana high school basketball NBA rookies, but he actually started his high school career in Brighton, New York. Following his sophomore season, he transferred to La Lumiere School in La Porte, Indiana.
La Lumiere is a private school with a well-respected basketball program that has produced NBA players Jaren Jackson and Brian Bowen. Stewart was an instant Indiana high school basketball star, winning numerous awards including Naismith Prep Player of the Year in 2019.
Stewart attended the University of Washington for his lone NCAA season, where he averaged 17 points and 9 rebounds a game.
Now a Detroit Piston, Stewart took a circuitous route to the Motor City. The Portland Trailblazers selected Stewart with the 16th pick in the draft. Then, a few days after the draft, he was traded to the Houston Rockets in a deal that included Trevor Ariza and Robert Covington. A couple of days after that, Stewart was traded to Detroit as part of a package for Christian Wood.
Regardless of how he got there, the 6'8", 250-pound Stewart seems like a good fit with the Pistons.  He's played considerable minutes off the bench in nearly every game this season. One of his best games of his young career came against the Indiana Pacers, the team that plays a few hours away from his high school in Indiana. In that contest, Stewart had 17 points and seven rebounds, proving himself to be a matchup problem in the paint. 
Dylan Windler was taken in the first round of the 2019 NBA Draft by the Cleveland Cavaliers, yet the 2020-21 season will represent his rookie campaign. He suffered a shin injury in Cavs training camp in 2019 and, despite playing in two G-League games for the Canton Charge, reinjured himself and was ruled out until the following season. 
Windler's Indiana high school basketball was played at Perry Meridian High School in Indianapolis, where he averaged 27 points and 10 rebounds during his senior season. 
Windler moved on to Belmont University in Nashville, TN for his college ball. There, he started every game from his sophomore through senior seasons. His final season at Belmont saw him average 21 points and 10 rebounds a game. When Cleveland selected Windler in the draft, he became the first Belmont Bruin to be drafted into the NBA since 1972.
Windler didn't see much action at all early in the season, but over the last month, he's begun to log significant minutes for the Cavs. His best game of the season so far came on February 12 against Portland, when he had 12 points and 10 rebounds. Cleveland still appears to be high on their 2019 first-round pick and he should see considerable playing time as the season rolls on. 
Main Photo: