At its essence, fighting is a zero-sum game. Perhaps people might argue against this, that at times one fighter can look good in defeat or poor in victory. But there is always one fighter profiting at the expense of the other, no matter who wins on the board. 
McGregor versus Poirier II – Double or Nothing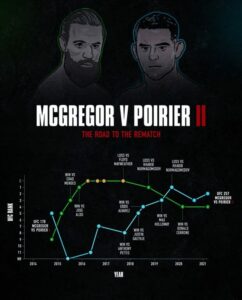 This graphic was created by BetWay.
When Conor McGregor and Dustin Poirier fought the first time, the nature of those stakes were shown. McGregor was victorious and slingshotted his way to the top of the sport. Poirier lost and had to pull himself up by his bootstraps. Had the fight gone the other way, Poirier would have stolen much of McGregor's thunder, just like how Nate Diaz went from a loud mid-carder who had been washed out in his single title challenge up to that point to an overnight sensation.

Instead of that easy road, Poirier was forced to scrape by. While McGregor was doing in a quarter of a minute what the rest of the featherweight division had failed to do for the better part of a decade by knocking out Jose Aldo, Poirier was fighting skilled but relatively unknown names like Carlos Diego Ferreira. While McGregor was becoming double champion, Poirier was being knocked out by Michael Johnson. But slowly and surely, Poirier was putting it together.  
And after Johnson, the tide seemed to shift. While McGregor engaged in his much-criticized title reign – with no defences – Poirier was ripping up the lightweight division, defeating two ex-champions, one future interim champion, and one sitting featherweight champion. The last of those – his second battle against Max Holloway – might have been the single hardest potential fight not for a belt the UFC has booked within the last three years.

But MMA is not a kind sport. It is not a sport where you can make things, to use Poirier's own words, "fair", unless you are a better fighter than the other man. And few come better than Khabib Nurmagomedov. Again, Poirier fought a star who could have truly made his legacy and came up short. His agonizing run to the title was all for naught, and even now he stands in danger of achieving that most tragic accolade, the best and greatest UFC fighter to never successfully win an undisputed belt.
The Shadow of the Eagle
Nurmagomedov's shadow looms large over this fight for both men, of course. McGregor's own fortunes shifted significantly when he lost to the Dagestani. Whereas he was able to get a rematch with Nate Diaz after the upset in their first encounter, there would be no second meeting with Khabib. Instead, only the endless chorus about McGregor's weakness; a hype train, protected by the UFC and then derailed. No hype train could have done what McGregor has done, of course, but perception matters more than anything to a sport with a small hardcore base but a large casual fringe. Khabib's name is never far from McGregor's lips, and even after the retirement, a fight with Nurmagomedov seems to be more important to McGregor than anything. 
Now the stakes are higher than ever, despite the fight not being for any sort of belt. If Poirier cannot defeat McGregor, he risks resigning himself to being considered the man who always came up short against the very best. If McGregor falls, on the other hand, he risks seriously damaging his already strained reputation, precisely what this fight was meant to bolster. McGregor will seek to prove that he's still the man from six years ago, that age and misadventures have not stolen his prime. On the other hand, Poirier will be trying to show the opposite, trying to prove just how much better and more adept he's become since their first meeting, to use the striking that defeated Alvarez and Gaethje and Holloway to make his name once and for all.
The Notorious
In a way, both men's journeys are reflective of how they fight in the cage. McGregor is almost ephemeral and fragile. When he is fighting someone without the tools to trouble him he almost seems unstoppable, but if they do – especially if they have an iron chin –  he suddenly looks far more mortal. He's looked excellent against legends of the game like Mendes, Alvarez, and Aldo. But against the much less touted Nate Diaz, McGregor faltered, unable to finish the iron-chinned Californian and wearing himself out incredibly quickly. Even in their rematch, McGregor went to the wire against Diaz when before and after he would crush the much better competition with ease. In the same way, McGregor's career has consisted of the explosive highs whenever he fights, and dismal lows whenever he gets up to mischief outside of the cage – which is often.
The Diamond
Poirier's style is on the surface inelegant, but it is constructed from the very fundamentals of scientific striking, slowly learned and honed over his fights in the trenches against grueling challenges for little reward. He switches between slick boxing and wild shifting combinations and often batters down his opponents through attrition.  In the same way, Poirier tends to find his battles hard-won, but a look back at his glittering resume shows that he is not only one of the best lightweights of today, but one of the greatest lightweights ever. Pettis, Gaethje, Alvarez, and Holloway, all back to back. 
At a time when the lightweight division is looking for an identity in the absence of a kingpin, Poirier versus McGregor II isn't just an exciting fight. It's possibly the best one that could be made at lightweight right now, as fate draws both men back towards a second encounter, a second all-or-nothing affair, where the winner will get everything they thought they wanted and the loser will have to pick up the pieces or call it quits. But fate will only decide who will fight, not the victor. That's up to the men in the arena.