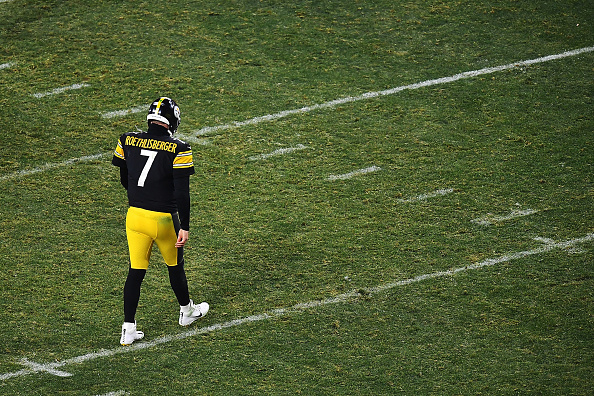 Where to start with the Steelers offseason needs? How about that on Sunday, the Pittsburgh Steelers suffered one of the most painful losses in the Ben Roethlisberger era. Although the final score was close (48-37), the Steelers dug themselves a massive 28-0 hole in the first quarter. Roethlisberger threw four interceptions, and the defense let the Cleveland Browns score five touchdowns on offense.
Now, the Steelers will look to the offseason in which a lot of tough decisions must be made. 19 players are hitting unrestricted free agency, including ten starters. If that wasn't enough, the team is 22 million dollars over the cap. Let's look at the biggest Steelers offseason needs in 2021.
Biggest Pittsburgh Steelers Offseason Needs
Quarterback and Offensive Line
The most pressing of the Steelers' offseason needs will be knowing who their quarterback will be. Roethlisberger is under contract for the 2021 season and carries a hefty $41.2 million cap hit. Roethlisberger will be 39 if he returns, and told reporters, "I hope the Steelers want me back if that's the way we go."
[pickup_prop id="3984"]
But, after a season in which the offense was held back by his arm limitations, it's fair to wonder if the Steelers will choose to rebuild instead. His numbers looked solid on the year, with 33 touchdowns to 10 picks and 3,803 yards. But he threw the ball faster than anyone in the NFL and the offense became stagnant as teams caught on to the one-dimensional passing attack.
If Roethlisberger retires, his best friend and star center Maurkice Pouncey could follow suit. In the past, they've talked about how they plan to retire at the same time. Without Roethlisberger, Mason Rudolph would be the only quarterback on the roster. Regardless if Roethlisberger returns or not, the Steelers should try and draft a quarterback early.
Other starting offensive linemen Alejandro Villanueva, Zach Banner, and Matt Feiler need to be brought back as well to assist whoever's behind center. But also whoever's running the ball.
[pickup_prop id="4172″]
Running Back and Wide Receiver
Did you know 2016 was the last season the Steelers finished above 22nd in rushing yards per game? In 2018, they averaged the second-fewest yards per game on the ground. In 2019 they had the fourth-fewest and this year they had the fewest.
I like James Conner and wish him all the best in his career, but it's very unlikely the Steelers re-sign the fan-favorite. He's been banged up pretty often as a Steeler, and his production simply hasn't been enough to warrant being brought back at the money he might get elsewhere. Considering the salary cap situation and the number of players needing to be re-signed, using their 24th-overall pick on a running back could make sense.
But the other tough choice will be on another fan-favorite JuJu Smith-Schuster. Smith-Schuster looked to have the potential of a number one receiver in his first two seasons, especially in 2018 when he blew up for 1,426 yards on 111 catches. But since taking over the number one receiver role, he's been falling short of that production. In 2019 and 2020 combined, he got 43 fewer yards than in 2018.
As important as getting a quarterback will be, getting a capable receiver to replace Smith-Schuster will be at the top of the Steelers' offseason needs. Whoever the quarterback is will have to hope Eric Ebron and Diontae Johnson have their drop problem under control too.
Defense
On the defense, a lot of change could be in store as well. On the defensive line, run-stuffer Tyson Alualu's contract is expiring, meaning another defensive tackle might be needed. That said, Alualu fits in perfectly with the team culture, played well, and deserves to be brought back. But key multiple-year starters Bud Dupree and Mike Hilton, as well as key depth players Cameron Sutton, Robert Spillane, and Avery Williamson are all set to be free agents too.
Hilton's one of the best nickel corners in football, and along with Spillane and Sutton are the three players more likely of that bunch to get new contracts. Sutton and Spillane won't demand as much money and proved week in and week out they deserve to be part of the team's future plans.
Dupree will be a tough loss to swallow after he had a monster season up until tearing his ACL. He had eight sacks through ten games and was part of an unstoppable pass rush duo alongside T.J. Watt. Even with the injury, Dupree is expected to command more money than the Steelers can give him.
With possibly losing safety converted linebacker Marcus Allen too, linebacker (more specifically an edge rusher) will be one of the Steelers offseason needs. Look for Watt to possibly receive a contract extension this year too as he'll be on the last year of his rookie deal in 2021.
These Steelers Offseason Needs Could Shape The Future
This offseason will be one of the biggest in franchise history. The Steelers offseason needs are plentiful. They'll continue to use the draft to build their stars, and could look to cut some veterans to clear cap. This team has many possibilities for what they'll look like next year.
Players we've grown accustomed to seeing in Conner, Smith-Schuster, and Dupree are likely to be somewhere else next year. While players like Chase Claypool, Alex Highsmith, and Devin Bush will be pieces of the future to build around. However, Roethlisberger's decision is most likely going to be the first step in solving the rest of the offseason puzzle. This is the offseason that'll shape next year, as well as possibly the next five years of Steelers football.
Main Photo: