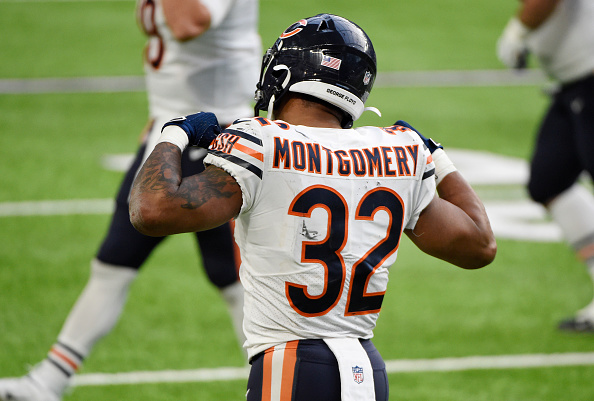 Week 16 marks the start of the final round of the fantasy football playoffs. Fantastic fantasy performances by Ryan Tannehill, David Montgomery, and Calvin Ridley in Week 15, boosted many people's fantasy teams into the final round. The key with these players was that they had fantastic matchups, which ultimately helped them score a lot of points. As it has always been, to win fantasy games, superstar players are not only needed but also players with fantastic matchups. Here are the best Week 16 fantasy football matchups in points-per-receptions leagues.
Best Week 16 Fantasy Football Matchups
Quarterback
Tom Brady along with the Tampa Bay Buccaneers have been inconsistent throughout the season. Tom Brady has had games where he has scored 30 plus fantasy points, while there are other games where he has scored less than 15 fantasy points. That said, he has a fantastic matchup.
The Detroit Lions have given up the fourth-most points per game to quarterbacks, along with giving up a total of 81.2 fantasy points to quarterbacks in the past three games. Additionally, with a win, the Buccaneers clinch a playoff spot, so Brady will try his hardest to make sure that happens. With a poor defense in the Lions and the playoffs on the horizon, Brady should score over 20 fantasy points and have at least three passing touchdowns.
Running Back
David Montgomery is on fire and is having the best stretch of his career. In his last four games, he has averaged 26.53 points a game including rushing for 146 yards and scoring two touchdowns last week against the Minnesota Vikings. He is fighting for those extra yards, and he is catching the football efficiently.
His opponent, the Jaguars, give up the third-most points to running backs per game, and they now hold the first overall pick, so they have no real incentive to play for. Montgomery is rolling and against this weak Jaguars defense, he should find success. I expect him to have over 130 scrimmage yards along with a minimum of 23 fantasy points.
Wide Reciever
The Cleveland Browns offense has continuously played well this season and their play-calling has been focused around their running backs. The Jets might have only one win on the season, but they have played well against running backs. With how Baker Mayfield is playing, the Browns might switch from the run to the pass in this game.
Jarvis Landry is the number one target in the passing game as he has 29 receptions in the last four games and those receptions are crucial in points-per-receptions leagues. With Landry being the main guy and the Jets giving up the ninth-most points to receivers per game, Landry should find lots of success. I expect him to have over six receptions along with a touchdown.
Tight End
Logan Thomas has probably been the most underrated tight end this season. He gets a lot of receptions including catching 13 balls for 101 yards last game giving him a total of 570 yards on the season. Washington's quarterbacks are not known for their arms, and well the tight end is known to be a quarterback's favorite target, which is why he gets a lot of targets. The Panthers give up the eighth-most points per game to tight ends, and with Logan Thomas's recent success, that should continue on. I predict he gets around six receptions and he scores a minimum of 15 fantasy points.
Defense/Special Teams
In the early part of the season, the Bills defense was disappointing and they were letting the whole Bills team down. As the playoffs have come closer, the Bills' defense has stepped up. In their last two games, they have forced three turnovers and have scored two touchdowns while giving up less than 20 points.
The Bills clinched the AFC East division for the first since 1995, but they aren't going to let up against the Patriots, instead, they might put some more salt in the Patriots' wounds. Anyways, Cam Newton is a very turnover prone defense, and this Bills defense has feasted off of turnovers recently. I expect the Bills' defense to have a great fantasy day.
Kicker
Blankenship has been a very trustworthy kicker this year, as he has scored at least 10 points in eight out of his 14 games. The Indianapolis Colts offense has played solid this year, but against a poor Houston Texans defense, they still had to attempt two field goals. Now up against a very good Steelers defense, the Colts should be able to move into field goal range, but getting into the endzone will be harder. Therefore, the Colts should attempt many field goals, allowing for Blankenship to score points.
Best Week 16 Fantasy Matchups Recap
After taking a close look at all the matchups, I determined that players like Tom Brady and David Montgomery have the best fantasy matchups. I made these decisions by looking at their opponent's play and even looking at the player's recent performances. Even though these all will not all pan out, there are still other players with great fantasy matchups that can have great success. Matchups are a key to fantasy success, and that concludes the best Week 16 fantasy football matchups.
Main Photo: